Derwent Metallic Pencils (Water-Soluble)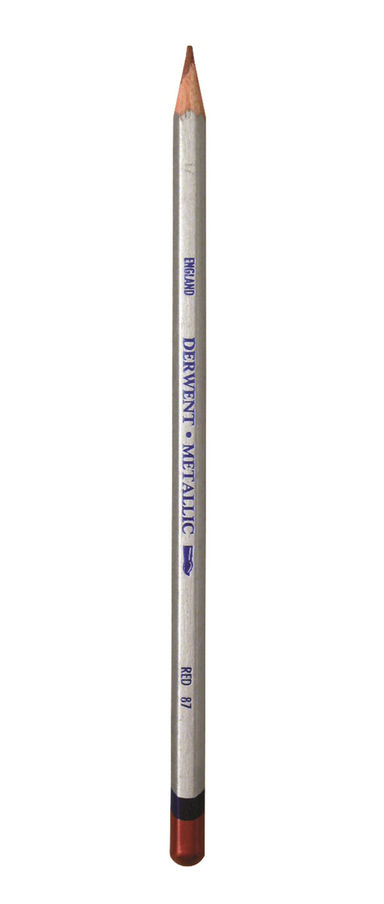 Perfect for all sorts of art and craft projects these highly reflective colours really 'pop' when you use them on a black background. They're water-soluble too so you can have great fun experimenting with interesting wash effects.
12 shimmering colours
Water-soluble
Hexagonal 6.9mm barrel
3.4mm core
These highly reflective pigments work best on a dark background.
Add a light water wash to further enhance the effect.
These pencils also work extremely well when used in conjunction with other Derwent media to highlight or define objects.
Colours sparkle and bounce off the page under different light conditions.
Metallic tin of 12 contains the following colours - Silver, Pewter, Gold, Antique Gold, Bronze, Copper, Yellow, Red, Pink, Purple, Blue and Green.
Metallic Gold

7701569 - #636638004747

Length: 8 mm

Width: 8 mm

Height: 179 mm

Weight: 6 g

Metallic Antique Gold

7701565 - #636638004754

Length: 8 mm

Width: 8 mm

Height: 179 mm

Weight: 6 g

Metallic Copper

7701568 - #636638004723

Length: 8 mm

Width: 8 mm

Height: 179 mm

Weight: 6 g

Metallic Pewter

8004682 - #636638044736

Length: 8 mm

Width: 8 mm

Height: 179 mm

Weight: 6 g

Metallic Silver

7701574 - #636638004716

Length: 8 mm

Width: 8 mm

Height: 179 mm

Weight: 6 g
 
Barcode
Length (mm)
Width (mm)
Height (mm)
Weight (g)

EDP:7701569

Metallic Gold

636638004747
8
8
179
6

EDP:7701565

Metallic Antique Gold

636638004754
8
8
179
6

EDP:7701568

Metallic Copper

636638004723
8
8
179
6

EDP:8004682

Metallic Pewter

636638044736
8
8
179
6

EDP:7701574

Metallic Silver

636638004716
8
8
179
6