Strathmore Hardbound Art Journals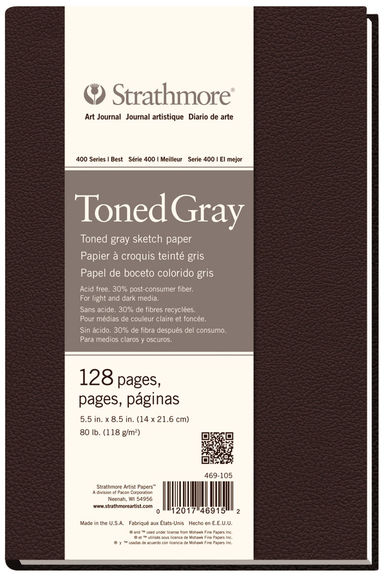 Strathmore Art Journals give artists the choice of drawing, watercolour, mixed media and toned sketch papers, the same high quality papers used in the fine art pads.
Our Hardbound Art Journals are available in a variety of sizes: 5.5" x 8.5", 8.5" x 11", and 11" x 14". The lightly-textured, matte cover is a dark chocolate brown, and the durable Smyth-sewn binding allows pages to lay flatter.
400 Recycle Draw 5.5 x 8.5 inch 160 Pages 130gsm

0392160 - #012017465055

Length: 216 mm

Width: 140 mm

Height: 25 mm

Weight: 498 g

400 Recycle Draw 8.5 x 11 inch 160 Pages 130gsm

0392170 - #0012017465086

Length: 279 mm

Width: 216 mm

Height: 25 mm

Weight: 956 g

500 Mixed Media 5.5 x 8.5 inch 64 Pages 190gsm

0392190 - #0012017566059

Length: 216 mm

Width: 140 mm

Height: 21 mm

Weight: 352 g

500 Mixed Media 8.5 x 11 inch 64 Pages 190gsm

0392200 - #012017566080

Length: 279 mm

Width: 216 mm

Height: 21 mm

Weight: 695 g

500 Mixed Media 11 x 14 inch 48 Pages 190gsm

0392210 - #012017566110

Length: 356 mm

Width: 279 mm

Height: 20 mm

Weight: 1041 g

400 Watercolour 8.5 x 5.5 inch 48 Pages 300gsm

0392220 - #012017467059

Length: 216 mm

Width: 140 mm

Height: 20 mm

Weight: 389 g

400 Watercolour 8.5 x 11 inch 48 Pages 300gsm

0392230 - #012017467080

Length: 279 mm

Width: 216 mm

Height: 20 mm

Weight: 745 g

400 Watercolour 11 x 14 inch 32 Pages 300gsm

0392240 - #012017467110

Length: 356 mm

Width: 279 mm

Height: 21 mm

Weight: 1060 g

400 Toned Tan 5.5 x 8.5 inch 128 Pages 118gsm

0392250 - #012017469053

Length: 216 mm

Width: 140 mm

Height: 21 mm

Weight: 397 g

400 Toned Tan 8.5 x 11 inch 128 Pages 118gsm

0392260 - #012017469084

Length: 279 mm

Width: 216 mm

Height: 21 mm

Weight: 775 g

400 Toned Grey 5.5 x 8.5 inch 128 Pages 118gsm

0392270 - #012017469152

Length: 216 mm

Width: 140 mm

Height: 21 mm

Weight: 393 g

400 Toned Grey 8.5 x 11 inch 128 Pages 118gsm

0392280 - #012017469183

Length: 279 mm

Width: 216 mm

Height: 21 mm

Weight: 782 g
 
Barcode
Length (mm)
Width (mm)
Height (mm)
Weight (g)

EDP:0392160

400 Recycle Draw 5.5 x 8.5 inch 160 Pages 130gsm

012017465055
216
140
25
498

EDP:0392170

400 Recycle Draw 8.5 x 11 inch 160 Pages 130gsm

0012017465086
279
216
25
956

EDP:0392190

500 Mixed Media 5.5 x 8.5 inch 64 Pages 190gsm

0012017566059
216
140
21
352

EDP:0392200

500 Mixed Media 8.5 x 11 inch 64 Pages 190gsm

012017566080
279
216
21
695

EDP:0392210

500 Mixed Media 11 x 14 inch 48 Pages 190gsm

012017566110
356
279
20
1041

EDP:0392220

400 Watercolour 8.5 x 5.5 inch 48 Pages 300gsm

012017467059
216
140
20
389

EDP:0392230

400 Watercolour 8.5 x 11 inch 48 Pages 300gsm

012017467080
279
216
20
745

EDP:0392240

400 Watercolour 11 x 14 inch 32 Pages 300gsm

012017467110
356
279
21
1060

EDP:0392250

400 Toned Tan 5.5 x 8.5 inch 128 Pages 118gsm

012017469053
216
140
21
397

EDP:0392260

400 Toned Tan 8.5 x 11 inch 128 Pages 118gsm

012017469084
279
216
21
775

EDP:0392270

400 Toned Grey 5.5 x 8.5 inch 128 Pages 118gsm

012017469152
216
140
21
393

EDP:0392280

400 Toned Grey 8.5 x 11 inch 128 Pages 118gsm

012017469183
279
216
21
782