Strathmore Visual Journals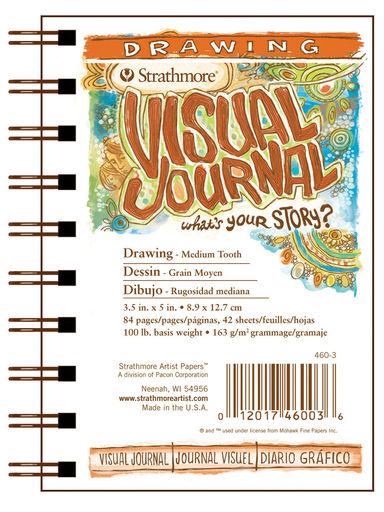 Strathmore Visual Journals deliver high-performing papers and heavy-duty features engineered to meet the intense demands of your creative process. The removable cover sheet reveals a subtle, hand-illustrated cover design. The wire binding allows the journal to lie flat and open up 360 degrees.
Journals are available in Drawing, Mixed Media, Smooth and Vellum Bristol, and two weights of Watercolour. Feel free to reflect, explore, create and mix it up any way you please with this versatile visual diary.
Drawing 5.5 x 8 inch 84 Pages 163gsm

0367870 - #0012017460050

Length: 206 mm

Width: 152 mm

Height: 14 mm

Weight: 303 g

Drawing 9 x 12 inch 84 Pages 163gsm

0367880 - #0012017460081

Length: 305 mm

Width: 229 mm

Height: 18 mm

Weight: 726 g

Watercolour 5.5 x 8 inch 68 Pages 190gsm

0367990 - #0012017460456

Length: 203 mm

Width: 140 mm

Height: 7 mm

Weight: 276 g

Watercolour 9 x 12 inch 68 Pages 190gsm

0368000 - #0012017460494

Length: 304 mm

Width: 241 mm

Height: 19 mm

Weight: 680 g

Watercolour 5.5 x 8 inch 44 Pages 300gsm

0367840 - #0012017460555

Length: 203 mm

Width: 152 mm

Height: 19 mm

Weight: 294 g

Watercolour 9 x 12 inch 44 Pages 300gsm

0367850 - #0012017460593

Length: 304 mm

Width: 241 mm

Height: 19 mm

Weight: 680 g

Bristol Vellum 5.5 x 8 inch 48 Pages 260gsm

0367930 - #0012017460258

Length: 203 mm

Width: 140 mm

Height: 9 mm

Weight: 310 g

Bristol Vellum 9 x 12 inch 48 Pages 260gsm

0367940 - #0012017460296

Length: 305 mm

Width: 229 mm

Height: 18 mm

Weight: 714 g

Bristol Smooth 5.5 x 8 inch 56 Pages 260gsm

0367960 - #0012017460357

Length: 203 mm

Width: 140 mm

Height: 7 mm

Weight: 321 g

Bristol Smooth 9 x 12 inch 56 Pages 260gsm

0367970 - #0012017460395

Length: 305 mm

Width: 229 mm

Height: 18 mm

Weight: 794 g

Mixed Media 5.5 x 8 inch 68 Pages 190gsm

0367900 - #0012017460159

Length: 203 mm

Width: 140 mm

Height: 7 mm

Weight: 301 g

Mixed Media 9 x 12 inch 68 Pages 190gsm

0367910 - #0012017460197

Length: 305 mm

Width: 229 mm

Height: 18 mm

Weight: 692 g
 
Barcode
Length (mm)
Width (mm)
Height (mm)
Weight (g)

EDP:0367870

Drawing 5.5 x 8 inch 84 Pages 163gsm

0012017460050
206
152
14
303

EDP:0367880

Drawing 9 x 12 inch 84 Pages 163gsm

0012017460081
305
229
18
726

EDP:0367990

Watercolour 5.5 x 8 inch 68 Pages 190gsm

0012017460456
203
140
7
276

EDP:0368000

Watercolour 9 x 12 inch 68 Pages 190gsm

0012017460494
304
241
19
680

EDP:0367840

Watercolour 5.5 x 8 inch 44 Pages 300gsm

0012017460555
203
152
19
294

EDP:0367850

Watercolour 9 x 12 inch 44 Pages 300gsm

0012017460593
304
241
19
680

EDP:0367930

Bristol Vellum 5.5 x 8 inch 48 Pages 260gsm

0012017460258
203
140
9
310

EDP:0367940

Bristol Vellum 9 x 12 inch 48 Pages 260gsm

0012017460296
305
229
18
714

EDP:0367960

Bristol Smooth 5.5 x 8 inch 56 Pages 260gsm

0012017460357
203
140
7
321

EDP:0367970

Bristol Smooth 9 x 12 inch 56 Pages 260gsm

0012017460395
305
229
18
794

EDP:0367900

Mixed Media 5.5 x 8 inch 68 Pages 190gsm

0012017460159
203
140
7
301

EDP:0367910

Mixed Media 9 x 12 inch 68 Pages 190gsm

0012017460197
305
229
18
692