Fabriano Studio Watercolour Pads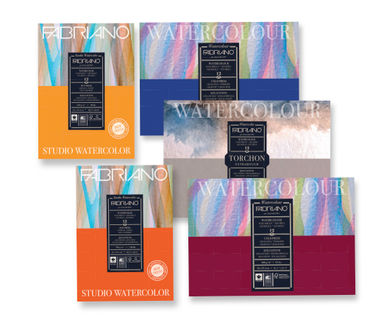 The Fabriano Watercolour Studio paper is made with a mixture of lignin free cellulose and 25% cotton.
Now in A size Pads!
Each pad contains 12 sheets.
The absence of acid guarantees the inalterability over time of the paper.
Produced with 100% of ECF pulp (Elemental Chlorine Free),
FSC® Certified.
It is sized internally and externally, guaranteeing optimal absorbance.
This paper guarantees an exceptional offer for students and beginners. Ideal for watercolour, tempera, gouache, acrylic, ink and drawing.
100% Cotton Artistico Pads also available in A sizes.
Cold Pressed 200gsm A5

0090650 - #9311960090651

Length: 10 mm

Width: 148 mm

Height: 210 mm

Weight: 200 g

Cold Pressed 200gsm A4

0090640 - #9311960090644

Length: 10 mm

Width: 210 mm

Height: 297 mm

Weight: 400 g

Cold Pressed 200gsm A3

0090630 - #9311960090637

Length: 10 mm

Width: 297 mm

Height: 420 mm

Weight: 520 g

Cold Pressed 300gsm A5

0090680 - #9311960090682

Length: 10 mm

Width: 148 mm

Height: 210 mm

Weight: 200 g

Cold Pressed 300gsm A4

0090670 - #9311960090675

Length: 10 mm

Width: 210 mm

Height: 297 mm

Weight: 400 g

Cold Pressed 300gsm A3

0090660 - #9311960090668

Length: 10 mm

Width: 297 mm

Height: 420 mm

Weight: 520 g

Rough 270gsm A5

0090710 - #9311960090712

Length: 10 mm

Width: 148 mm

Height: 210 mm

Weight: 200 g

Rough 270gsm A4

0090700 - #9311960090705

Length: 10 mm

Width: 210 mm

Height: 297 mm

Weight: 400 g

Rough 270gsm A3

0417070 - #9311960417076

Length: 420 mm

Width: 297 mm

Height: 8 mm

Weight: 520 g

Hot Pressed 200gsm A5

0090590 - #9311960090590

Length: 10 mm

Width: 148 mm

Height: 210 mm

Weight: 200 g

Hot Pressed 200gsm A4

0090580 - #9311960090583

Length: 10 mm

Width: 210 mm

Height: 297 mm

Weight: 400 g

Hot Pressed 200gsm A3

0416910 - #9311960416918

Length: 420 mm

Width: 297 mm

Height: 8 mm

Weight: 520 g

Hot Pressed 300gsm A5

0090620 - #9311960090620

Length: 10 mm

Width: 148 mm

Height: 210 mm

Weight: 200 g

Hot Pressed 300gsm A4

0090610 - #9311960090613

Length: 10 mm

Width: 210 mm

Height: 297 mm

Weight: 400 g

Hot Pressed 300gsm A3

0090600 - #9311960090606

Length: 10 mm

Width: 297 mm

Height: 420 mm

Weight: 520 g

Mega Pad Cold Pressed 300gsm 75 sheets 27x35cm

0424970 - #8001348163046

Length: 270 mm

Width: 350 mm

Height: 20 mm

Weight: 300 g
 
Barcode
Length (mm)
Width (mm)
Height (mm)
Weight (g)

EDP:0090650

Cold Pressed 200gsm A5

9311960090651
10
148
210
200

EDP:0090640

Cold Pressed 200gsm A4

9311960090644
10
210
297
400

EDP:0090630

Cold Pressed 200gsm A3

9311960090637
10
297
420
520

EDP:0090680

Cold Pressed 300gsm A5

9311960090682
10
148
210
200

EDP:0090670

Cold Pressed 300gsm A4

9311960090675
10
210
297
400

EDP:0090660

Cold Pressed 300gsm A3

9311960090668
10
297
420
520

EDP:0090710

Rough 270gsm A5

9311960090712
10
148
210
200

EDP:0090700

Rough 270gsm A4

9311960090705
10
210
297
400

EDP:0417070

Rough 270gsm A3

9311960417076
420
297
8
520

EDP:0090590

Hot Pressed 200gsm A5

9311960090590
10
148
210
200

EDP:0090580

Hot Pressed 200gsm A4

9311960090583
10
210
297
400

EDP:0416910

Hot Pressed 200gsm A3

9311960416918
420
297
8
520

EDP:0090620

Hot Pressed 300gsm A5

9311960090620
10
148
210
200

EDP:0090610

Hot Pressed 300gsm A4

9311960090613
10
210
297
400

EDP:0090600

Hot Pressed 300gsm A3

9311960090606
10
297
420
520

EDP:0424970

Mega Pad Cold Pressed 300gsm 75 sheets 27x35cm

8001348163046
270
350
20
300