The Paper House Drawing Pads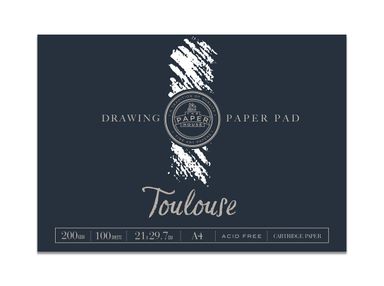 The Paper House drawing pad is excellent for drawing with pencils, charcoal and marker pens.
This heavier weight allows you to experiment with watercolours and even acrylics.
Acid Free Cartridge paper offering a slight tooth on the paper surface. Paper is 200gsm offering a heavier surface solution.
Available in A4 & A3 in a mega pad format.
A4 - 100sheets
A3 - 50sheets
Spine is glued along the top, long side of the pad.
A3

0422660 - #9311960422667

Length: 640 mm

Width: 240 mm

Height: 35 mm

Weight: 2000 g

A4

0422670 - #9311960422674

Length: 320 mm

Width: 240 mm

Height: 35 mm

Weight: 1650 g
|   | Barcode | Length (mm) | Width (mm) | Height (mm) | Weight (g) |
| --- | --- | --- | --- | --- | --- |
| | 9311960422667 | 640 | 240 | 35 | 2000 |
| | 9311960422674 | 320 | 240 | 35 | 1650 |