The Paper House PLUS+ Drawing Paper Pads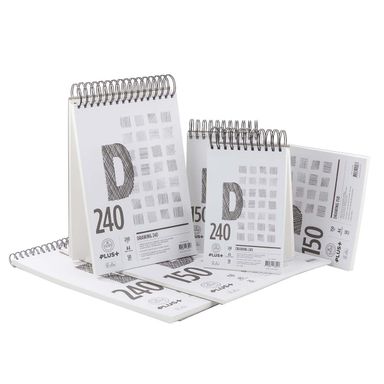 XL format spiral pads, with large sheet count!
These XL format spiral pads offer that extra sheet count to ensure the artist won't run out of paper mid work.
Large spiral allows for the pages to be easily flipped, if pages are not removed.
Each page is perforated, ensuring the working surface is true A size once removed.
DRAW 150:
150gsm
Mid weight drawing paper ideal for a variety of drawing & sketching techniques
Natural white paper with a fine-tooth surface
Suitable for repeated erasing
FSC® Certified paper
Acid Free
DRAW 240:
240gsm
Premium heavy weight drawing paper ideal for a variety of drawing & sketching techniques
Natural white paper with a fine-tooth surface
Superior strength will support light watercolour washes
FSC® Certified paper
Acid Free
Drawing 150gsm A5+ 50 sheets

0053070 - #9311960053076

Length: 148 mm

Width: 30 mm

Height: 210 mm

Weight: 400 g

Drawing 150gsm A4+ 50 sheets

0053080 - #9311960053083

Length: 210 mm

Width: 30 mm

Height: 800 mm

Weight: 800 g

Drawing 150gsm A3+ 25 sheets

0062980 - #9311960062986

Length: 297 mm

Width: 30 mm

Height: 1600 mm

Weight: 1600 g

Drawing 240gsm A3+ 25 sheets

0062990 - #9311960062993

Length: 297 mm

Width: 30 mm

Height: 1600 mm

Weight: 1600 g

Drawing 240gsm A4+ 50 sheets

0063000 - #9311960063006

Length: 210 mm

Width: 30 mm

Height: 800 mm

Weight: 800 g

Drawing 240gsm A5+ 50 sheets

0063010 - #9311960063013

Length: 148 mm

Width: 30 mm

Height: 400 mm

Weight: 400 g
 
Barcode
Length (mm)
Width (mm)
Height (mm)
Weight (g)

EDP:0053070

Drawing 150gsm A5+ 50 sheets

9311960053076
148
30
210
400

EDP:0053080

Drawing 150gsm A4+ 50 sheets

9311960053083
210
30
800
800

EDP:0062980

Drawing 150gsm A3+ 25 sheets

9311960062986
297
30
1600
1600

EDP:0062990

Drawing 240gsm A3+ 25 sheets

9311960062993
297
30
1600
1600

EDP:0063000

Drawing 240gsm A4+ 50 sheets

9311960063006
210
30
800
800

EDP:0063010

Drawing 240gsm A5+ 50 sheets

9311960063013
148
30
400
400