Tombow MONO Air Glue Tape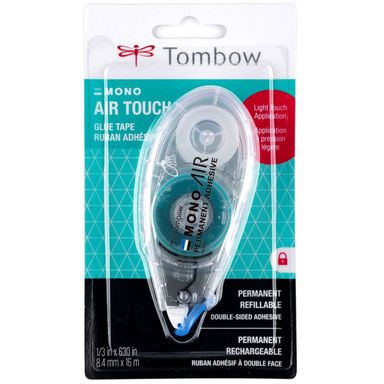 Tombow MONO Air Glue Tape features newly developed tape combines precise application and strong adhesion power.
Air Touch System – Effortless tape application from start to finish.
Mesh shaped tape provides strong adhesion even on uneven surfaces.
Even application – Pivoting head enables instant adjustment of application angle when used on corners.
Unobtrusive and quiet application.
Permanent adhesion.
Twin pack refill.
8.4mm x 16m

2410620 - #085014621526

Length: 27 mm

Width: 85 mm

Height: 151 mm

Weight: 50 g

Refill 8.4mm x 16m Pk2

2410621 - #085014621533

Length: 23 mm

Width: 111 mm

Height: 190 mm

Weight: 44 g
 
Barcode
Length (mm)
Width (mm)
Height (mm)
Weight (g)
085014621526
27
85
151
50

EDP:2410621

Refill 8.4mm x 16m Pk2

085014621533
23
111
190
44