Tombow MONO Sand & Rubber Eraser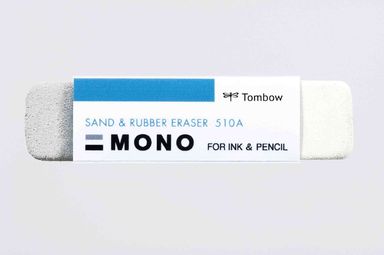 Made from a mixture of sand and rubber.
Dual ends, used for erasing pencil as well as ink markings.
Individually packed in a hang sell polybag.
The sand eraser is made from natural rubber latex and silica grit and removes coloured pencil and ink marks.
The rubber eraser end erases graphite marks.
This high-quality eraser is non-PVC and phthalate-free.
Note: As the sand eraser removes ink by sanding the top layer of the paper, it is recommended to be used with thicker paper.
Sand & Rubber 510A

7613112 - #4901991055948

Length: 0 mm

Width: 0 mm

Height: 0 mm

Weight: 0 g
 
Barcode
Length (mm)
Width (mm)
Height (mm)
Weight (g)

EDP:7613112

Sand & Rubber 510A

4901991055948
0
0
0
0