Watercolour Fruit & Vegetable Portraits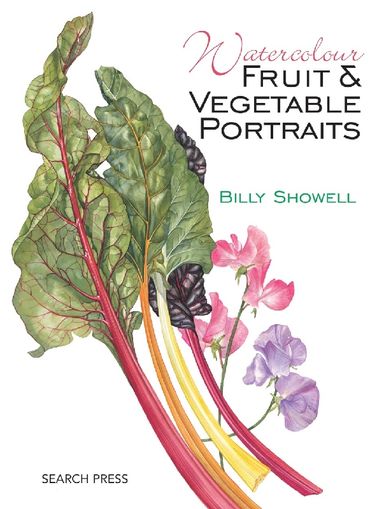 ISBN 9781782210832
Publisher Search Press
Format BC Paperback
Dimensions 216mm x 292mm
Page Extent 128
Pub Date April 2014
Description
Learn how to paint realistic fruit, vegetables and blossom with this beautifully illustrated watercolour course.
Billy Showell's amazing paintings and vibrant palette are showcased here as she clearly explains how to create a huge selection of shapes and textures using detailed step-by-step instructions. Starting with basic techniques and use of colour, she shows how to capture the individuality of spiralling artichokes, the smooth contours of aubergines, the sumptuous reds of glossy peppers, the cool yellows of bananas, the subtle hues of blossom and more. Using traditional methods, overlaying washes, dry brush techniques, glazing, masking - she develops pictures that are exciting and different, sometimes with an unconventional and amusing twist that takes the images on to new, contemporary levels. Explanations on drawing, composition, lighting, painting white subjects are included, along with many different ideas and dozens of useful and helpful tips.
Packed with information, expert advice and guidance on materials, drawing, colour mixing, composition, painting techniques and more.
Four stunning step-by-step projects, plus many smaller studies demonstrating different techniques throughout the book.
Numerous examples of Billy's beautiful paintings to guide and inspire you.
About the Author
Billy Showell graduated from St Martins School of Art with a B.A. in fashion design, but was irresistibly drawn to painting and illustration. In 1993 she set course for a career as an artist and now paints, illustrates and teaches botanical painting at her studio and art clubs in the UK, USA and Australia. She lives in Tunbridge Wells, UK with her husband and two sons. Billy has been awarded five Certificates of Botanical Merit from the Society of Botanical Artists and her first book on watercolour flower portraits has been hugely successful in the UK and abroad. Billy's paintings are collected by her followers the world over and many are available as limited edition prints.
Book

0019170 - #9781782210832

Length: 455 mm

Width: 313 mm

Height: 146 mm

Weight: 16800 g
|   | Barcode | Length (mm) | Width (mm) | Height (mm) | Weight (g) |
| --- | --- | --- | --- | --- | --- |
| | 9781782210832 | 455 | 313 | 146 | 16800 |