Winsor & Newton Cotman Brushes Series 444 Long Handled Round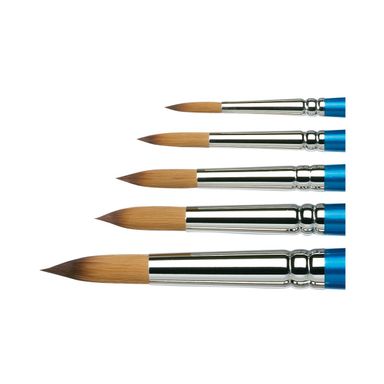 Cotman brushes are a range of pure synthetic watercolour brushes of the highest quality. By blending fibres of differing thickness, the three most important qualities sought after by artists' is acheived. Three thicker fibres contribute strength and spring whilst the thinner fibres improve colour carrying capacity. Together they retain a perfect point, time after time.
Series 444 brushes are made to the same high standards as Series 101, but with long handles.
This round shaped series is designed for use with Oil, Acrylic and Griffin Alkyd colours, when extra control, delicacy and accuracy are required. Ideal for fine detail, lines & glazes.
Size 3

0170663 - #0094376872514

Length: 0 mm

Width: 0 mm

Height: 0 mm

Weight: 0 g

Size 6

0170697 - #0094376872545

Length: 0 mm

Width: 0 mm

Height: 0 mm

Weight: 0 g

Size 10

0170710 - #0094376872569

Length: 0 mm

Width: 0 mm

Height: 0 mm

Weight: 0 g

Size 12

0170728 - #0094376872576

Length: 0 mm

Width: 0 mm

Height: 0 mm

Weight: 0 g
|   | Barcode | Length (mm) | Width (mm) | Height (mm) | Weight (g) |
| --- | --- | --- | --- | --- | --- |
| | 0094376872514 | 0 | 0 | 0 | 0 |
| | 0094376872545 | 0 | 0 | 0 | 0 |
| | 0094376872569 | 0 | 0 | 0 | 0 |
| | 0094376872576 | 0 | 0 | 0 | 0 |