Winsor & Newton Professional Thin Edge Canvas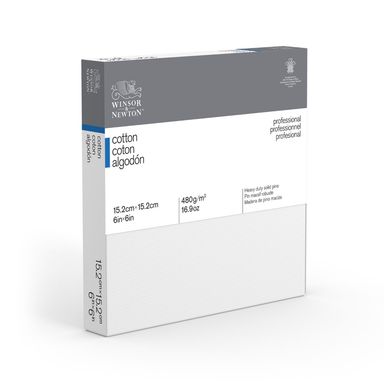 Winsor & Newton Professional Cotton Canvas is made from the finest-grade cloth.
Premium 480gsm Indian Canvas is hand-stretched for outstanding tension with expertly tailored corners.
Canvases 10" × 10" and larger include the Pro-Stretcher™, an innovative stretching device that is exclusive for Winsor & Newton. Pro-Stretcher™ is a compact yet strong re-stretching device, allowing you to create a precision tension.
Primed with a highly pigmented WN unique acrylic gesso, the acid-free, archival canvas responds to every brushstroke.
The professionally constructed frames are crafted from heavy-duty, kiln-dried solid pine stretcher bars and rigorously tested for warp-resistance.
Each canvas is back-stapled with folded, uncut corners for extra cloth if needed. A label is also included to record key details of your work.
Available in a vareity of sizes in both Thin 3/4" and Thick 1.5" Edge profile.
36 x 48 inch (914 x 1219mm)

0016480 - #884955050897

Length: 914 mm

Width: 1219 mm

Height: 18 mm

Weight: 900 g

24 x 36 inch (609 x 914mm)

0016470 - #884955050842

Length: 610 mm

Width: 914 mm

Height: 18 mm

Weight: 850 g

24 x 30 inch (609 x 762mm)

0016460 - #884955050835

Length: 610 mm

Width: 762 mm

Height: 18 mm

Weight: 800 g

20 x 24 inch (508 x 609mm)

0016450 - #884955050804

Length: 508 mm

Width: 610 mm

Height: 18 mm

Weight: 750 g

20 x 20 inch (508 x 508mm)

0016430 - #884955050798

Length: 508 mm

Width: 508 mm

Height: 18 mm

Weight: 660 g

18 x 24 inch (457 x 609mm)

0016440 - #884955050774

Length: 457 mm

Width: 610 mm

Height: 18 mm

Weight: 700 g

16 x 20 inch (406 x 508mm)

0016420 - #884955050750

Length: 406 mm

Width: 508 mm

Height: 18 mm

Weight: 600 g

14 x 18 inch (356 x 457mm)

0016410 - #884955050736

Length: 356 mm

Width: 457 mm

Height: 18 mm

Weight: 550 g

12 x 16 inch (305 x 406mm)

0016400 - #884955050705

Length: 305 mm

Width: 406 mm

Height: 18 mm

Weight: 500 g

12 x 12 inch (305 x 305mm)

0016390 - #884955050699

Length: 305 mm

Width: 305 mm

Height: 18 mm

Weight: 450 g

10 x 14 inch (254 x 356mm)

0016380 - #884955050651

Length: 254 mm

Width: 356 mm

Height: 18 mm

Weight: 400 g

10 x 12 inch (254 x 305mm)

0016370 - #884955050644

Length: 254 mm

Width: 305 mm

Height: 18 mm

Weight: 350 g

8 x 10 inch (203 x 254mm)

0016360 - #884955050989

Length: 203 mm

Width: 254 mm

Height: 18 mm

Weight: 300 g

8 x 8 inch (203 x 203mm)

0016350 - #884955051016

Length: 203 mm

Width: 203 mm

Height: 18 mm

Weight: 250 g

6 x 6 inch (152 x 152mm)

0016340 - #884955050965

Length: 152 mm

Width: 152 mm

Height: 18 mm

Weight: 200 g
 
Barcode
Length (mm)
Width (mm)
Height (mm)
Weight (g)

EDP:0016480

36 x 48 inch (914 x 1219mm)

884955050897
914
1219
18
900

EDP:0016470

24 x 36 inch (609 x 914mm)

884955050842
610
914
18
850

EDP:0016460

24 x 30 inch (609 x 762mm)

884955050835
610
762
18
800

EDP:0016450

20 x 24 inch (508 x 609mm)

884955050804
508
610
18
750

EDP:0016430

20 x 20 inch (508 x 508mm)

884955050798
508
508
18
660

EDP:0016440

18 x 24 inch (457 x 609mm)

884955050774
457
610
18
700

EDP:0016420

16 x 20 inch (406 x 508mm)

884955050750
406
508
18
600

EDP:0016410

14 x 18 inch (356 x 457mm)

884955050736
356
457
18
550

EDP:0016400

12 x 16 inch (305 x 406mm)

884955050705
305
406
18
500

EDP:0016390

12 x 12 inch (305 x 305mm)

884955050699
305
305
18
450

EDP:0016380

10 x 14 inch (254 x 356mm)

884955050651
254
356
18
400

EDP:0016370

10 x 12 inch (254 x 305mm)

884955050644
254
305
18
350

EDP:0016360

8 x 10 inch (203 x 254mm)

884955050989
203
254
18
300

EDP:0016350

8 x 8 inch (203 x 203mm)

884955051016
203
203
18
250

EDP:0016340

6 x 6 inch (152 x 152mm)

884955050965
152
152
18
200