Winsor & Newton Professional Watercolour Sets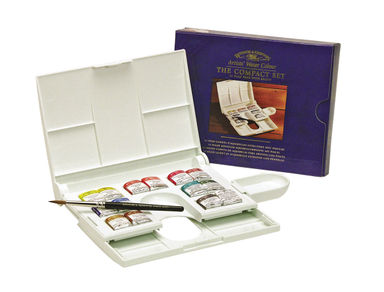 Professional Watercolour is also available in a number of sets. The Professional Watercolour sets range from sets containing a basic collection of colour to luxury wooden boxes containing everything from colour through to mediums and brushes.
Compact Set
A pocket-sized lightweight box, ideal for the outdoor artist.
Includes:
14 half pans of Professional Watercolour: Winsor Lemon, Winsor Yellow, Scarlet Lake, Winsor Red, Permanent Rose, Permanent Alizarin Crimson, French Ultramarine, Winsor Blue, Winsor Green, Permanent Sap Green, Yellow Ochre, Burnt Sienna, Raw Umber and Titanium White. Colours are subject to variations.

1 x Series 16 Sable Brush

Mixing surfaces with an additional sliding palette

Mediums dish
Field Box Set
A lightweight, compact box that contains everything required for outdoor painting in a durable plastic box.
Includes:
12 Half Pans of Professional Watercolour: Winsor Lemon, Burnt Sienna, Winsor Blue, Winsor Red, Ivory Black, Yellow Ochre, French Ultramarine, Winsor Yellow, Raw Umber, Winsor Green, Permanent Alizarian Crimson and Chinese White. Colours are subject to variations.

Pocket Brush

Artists' Sponge

35ml capacity water bottle

Water container

3 mixing areas