Winsor & Newton Professional Watercolour Sable Brushes Pointed Round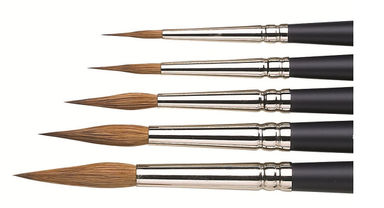 The Professional Watercolour Sable brush is made of quality Kolinsky sable hair with Birchwood handles and seamless nickel ferrules put together by hand. It's unique sculptured handle with a matt finish allows ultimate comfort whilst painting. It has an excellent belly and perfect point.
The Pointed Round Brush features an elongated point and tip and is perfect for accuracy and fine detail. As an adaptation of the round, it has an extra fine taper point for accuracy and fine detail work, plus the belly to hold colour.
Size 3

0343690 - #094376973440

Length: 7 mm

Width: 7 mm

Height: 220 mm

Weight: 7 g

Size 4

0343700 - #094376973457

Length: 8 mm

Width: 8 mm

Height: 223 mm

Weight: 7 g

Size 5

0343710 - #094376973464

Length: 8 mm

Width: 8 mm

Height: 228 mm

Weight: 6 g

Size 6

0343720 - #094376973471

Length: 8 mm

Width: 8 mm

Height: 231 mm

Weight: 6 g

Size 7

0343730 - #094376973488

Length: 9 mm

Width: 9 mm

Height: 235 mm

Weight: 6 g

Size 8

0343740 - #094376973495

Length: 9 mm

Width: 9 mm

Height: 241 mm

Weight: 7 g
|   | Barcode | Length (mm) | Width (mm) | Height (mm) | Weight (g) |
| --- | --- | --- | --- | --- | --- |
| | 094376973440 | 7 | 7 | 220 | 7 |
| | 094376973457 | 8 | 8 | 223 | 7 |
| | 094376973464 | 8 | 8 | 228 | 6 |
| | 094376973471 | 8 | 8 | 231 | 6 |
| | 094376973488 | 9 | 9 | 235 | 6 |
| | 094376973495 | 9 | 9 | 241 | 7 |