Winsor & Newton Professional Watercolour Sable Brushes Round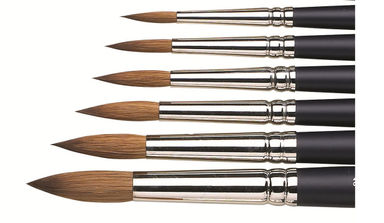 The Professional Watercolour Sable brush is made of quality Kolinsky sable hair with Birchwood handles and seamless nickel ferrules put together by hand. It's unique sculptured handle with a matt finish allows ultimate comfort whilst painting. It has an excellent belly and perfect point.
The Round Brush is the most popular watercolour brush and is excellent for washes as well as fine detail work.
Size 00

0343680 - #094376973327

Length: 7 mm

Width: 7 mm

Height: 209 mm

Weight: 4 g

Size 0

0343570 - #094376973334

Length: 7 mm

Width: 7 mm

Height: 210 mm

Weight: 4 g

Size 1

0343580 - #094376973341

Length: 7 mm

Width: 7 mm

Height: 213 mm

Weight: 4 g

Size 2

0343590 - #094376973358

Length: 7 mm

Width: 7 mm

Height: 215 mm

Weight: 4 g

Size 3

0343600 - #094376973365

Length: 7 mm

Width: 7 mm

Height: 218 mm

Weight: 6 g

Size 4

0343610 - #094376973372

Length: 8 mm

Width: 8 mm

Height: 220 mm

Weight: 6 g

Size 5

0343620 - #094376973389

Length: 8 mm

Width: 8 mm

Height: 222 mm

Weight: 6 g

Size 6

0343630 - #094376973396

Length: 8 mm

Width: 8 mm

Height: 226 mm

Weight: 7 g

Size 7

0343640 - #094376973402

Length: 9 mm

Width: 9 mm

Height: 230 mm

Weight: 8 g

Size 8

0343650 - #094376973419

Length: 9 mm

Width: 9 mm

Height: 235 mm

Weight: 7 g

Size 10

0343660 - #094376973426

Length: 10 mm

Width: 10 mm

Height: 242 mm

Weight: 10 g

Size 12

0343670 - #094376973433

Length: 11 mm

Width: 11 mm

Height: 248 mm

Weight: 15 g
|   | Barcode | Length (mm) | Width (mm) | Height (mm) | Weight (g) |
| --- | --- | --- | --- | --- | --- |
| | 094376973327 | 7 | 7 | 209 | 4 |
| | 094376973334 | 7 | 7 | 210 | 4 |
| | 094376973341 | 7 | 7 | 213 | 4 |
| | 094376973358 | 7 | 7 | 215 | 4 |
| | 094376973365 | 7 | 7 | 218 | 6 |
| | 094376973372 | 8 | 8 | 220 | 6 |
| | 094376973389 | 8 | 8 | 222 | 6 |
| | 094376973396 | 8 | 8 | 226 | 7 |
| | 094376973402 | 9 | 9 | 230 | 8 |
| | 094376973419 | 9 | 9 | 235 | 7 |
| | 094376973426 | 10 | 10 | 242 | 10 |
| | 094376973433 | 11 | 11 | 248 | 15 |