Winsor & Newton Sceptre Gold II Brushes Series 404 Round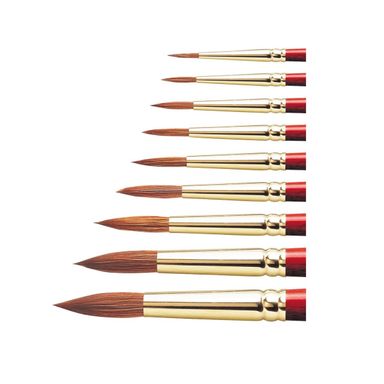 A brush made from a mix of pure sable and synthetic fibres, giving you a performance that's close to sable at a price closer to synthetic. They feature seamless gold plated nickel ferrules and vibrant terracotta stained handles.
Series 404 brushes are made to the same high standards as Series 101, but with long handles.
Ideal for fine detail, lines and glazes.
This round shaped series is designed for use with Oil, Acrylic and Griffin Alkyd colours, when extra control, delicacy and accuracy are required.
Size 1

0124109 - #094376862867

Length: 0 mm

Width: 0 mm

Height: 0 mm

Weight: 0 g

Size 2

0124117 - #094376862874

Length: 6 mm

Width: 6 mm

Height: 296 mm

Weight: 4 g

Size 3

0124125 - #094376862881

Length: 0 mm

Width: 0 mm

Height: 0 mm

Weight: 0 g

Size 4

0124133 - #094376862898

Length: 7 mm

Width: 7 mm

Height: 299 mm

Weight: 5 g

Size 5

0124141 - #0094376862904

Length: 0 mm

Width: 0 mm

Height: 0 mm

Weight: 0 g

Size 6

0124159 - #094376862911

Length: 0 mm

Width: 0 mm

Height: 0 mm

Weight: 0 g

Size 8

0124167 - #094376862928

Length: 0 mm

Width: 0 mm

Height: 0 mm

Weight: 0 g

Size 10

0124175 - #0094376862935

Length: 10 mm

Width: 10 mm

Height: 320 mm

Weight: 14 g

Size 12

0124183 - #094376862942

Length: 0 mm

Width: 0 mm

Height: 0 mm

Weight: 0 g
|   | Barcode | Length (mm) | Width (mm) | Height (mm) | Weight (g) |
| --- | --- | --- | --- | --- | --- |
| | 094376862867 | 0 | 0 | 0 | 0 |
| | 094376862874 | 6 | 6 | 296 | 4 |
| | 094376862881 | 0 | 0 | 0 | 0 |
| | 094376862898 | 7 | 7 | 299 | 5 |
| | 0094376862904 | 0 | 0 | 0 | 0 |
| | 094376862911 | 0 | 0 | 0 | 0 |
| | 094376862928 | 0 | 0 | 0 | 0 |
| | 0094376862935 | 10 | 10 | 320 | 14 |
| | 094376862942 | 0 | 0 | 0 | 0 |