Winsor & Newton Sceptre Gold II Brushes Series 505 Flat/Bright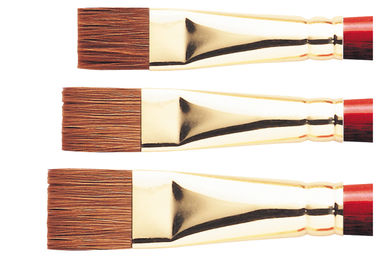 A brush made from a mix of pure sable and synthetic fibres, giving you a performance that's close to sable at a price closer to synthetic. They feature seamless gold plated nickel ferrules and vibrant terracotta stained handles.
Series 505 brushes are designed for extra control and delicacy with Oil, Alkyd and Acrylic painting.
Ideal for blending, glazing or covering a large area.
The brush can create broad strokes with the flat side or thin lines with its fine chisel edge.
Size 0

0124191 - #094376862966

Length: 6 mm

Width: 6 mm

Height: 279 mm

Weight: 3 g

Size 1

0124206 - #094376862973

Length: 0 mm

Width: 0 mm

Height: 0 mm

Weight: 0 g

Size 3

0124222 - #94376862997

Length: 0 mm

Width: 0 mm

Height: 0 mm

Weight: 0 g

Size 5

0124248 - #094376863017

Length: 0 mm

Width: 0 mm

Height: 0 mm

Weight: 0 g

Size 12

0124298 - #094376863055

Length: 11 mm

Width: 12 mm

Height: 304 mm

Weight: 13 g
|   | Barcode | Length (mm) | Width (mm) | Height (mm) | Weight (g) |
| --- | --- | --- | --- | --- | --- |
| | 094376862966 | 6 | 6 | 279 | 3 |
| | 094376862973 | 0 | 0 | 0 | 0 |
| | 94376862997 | 0 | 0 | 0 | 0 |
| | 094376863017 | 0 | 0 | 0 | 0 |
| | 094376863055 | 11 | 12 | 304 | 13 |