Xyron Adhesive Accessories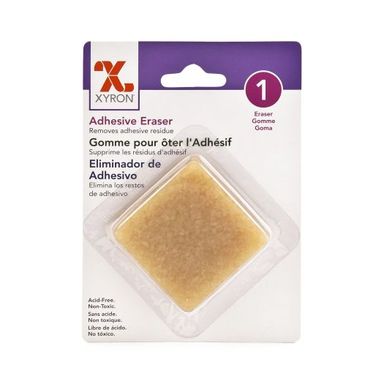 Xyron Adhesive Eraser:
Removes excess adhesive and adhesive residue.
Eraser in one direction for smooth and clean reside removal (do not rub back and forth like a normal pencil eraser)
Cut away dirty edges to reveal clean surface
Xyron Magnet Tape:
Comes in a convenient dispenser.
Tape is: 1.9cm / 3 / 4" wide x 7.6m / 25'' long
Great for adding a magnet to childen's pictures for, invitations, photos for the fridge door etc.
Xyron Adhesive Eraser

0402790 - #5706831236759

Length: 13 mm

Width: 99 mm

Height: 136 mm

Weight: 36 g
 
Barcode
Length (mm)
Width (mm)
Height (mm)
Weight (g)

EDP:0402790

Xyron Adhesive Eraser

5706831236759
13
99
136
36