Xyron Home Creative Station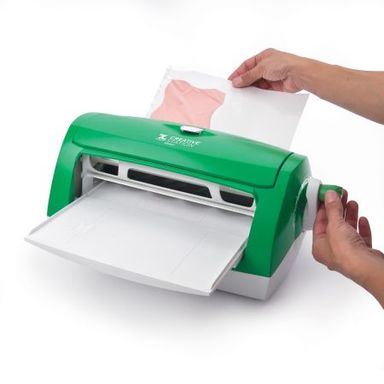 The Xyron 22.9cm / 9" Creative Station is a Sticker Maker, Laminator, Label and Magnet Maker all in one.
Perfect for so many of your craft, school, home and office projects, it's even safe enough for kids to use, requiring no heat, batteries or electricity.
The 22.9cm / 9" width allows you to create photo stickers, photo magnets, laminated recipe cards, business cards, labels for jars and cabinets and many other projects.
Change applications quickly with easy load cartridges.

The Cut Bar is removeable for additional trimming.

Includes a 22.9cm/9" wide x 7.6m/25' long acid-free permanent adhesive cartridge

Applies an even layer of edge-to-edge adhesive onto items up to 22.9cm/9" wide.

Instantly laminates items up to 21.6cm/8.5" wide.

Easy to Use, Lightweight and Portable.

Refillable.

No Heat.

No Electricity.

No Batteries.
X900 Home Creative Station Machine 22.9cm/9 Inch Green

0402814 - #608931003284

Length: 225 mm

Width: 403 mm

Height: 210 mm

Weight: 3310 g

X900 Acid-Free Repositionable Adhesive Refill (40 Feet)

0402818 - #608931003314

Length: 73 mm

Width: 292 mm

Height: 162 mm

Weight: 794 g

X900 Laminate/Magnet Refill (10 Feet)

0402822 - #608931003352

Length: 74 mm

Width: 292 mm

Height: 162 mm

Weight: 1398 g
 
Barcode
Length (mm)
Width (mm)
Height (mm)
Weight (g)

EDP:0402814

X900 Home Creative Station Machine 22.9cm/9 Inch Green

608931003284
225
403
210
3310

EDP:0402818

X900 Acid-Free Repositionable Adhesive Refill (40 Feet)

608931003314
73
292
162
794

EDP:0402822

X900 Laminate/Magnet Refill (10 Feet)

608931003352
74
292
162
1398