Winsor & Newton Professional Picture Varnish (Aerosol)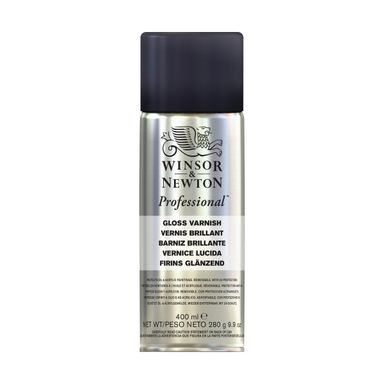 A final varnish which provides permanent protection similar to traditional bottled varnish with a more convenient aerosol format. It is non-yellowng and durable, providing long lasting protection of oil painting against dirt, grease etc. It is removable with white spirit, allowing artists' to remove varnish in the medium term if required for cleaning and re-varnishing of a painting.
Available in a variety of finishes - Artists' can choose between gloss, satin and matt as the preferred finish for a painting.
Gloss 400ml

0293900 - #0884955002407

Length: 53 mm

Width: 53 mm

Height: 194 mm

Weight: 400 g

Matt 400ml

0293890 - #0884955002285

Length: 53 mm

Width: 53 mm

Height: 194 mm

Weight: 390 g

Satin 400ml

0274180 - #884955002322

Length: 53 mm

Width: 53 mm

Height: 194 mm

Weight: 410 g
|   | Barcode | Length (mm) | Width (mm) | Height (mm) | Weight (g) |
| --- | --- | --- | --- | --- | --- |
| | 0884955002407 | 53 | 53 | 194 | 400 |
| | 0884955002285 | 53 | 53 | 194 | 390 |
| | 884955002322 | 53 | 53 | 194 | 410 |