Winsor & Newton Cotman Brushes Series 666 Long Handled One Stroke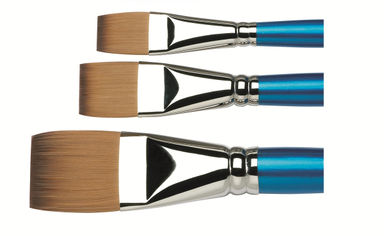 Cotman brushes are a range of pure synthetic watercolour brushes of the highest quality. By blending fibres of differing thickness, the three most important qualities sought after by artists' is acheived. Three thicker fibres contribute strength and spring whilst the thinner fibres improve colour carrying capacity. Together they retain a perfect point, time after time.
Series 666 features a long handle, flat wash brush for edges and shapes or applying washes. These flat brushes give firm, sharp lines for lettering and one stroke work. Popular for washes in watercolour. They possess great spring and colour carrying capacity.
Size 3mm (1/8 inch)

0170833 - #0094376863994

Length: 6 mm

Width: 6 mm

Height: 179 mm

Weight: 3 g

Size 6mm (1/4 inch)

0170841 - #0094376864007

Length: 7 mm

Width: 7 mm

Height: 185 mm

Weight: 4 g

Size 10mm (3/8 inch)

0170860 - #0094376864014

Length: 7 mm

Width: 10 mm

Height: 191 mm

Weight: 5 g

Size 13mm (1/2 inch)

0170867 - #0094376864021

Length: 10 mm

Width: 13 mm

Height: 196 mm

Weight: 9 g

Size 19mm (3/4 inch)

0170875 - #0094376864038

Length: 12 mm

Width: 19 mm

Height: 230 mm

Weight: 14 g

Size 25mm (1 inch)

0170884 - #0094376864045

Length: 15 mm

Width: 25 mm

Height: 237 mm

Weight: 19 g

Size 39mm (1¢ inch)

0248100 - #0094376872729

Length: 21 mm

Width: 38 mm

Height: 265 mm

Weight: 55 g
 
Barcode
Length (mm)
Width (mm)
Height (mm)
Weight (g)

EDP:0170833

Size 3mm (1/8 inch)

0094376863994
6
6
179
3

EDP:0170841

Size 6mm (1/4 inch)

0094376864007
7
7
185
4

EDP:0170860

Size 10mm (3/8 inch)

0094376864014
7
10
191
5

EDP:0170867

Size 13mm (1/2 inch)

0094376864021
10
13
196
9

EDP:0170875

Size 19mm (3/4 inch)

0094376864038
12
19
230
14

EDP:0170884

Size 25mm (1 inch)

0094376864045
15
25
237
19

EDP:0248100

Size 39mm (1¢ inch)

0094376872729
21
38
265
55