Winsor & Newton Professional Watercolour Sable Brushes One Stroke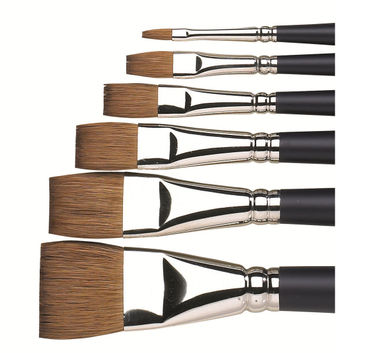 The Professional Watercolour Sable brush is made of quality Kolinsky sable hair with Birchwood handles and seamless nickel ferrules put together by hand. Its unique sculptured handle with a matt finish allows ultimate comfort whilst painting. It has an excellent belly and perfect point.
The One Stroke Brush is a short flat watercolour brush. It is perfect for edges and shapes or applying washes. Originally for 'one stroke' application by sign writers, many watercolourists use this brush for washes. It also makes a unique chisel edged flat brush mark.
Size 3mm (1/8 inch)

0343810 - #094376973556

Length: 8 mm

Width: 8 mm

Height: 204 mm

Weight: 5 g

Size 6mm (1/4 inch)

0343820 - #094376973563

Length: 8 mm

Width: 8 mm

Height: 210 mm

Weight: 6 g

Size 10mm (3/8 inch)

0343830 - #094376973570

Length: 9 mm

Width: 10 mm

Height: 216 mm

Weight: 7 g

Size 13mm (1/2 inch)

0343840 - #094376973587

Length: 10 mm

Width: 13 mm

Height: 221 mm

Weight: 10 g

Size 19mm (3/4 inch)

0343850 - #094376973594

Length: 19 mm

Width: 11 mm

Height: 230 mm

Weight: 17 g

Size 25mm (1 inch)

0343860 - #0094376973600

Length: 14 mm

Width: 25 mm

Height: 237 mm

Weight: 23 g
 
Barcode
Length (mm)
Width (mm)
Height (mm)
Weight (g)

EDP:0343810

Size 3mm (1/8 inch)

094376973556
8
8
204
5

EDP:0343820

Size 6mm (1/4 inch)

094376973563
8
8
210
6

EDP:0343830

Size 10mm (3/8 inch)

094376973570
9
10
216
7

EDP:0343840

Size 13mm (1/2 inch)

094376973587
10
13
221
10

EDP:0343850

Size 19mm (3/4 inch)

094376973594
19
11
230
17

EDP:0343860

Size 25mm (1 inch)

0094376973600
14
25
237
23