Speedball Lettering Pen Nibs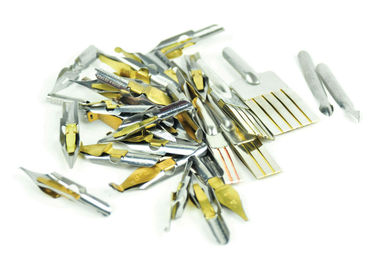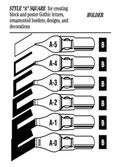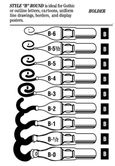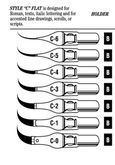 These standard long lasting calligraphy nibs can be used for all types of lettering, ornamental boards and designs.
The nibs can hold all types of ink and water mixable media & come in many different sizes for different uses.
All nibs have reservoirs for increased ink capacity and uninterrupted ink flow.
Style A is square edge
Style B is round edge
Style C is flat edge
All nibs fit into a standard Pen Holder, which is not included when purchasing the nibs individually.
Lettering Pen Nibs A0

0220550 - #

Length: 0 mm

Width: 0 mm

Height: 0 mm

Weight: 0 g

Lettering Pen Nibs A1

0220560 - #

Length: 0 mm

Width: 0 mm

Height: 0 mm

Weight: 0 g

Lettering Pen Nibs A2

0220570 - #

Length: 0 mm

Width: 0 mm

Height: 0 mm

Weight: 0 g

Lettering Pen Nibs A3

0220580 - #

Length: 0 mm

Width: 0 mm

Height: 0 mm

Weight: 0 g

Lettering Pen Nibs A5

0220600 - #

Length: 0 mm

Width: 0 mm

Height: 0 mm

Weight: 0 g

Lettering Pen Nibs B0

0220610 - #

Length: 0 mm

Width: 0 mm

Height: 0 mm

Weight: 0 g

Lettering Pen Nibs B1/2

0220620 - #

Length: 0 mm

Width: 0 mm

Height: 0 mm

Weight: 0 g

Lettering Pen Nibs B1

0220630 - #

Length: 0 mm

Width: 0 mm

Height: 0 mm

Weight: 0 g

Lettering Pen Nibs B2

0220640 - #

Length: 0 mm

Width: 0 mm

Height: 0 mm

Weight: 0 g

Lettering Pen Nibs B3

0220650 - #

Length: 0 mm

Width: 0 mm

Height: 0 mm

Weight: 0 g

Lettering Pen Nibs B4

0220660 - #

Length: 0 mm

Width: 0 mm

Height: 0 mm

Weight: 0 g

Lettering Pen Nibs B51/2

0220690 - #

Length: 0 mm

Width: 0 mm

Height: 0 mm

Weight: 0 g

Lettering Pen Nibs C0

0220700 - #

Length: 0 mm

Width: 0 mm

Height: 0 mm

Weight: 0 g

Lettering Pen Nibs C1

0220710 - #

Length: 0 mm

Width: 0 mm

Height: 0 mm

Weight: 0 g

Lettering Pen Nibs C2

0220720 - #

Length: 0 mm

Width: 0 mm

Height: 0 mm

Weight: 0 g

Lettering Pen Nibs C3

0220730 - #

Length: 0 mm

Width: 0 mm

Height: 0 mm

Weight: 0 g
 
Barcode
Length (mm)
Width (mm)
Height (mm)
Weight (g)

EDP:0220550

Lettering Pen Nibs A0

0
0
0
0

EDP:0220560

Lettering Pen Nibs A1

0
0
0
0

EDP:0220570

Lettering Pen Nibs A2

0
0
0
0

EDP:0220580

Lettering Pen Nibs A3

0
0
0
0

EDP:0220600

Lettering Pen Nibs A5

0
0
0
0

EDP:0220610

Lettering Pen Nibs B0

0
0
0
0

EDP:0220620

Lettering Pen Nibs B1/2

0
0
0
0

EDP:0220630

Lettering Pen Nibs B1

0
0
0
0

EDP:0220640

Lettering Pen Nibs B2

0
0
0
0

EDP:0220650

Lettering Pen Nibs B3

0
0
0
0

EDP:0220660

Lettering Pen Nibs B4

0
0
0
0

EDP:0220690

Lettering Pen Nibs B51/2

0
0
0
0

EDP:0220700

Lettering Pen Nibs C0

0
0
0
0

EDP:0220710

Lettering Pen Nibs C1

0
0
0
0

EDP:0220720

Lettering Pen Nibs C2

0
0
0
0

EDP:0220730

Lettering Pen Nibs C3

0
0
0
0