Conte Pastel Pencils Loose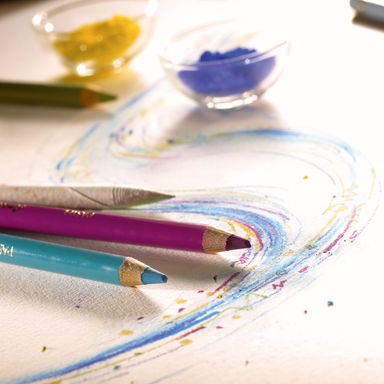 The Conte Pastel Pencil range is excellent for toning. Rich in pigment, there are 48 colours in the range. Larger than most other pastel pencils, Conte Pastel Pencils have a very fine, smooth lead. Suitable for all coloured papers, with the intense opaqueness more evident when used on darker coloured paper.
Cased in a durable hard wood, Conte Pastel Pencils are easily sharpened to a point for fine detailed work but can be laid down heavily and create effective blocks of colour.
Light Yellow (024)

0384646 - #3013645001698

Length: 178 mm

Width: 9 mm

Height: 9 mm

Weight: 10 g

Yellow Medium (004)

0384704 - #3013645001513

Length: 178 mm

Width: 9 mm

Height: 9 mm

Weight: 9 g

Golden Yellow (014)

0384630 - #3013645001612

Length: 178 mm

Width: 9 mm

Height: 9 mm

Weight: 11 g

Indian Yellow (037)

0384636 - #3013645001780

Length: 178 mm

Width: 9 mm

Height: 9 mm

Weight: 10 g

Light Orange (049)

0384644 - #3013645001896

Length: 178 mm

Width: 9 mm

Height: 9 mm

Weight: 9 g

Red Lead (040)

0384666 - #3013645001810

Length: 178 mm

Width: 9 mm

Height: 9 mm

Weight: 8 g

Orange (012)

0384688 - #3013645001599

Length: 178 mm

Width: 9 mm

Height: 9 mm

Weight: 10 g

Flesh (048)

0384626 - #3013645001889

Length: 178 mm

Width: 9 mm

Height: 9 mm

Weight: 9 g

Scarlet (028)

0384694 - #3013645001711

Length: 178 mm

Width: 9 mm

Height: 9 mm

Weight: 8 g

Vermillion (003)

0384698 - #3013645001506

Length: 178 mm

Width: 9 mm

Height: 9 mm

Weight: 8 g

Garnet Red (039)

0384628 - #3013645001803

Length: 178 mm

Width: 9 mm

Height: 9 mm

Weight: 8 g

Madder (038)

0384684 - #3013645001797

Length: 178 mm

Width: 9 mm

Height: 9 mm

Weight: 9 g

Pink (011)

0384710 - #3013645001582

Length: 178 mm

Width: 9 mm

Height: 9 mm

Weight: 10 g

Cyclamen (041)

0384618 - #3013645001827

Length: 178 mm

Width: 9 mm

Height: 9 mm

Weight: 8 g

Red Violet (026)

0384668 - #3013645001704

Length: 178 mm

Width: 9 mm

Height: 9 mm

Weight: 9 g

Persian Violet (055)

0384656 - #3013645001940

Length: 178 mm

Width: 9 mm

Height: 9 mm

Weight: 10 g

Violet (005)

0384700 - #3013645001520

Length: 178 mm

Width: 9 mm

Height: 9 mm

Weight: 9 g

Purple (019)

0384690 - #3013645001650

Length: 178 mm

Width: 9 mm

Height: 9 mm

Weight: 8 g

Sky Blue (056)

0384672 - #3013645001957

Length: 178 mm

Width: 9 mm

Height: 9 mm

Weight: 9 g

Light Blue (029)

0384638 - #3013645001728

Length: 178 mm

Width: 9 mm

Height: 9 mm

Weight: 8 g

Green Blue (021)

0384632 - #3013645001674

Length: 178 mm

Width: 9 mm

Height: 9 mm

Weight: 9 g

Ultramarine (010)

0384676 - #3013645001575

Length: 178 mm

Width: 9 mm

Height: 9 mm

Weight: 8 g

King Blue (006)

0384682 - #3013645001537

Length: 178 mm

Width: 9 mm

Height: 9 mm

Weight: 8 g

Dark Ultramarine (046)

0384622 - #3013645001865

Length: 178 mm

Width: 9 mm

Height: 9 mm

Weight: 9 g

Prussian Blue (022)

0384658 - #3013645001681

Length: 178 mm

Width: 9 mm

Height: 9 mm

Weight: 10 g

Prussian Green (043)

0384660 - #3013645001841

Length: 178 mm

Width: 9 mm

Height: 9 mm

Weight: 9 g

Lime Green (050)

0384648 - #3013645001902

Length: 178 mm

Width: 9 mm

Height: 9 mm

Weight: 9 g

St Michel Green (044)

0384674 - #3013645001858

Length: 178 mm

Width: 9 mm

Height: 9 mm

Weight: 12 g

Light Green (008)

0384640 - #3013645001551

Length: 178 mm

Width: 9 mm

Height: 9 mm

Weight: 8 g

Dark Green (002)

0384620 - #3013645001490

Length: 178 mm

Width: 9 mm

Height: 9 mm

Weight: 8 g

Mineral Green (030)

0384650 - #3013645001735

Length: 178 mm

Width: 9 mm

Height: 9 mm

Weight: 8 g

Emerald Green (034)

0384624 - #3013645001773

Length: 178 mm

Width: 9 mm

Height: 9 mm

Weight: 9 g

Olive Green (016)

0384686 - #3013645001629

Length: 178 mm

Width: 9 mm

Height: 9 mm

Weight: 8 g

Green Grey (051)

0384634 - #3013645001919

Length: 178 mm

Width: 9 mm

Height: 9 mm

Weight: 10 g

Naples Yellow (047)

0384652 - #3013645001872

Length: 178 mm

Width: 9 mm

Height: 9 mm

Weight: 11 g

Yellow Ochre (017)

0384678 - #3013645001636

Length: 178 mm

Width: 9 mm

Height: 9 mm

Weight: 8 g

Raw Sienna (018)

0384662 - #3013645001643

Length: 178 mm

Width: 9 mm

Height: 9 mm

Weight: 8 g

Raw Umber (054)

0384664 - #3013645001933

Length: 178 mm

Width: 9 mm

Height: 9 mm

Weight: 9 g

Umber (032)

0384696 - #3013645001759

Length: 178 mm

Width: 9 mm

Height: 9 mm

Weight: 9 g

Sepia (042)

0384670 - #3013645001834

Length: 178 mm

Width: 9 mm

Height: 9 mm

Weight: 8 g

Red Brown (007)

0384692 - #3013645001544

Length: 178 mm

Width: 9 mm

Height: 9 mm

Weight: 9 g

Bordeaux (031)

0384680 - #3013645001742

Length: 178 mm

Width: 9 mm

Height: 9 mm

Weight: 9 g

Bistre (001)

0384706 - #3013645009342

Length: 178 mm

Width: 9 mm

Height: 9 mm

Weight: 9 g

Light Grey (020)

0384642 - #3013645001667

Length: 178 mm

Width: 9 mm

Height: 9 mm

Weight: 9 g

Dark Grey (033)

0384616 - #3013645001766

Length: 178 mm

Width: 9 mm

Height: 9 mm

Weight: 9 g

Paynes Grey (053)

0384654 - #3013645001926

Length: 178 mm

Width: 9 mm

Height: 9 mm

Weight: 10 g

Black (009)

0384708 - #3013645001568

Length: 178 mm

Width: 9 mm

Height: 9 mm

Weight: 10 g

White (013)

0384702 - #3013645001605

Length: 178 mm

Width: 9 mm

Height: 9 mm

Weight: 9 g
 
Barcode
Length (mm)
Width (mm)
Height (mm)
Weight (g)

EDP:0384646

Light Yellow (024)

3013645001698
178
9
9
10

EDP:0384704

Yellow Medium (004)

3013645001513
178
9
9
9

EDP:0384630

Golden Yellow (014)

3013645001612
178
9
9
11

EDP:0384636

Indian Yellow (037)

3013645001780
178
9
9
10

EDP:0384644

Light Orange (049)

3013645001896
178
9
9
9

EDP:0384666

Red Lead (040)

3013645001810
178
9
9
8
3013645001599
178
9
9
10
3013645001889
178
9
9
9

EDP:0384694

Scarlet (028)

3013645001711
178
9
9
8

EDP:0384698

Vermillion (003)

3013645001506
178
9
9
8

EDP:0384628

Garnet Red (039)

3013645001803
178
9
9
8
3013645001797
178
9
9
9
3013645001582
178
9
9
10

EDP:0384618

Cyclamen (041)

3013645001827
178
9
9
8

EDP:0384668

Red Violet (026)

3013645001704
178
9
9
9

EDP:0384656

Persian Violet (055)

3013645001940
178
9
9
10
3013645001520
178
9
9
9
3013645001650
178
9
9
8

EDP:0384672

Sky Blue (056)

3013645001957
178
9
9
9

EDP:0384638

Light Blue (029)

3013645001728
178
9
9
8

EDP:0384632

Green Blue (021)

3013645001674
178
9
9
9

EDP:0384676

Ultramarine (010)

3013645001575
178
9
9
8

EDP:0384682

King Blue (006)

3013645001537
178
9
9
8

EDP:0384622

Dark Ultramarine (046)

3013645001865
178
9
9
9

EDP:0384658

Prussian Blue (022)

3013645001681
178
9
9
10

EDP:0384660

Prussian Green (043)

3013645001841
178
9
9
9

EDP:0384648

Lime Green (050)

3013645001902
178
9
9
9

EDP:0384674

St Michel Green (044)

3013645001858
178
9
9
12

EDP:0384640

Light Green (008)

3013645001551
178
9
9
8

EDP:0384620

Dark Green (002)

3013645001490
178
9
9
8

EDP:0384650

Mineral Green (030)

3013645001735
178
9
9
8

EDP:0384624

Emerald Green (034)

3013645001773
178
9
9
9

EDP:0384686

Olive Green (016)

3013645001629
178
9
9
8

EDP:0384634

Green Grey (051)

3013645001919
178
9
9
10

EDP:0384652

Naples Yellow (047)

3013645001872
178
9
9
11

EDP:0384678

Yellow Ochre (017)

3013645001636
178
9
9
8

EDP:0384662

Raw Sienna (018)

3013645001643
178
9
9
8

EDP:0384664

Raw Umber (054)

3013645001933
178
9
9
9
3013645001759
178
9
9
9
3013645001834
178
9
9
8

EDP:0384692

Red Brown (007)

3013645001544
178
9
9
9

EDP:0384680

Bordeaux (031)

3013645001742
178
9
9
9
3013645009342
178
9
9
9

EDP:0384642

Light Grey (020)

3013645001667
178
9
9
9

EDP:0384616

Dark Grey (033)

3013645001766
178
9
9
9

EDP:0384654

Paynes Grey (053)

3013645001926
178
9
9
10
3013645001568
178
9
9
10
3013645001605
178
9
9
9