Charbonnel Aquawash Etching Inks 150ml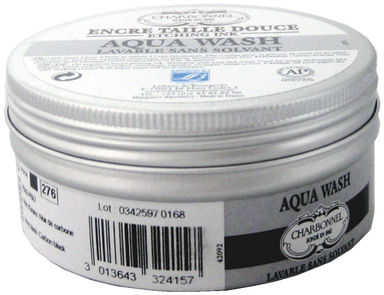 The Aquawash range of inks with Its high pigmentation concentration meets all the criteria for quality inks. It is identical to that of standard inks and can be used in all intaglio printing techniques such as engraving, dry-point, mezzotint, etching and aquatint, as well as monotype and relief printing techniques such as linocut and wood prints.
The binder is composed of several oil emulsions. Its adhesive quality, its flexibility and its yellowing characteristics are identical to those of traditional oils. The only difference being that you can wash hands, materials and tools with water!
Water-washable oil-based emulsion
Wash up with soap & water
High pigment concentration (comparable with standard inks)
Extremely lightfast
All the colours can be intermixed
Viscous and easy to wipe
Same drying times as standard inks
Will not soften when dry
Black 55981

0384850 - #3013643015178

Length: 97 mm

Width: 97 mm

Height: 44 mm

Weight: 270 g

Black 55985

0384852 - #3013643015192

Length: 97 mm

Width: 97 mm

Height: 44 mm

Weight: 270 g

Black Luxe C

0384854 - #3013643324195

Length: 97 mm

Width: 97 mm

Height: 44 mm

Weight: 270 g

Black RSR

0384848 - #3013643015185

Length: 97 mm

Width: 97 mm

Height: 44 mm

Weight: 270 g

Carbon Black

0384856 - #3013643015161

Length: 97 mm

Width: 97 mm

Height: 44 mm

Weight: 270 g
|   | Barcode | Length (mm) | Width (mm) | Height (mm) | Weight (g) |
| --- | --- | --- | --- | --- | --- |
| | 3013643015178 | 97 | 97 | 44 | 270 |
| | 3013643015192 | 97 | 97 | 44 | 270 |
| | 3013643324195 | 97 | 97 | 44 | 270 |
| | 3013643015185 | 97 | 97 | 44 | 270 |
| | 3013643015161 | 97 | 97 | 44 | 270 |