Charbonnel Aquawash Etching Ink Additives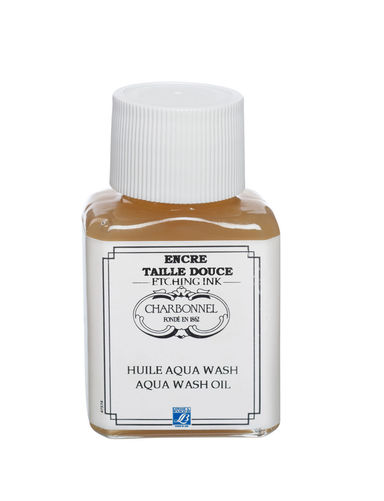 The Transparent Liquid Ground (equivalent to the Transparent White Lake in the standard range) can be mixed with any colour to increase transparency while retaining the same texture. It can be used to increase the viscosity of a colour when it's considered too fluid, therefore adding texture and stickiness helping the colour to adhere.
This medium softens on kneading and does not change the colour with regard to it's tack and its adhesion in the grooves (equivalent to the light, oily strong oils in the standard range). Can be used as a colourless thinner to render colours that are considered too thick at the time of inking or wiping, more fluid whilst maintaining their viscosity. It is is also used in larger amounts (combined or not combined with water) in the monotype or photopolymer techniques, everywhere that greater fluidity is required.
This oil is the binding oil of the AQUA WASH product range. Light Etching Oil is the grinding oil of the Aqua Wash range. Use it to dilute colors considered to be too thick when inking or wiping, while still preserving the ink quality.
Transparent Liquid Ground 60ml

0384858 - #3013643016519

Length: 47 mm

Width: 30 mm

Height: 124 mm

Weight: 90 g

Light Etching oil 75ml

0384860 - #3013643016526

Length: 55 mm

Width: 36 mm

Height: 95 mm

Weight: 186 g
 
Barcode
Length (mm)
Width (mm)
Height (mm)
Weight (g)

EDP:0384858

Transparent Liquid Ground 60ml

3013643016519
47
30
124
90

EDP:0384860

Light Etching oil 75ml

3013643016526
55
36
95
186