10 Step Drawing Books: People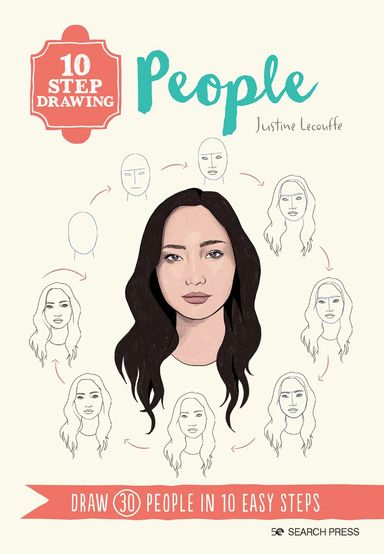 ISBN 9781782218548
Publisher Search Press
Format BC Paperback
Dimensions 164mm x 236mm
Page Extent 128
Pub Date January 2020
Description
If you love drawing people but don't know where to start, this is the book for you! 10 Step Drawing: People will help you turn simple lines or shapes into lifelike images in just 10 steps. There are instructions for the individual elements of the face and body, as well as complete faces and people. With advice on basic equipment and colouring techniques, each drawing includes colour palettes so readers can easily find the right tones for their drawing.
Learning to draw has never been so simple!
About the Author
Justine Lecouffe is an artist, illustrator, and graphic designer based in London, UK. She creates digital and traditional hand drawings encompassing fashion, beauty, architecture, and travel, for clients in a wide range of industries, from book publishing to branding for jewellery and fashion designers. Her work has been published in a number of books, including Good Night Stories for Rebel Girls and her major clients include Apple, O2, the National Trust, NHS, Red bull, Nivea and Pandora.
Book

0074410 - #9781782218548

Length: 11 mm

Width: 164 mm

Height: 325 mm

Weight: 325 g
|   | Barcode | Length (mm) | Width (mm) | Height (mm) | Weight (g) |
| --- | --- | --- | --- | --- | --- |
| | 9781782218548 | 11 | 164 | 325 | 325 |