30 Minute Artist Painting Water In Watercolour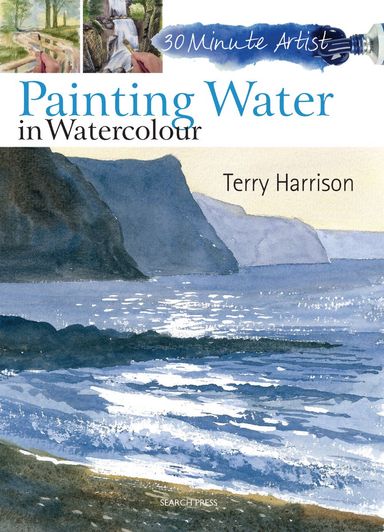 ISBN 9781844489572
Publisher Search Press
Format BC Paperback
Dimensions 155mm x 215mm
Page Extent 96
Pub Date March 2013
Description
All watercolour landscape artists need to know how to paint water, and in this book, Terry Harrison excels in demystifying the painting process. Here he shares his expert advice and no-nonsense tips and techniques for producing quick, effective paintings of water. There are two or three-step exercises for painting water in all its varied moods and situations, including ripples, reflections, puddles, streams, breaking waves, choppy water, surf, bridges, riverbeds, boats, and much more. There are then ten step-by-step demonstrations that can be produced in half an hour: a misty lake, track with puddles, ford, waterfall, lazy river, stormy sea, cliffs, fishing from a boat, sunset estuary and fishing boat.
Essential painting skills conveyed through quick, lively studies
Expert art tuition from a renowned artist for beginners, the busy artist or those wanting to loosen up their painting style
Numerous quick exercises and 11 step by step demonstrations in a handy, affordable pocket-sized format
About the Author
Terry Harrison grew up in Norfolk, UK. His early art education was basic and he never dreamed that he would one day become an artist. At 15, Terry moved to Hampshire and, at 16, inspired by his brilliant art teacher, won a place at Farnham Art School. After graduating he became a graphic artist but continued to paint in his spare time. In 1984 Terry gave up his job to paint full time and never looked back, teaching and demonstrating his watercolour techniques throughout the world, developing his own range of brushes and paints and writing over 20 best-selling books that have been translated into many languages. Sadly, Terry passed away in 2017 but his legacy lives on. His gift for explaining his methods in an easy and accessible way has encouraged countless people to take up painting, and his beautiful works of art, inspired by the English countryside that he loved, will continue to be enjoyed by people all over the world.
To see more of Terry's work visit www.terryharrisonart.com.
Book

0064050 - #9781844489572

Length: 5 mm

Width: 216 mm

Height: 190 mm

Weight: 190 g
|   | Barcode | Length (mm) | Width (mm) | Height (mm) | Weight (g) |
| --- | --- | --- | --- | --- | --- |
| | 9781844489572 | 5 | 216 | 190 | 190 |