10 Step Drawing Books: Manga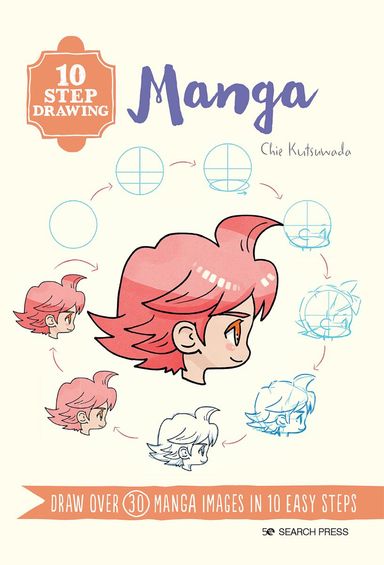 ISBN 9781782219354
Publisher Search Press
Format BC Paperback
Dimensions 164mm x 236mm
Page Extent 128
Pub Date February 2021
Description
Create beautiful manga people and animals in 10 simple steps.
If you love drawing manga but don't know where to start, this is the book for you! 10 step drawing: manga will help you turn simple shapes into beautiful manga drawings in just 10 steps. Create over 30 different portraits, from cute chibi people to a multicoloured manga unicorn, by following the instructions inside.
Learning to draw has never been so simple!
About the Author
Chie Kutsuwada is a UK-based Japanese manga creator and illustrator. After graduating from The Royal College of Art, London, she focused on creating shoujo manga designs. She is the author of manga such as Moonlight, collected in The Mammoth Book of Best New Manga III, published by Constable & Robinson, which was shortlisted in the Manga Jiman competition that aims to promote manga creating talent in the UK.
Chie also attends many manga-related events around the world, and runs manga workshops at schools, libraries and museums including The British Museum, The British Library, Wellcome Collection and the V&A Museum. She has also worked on projects for Channel 4 and CNN.
Book

0083060 - #9781782219354

Length: 11 mm

Width: 164 mm

Height: 236 mm

Weight: 320 g
|   | Barcode | Length (mm) | Width (mm) | Height (mm) | Weight (g) |
| --- | --- | --- | --- | --- | --- |
| | 9781782219354 | 11 | 164 | 236 | 320 |