Learn To Paint In Watercolour With 50 Small Paintings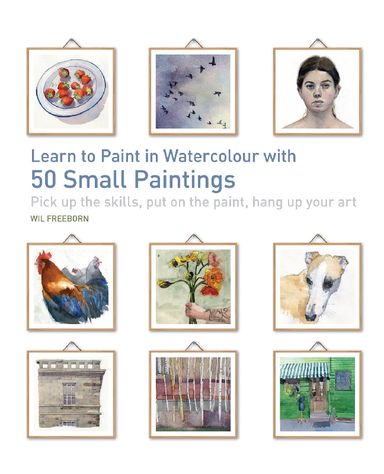 ISBN 9781782214397
Publisher Search Press
Format BC Paperback
Dimensions 215mm x 254mm
Page Extent 144
Pub Date January 2017
Description
A portable course for budding watercolourists, built up subject by subject through over 50 paintings.
The second in this series following the success of Little Ways to Learn Watercolour, this unique book works as a course in watercolour painting, built up subject by subject, over 50 paintings.
Starting off painting subjects that are important to you, you then move on to exploring your immediate environment. By the end of the book, your pictures will start to tell your own story and give you the confidence to continue painting and discovering watercolour's myriad possibilities.
Techniques are introduced throughout the painting projects, from using a simple colour wash to learning about ink techniques or letting go with loose, free watercolours. At the same time, concepts such as properties of light (vital for watercolourists) are explained to give a solid foundation on which to work.
So if you are fresh to the world of watercolour, and daunted by a big blank piece of watercolour paper, this is the book for you.
About the Author
Wil Freeborn is one of Scotland's foremost artists whose multifaceted work straddles the fields of design, illustration, and painting. He studied Environmental Art at Glasgow School of Art. After working as a designer for several design agencies, Wil rediscovered his love of drawing and painting while commuting to work every day. He has exhibited at Paisley Art Institute and the Royal Glasgow Institute and has work featured in The Art of Urban Sketching and An Illustrated Journey.
Book

0018860 - #9781782214397

Length: 267 mm

Width: 229 mm

Height: 219 mm

Weight: 11200 g
|   | Barcode | Length (mm) | Width (mm) | Height (mm) | Weight (g) |
| --- | --- | --- | --- | --- | --- |
| | 9781782214397 | 267 | 229 | 219 | 11200 |