The Art Of Brush Lettering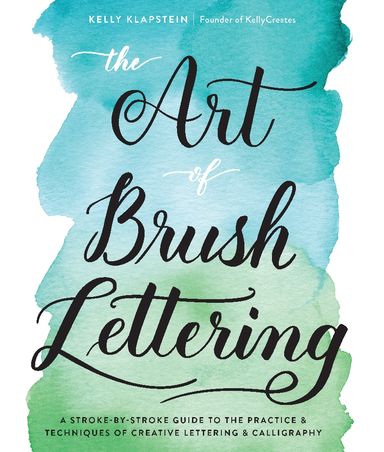 A stroke-by-stroke guide to the practice and techniques of creative lettering and calligraphy.
Pairs well with the Tombow Dual Brush Pens, Tombow Fudenosuke Pens and Tombow Lettering Sets.
ISBN 9781631593550
Publisher Quarto US
Format Paperback
Dimensions 223 x 297mm
Page Extent 160
Pub Date November 2017
Description
A complete guide to lettering with brush pens, The Art of Brush Lettering takes a meditative approach to creating print and script, freestyle and other special effects. Includes tracing worksheets.
Popular Instagram brush lettering artist, Kelly Klapstein, takes a simple, serene approach to teaching the art of creating beautiful letterforms with easy to use and richly coloured brush pens. Kelly begins by guiding you through the tools you'll be using and the best ways to position the arm, hand and paper.
Focusing primarily on the widely popular large brush pens while also providing instruction on using small brush pens, Kelly demonstrates a range of basic strokes and provides drill sheets for practice and improvement.
You'll see how to create print and script letterforms, freestyle lettering and the best ways to develop your own personal style.
About the Author
Kelly Klapstein is the founder and owner of KellyCreates, an online provider of instruction and inspiration for brush lettering. After a decade of teaching high school English, along with writing and developing curriculum, Kelly now runs her site and lettering business full time. She is also a designer and writer for Creative Scrapbooker magazine and a senior ambassador for Tombow, manufacturer and worldwide distributor of pen, arts, crafts and office products. She lives in Edmonton, Alberta, Canada.
Book

0041420 - #9781631593550

Length: 0 mm

Width: 0 mm

Height: 0 mm

Weight: 0 g
|   | Barcode | Length (mm) | Width (mm) | Height (mm) | Weight (g) |
| --- | --- | --- | --- | --- | --- |
| | 9781631593550 | 0 | 0 | 0 | 0 |