Drawing & Painting Portraits In Watercolour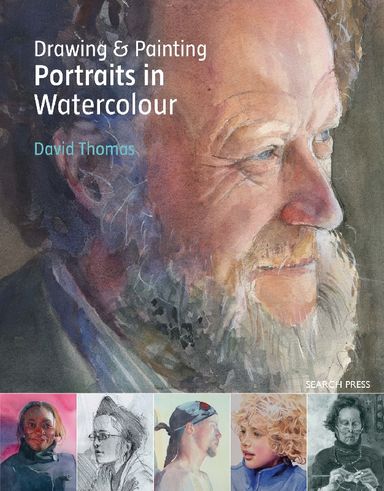 ISBN 9781782210917
Publisher Search Press
Format BC Paperback
Dimensions 216mm x 280mm
Page Extent 128
Pub Date March 2018
Description
Invest your portraiture with character and ease with this complete guide to drawing and painting portraits in watercolour, pencil and charcoal, which includes five step-by-step projects and numerous practical techniques.
Portraiture is one of the most rewarding painting disciplines. In this book, experienced portrait artist David Thomas shows that it need not be intimidating. Learn to use watercolour, pencil and charcoal to produce fresh and approachable portraits invested with life and character.
5 projects (2 charcoal, 3 watercolour)
Popular medium with little competition in this discipline
Approachable and achievable
About the Author
David Thomas showed drawing ability from an early age, and was one reason for his decision to become an architect. Drawing and painting became lifelong hobbies, and an early retirement gave him the opportunity to develop them more seriously. In addition to his artwork, he designs and makes devices as diverse as an artist's folding easel and a walking frame. His portraits have generally been commissions, often of children. He runs occasional portrait workshops and gives portrait demonstrations to local art societies.
Book

0018800 - #9781782210917

Length: 453 mm

Width: 295 mm

Height: 154 mm

Weight: 17200 g
|   | Barcode | Length (mm) | Width (mm) | Height (mm) | Weight (g) |
| --- | --- | --- | --- | --- | --- |
| | 9781782210917 | 453 | 295 | 154 | 17200 |