Byron Kids Washable Paint 75ml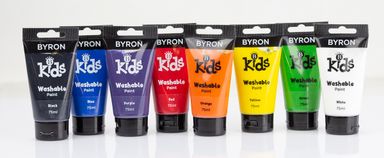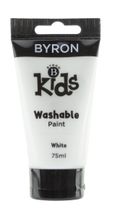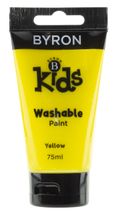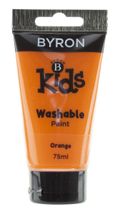 Byron Kids Washable Paint is ideal for children's art & craft projects.
Fast drying and made for young children to use safely.
Can be used on most surfaces, such as paper, canvas, cardboard, wood and more.
Non-Toxic.
Available in 8 colours.
Available in 75ml tubes, 250ml bottles and sets.
Check out Byron Kids Paint Accessories and Paper Pads!
Washing instructions:
Soak garment, wash in warm water with laundry detergent. Do not allow paint to dry. Wash from skin promptly with warm soapy water.
Yellow

0069050 - #9311960069053

Length: 34 mm

Width: 54 mm

Height: 155 mm

Weight: 300 g

Orange

0069060 - #9311960069060

Length: 34 mm

Width: 54 mm

Height: 155 mm

Weight: 300 g

Red

0069070 - #9311960069077

Length: 34 mm

Width: 54 mm

Height: 155 mm

Weight: 300 g

Purple

0069080 - #9311960069084

Length: 34 mm

Width: 54 mm

Height: 155 mm

Weight: 300 g

Blue

0069090 - #9311960069091

Length: 34 mm

Width: 54 mm

Height: 155 mm

Weight: 300 g

Green

0069100 - #9311960069107

Length: 34 mm

Width: 54 mm

Height: 155 mm

Weight: 300 g

Black

0069110 - #9311960069114

Length: 34 mm

Width: 54 mm

Height: 155 mm

Weight: 300 g

White

0069040 - #9311960069046

Length: 34 mm

Width: 54 mm

Height: 155 mm

Weight: 300 g
|   | Barcode | Length (mm) | Width (mm) | Height (mm) | Weight (g) |
| --- | --- | --- | --- | --- | --- |
| | 9311960069053 | 34 | 54 | 155 | 300 |
| | 9311960069060 | 34 | 54 | 155 | 300 |
| | 9311960069077 | 34 | 54 | 155 | 300 |
| | 9311960069084 | 34 | 54 | 155 | 300 |
| | 9311960069091 | 34 | 54 | 155 | 300 |
| | 9311960069107 | 34 | 54 | 155 | 300 |
| | 9311960069114 | 34 | 54 | 155 | 300 |
| | 9311960069046 | 34 | 54 | 155 | 300 |