Fabriano Toned Paper Pad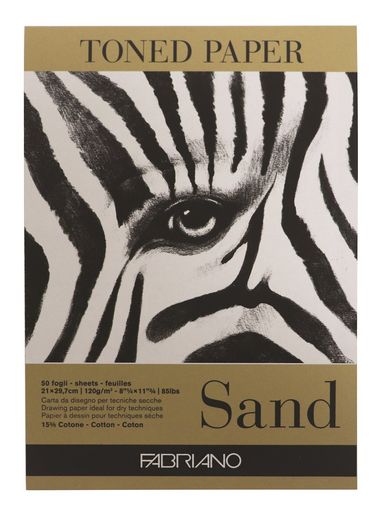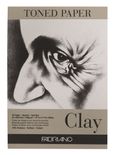 Ideal for sketching and drawing that emphasizes on shading and highlighting techniques.
Premium 15% Cotton Content gives to the paper softness and strength.

The smooth natural surface is particularly suitable for all dry techniques such as pencil, charcoal, crayon, coloured or ink pencils, gel pens and water-based markers.
Topside glued
120gsm
50 sheets
Available in Sand and Clay
Available in sizes A4 and A3
Sand 120gsm 50sht A4

0041000 - #8001348205241

Length: 210 mm

Width: 297 mm

Height: 15 mm

Weight: 0 g

Sand 120gsm 50sht A3

0041010 - #8001348205289

Length: 297 mm

Width: 420 mm

Height: 15 mm

Weight: 0 g

Clay 120gsm 50sht A4

0041020 - #8001348205265

Length: 210 mm

Width: 297 mm

Height: 15 mm

Weight: 0 g

Clay 120gsm 50sht A3

0041030 - #8001348205302

Length: 297 mm

Width: 420 mm

Height: 15 mm

Weight: 0 g

Moss 120gsm 50sht A4

0063130 - #8001348207795

Length: 210 mm

Width: 297 mm

Height: 10 mm

Weight: 100 g

Moss 120gsm 50sht A3

0063150 - #8001348207832

Length: 297 mm

Width: 420 mm

Height: 10 mm

Weight: 10 g

Sea 120gsm 50sht A4

0063120 - #8001348207771

Length: 210 mm

Width: 297 mm

Height: 10 mm

Weight: 100 g

Sea 120gsm 50sht A3

0063140 - #8001348207818

Length: 297 mm

Width: 420 mm

Height: 10 mm

Weight: 210 g
 
Barcode
Length (mm)
Width (mm)
Height (mm)
Weight (g)

EDP:0041000

Sand 120gsm 50sht A4

8001348205241
210
297
15
0

EDP:0041010

Sand 120gsm 50sht A3

8001348205289
297
420
15
0

EDP:0041020

Clay 120gsm 50sht A4

8001348205265
210
297
15
0

EDP:0041030

Clay 120gsm 50sht A3

8001348205302
297
420
15
0

EDP:0063130

Moss 120gsm 50sht A4

8001348207795
210
297
10
100

EDP:0063150

Moss 120gsm 50sht A3

8001348207832
297
420
10
10

EDP:0063120

Sea 120gsm 50sht A4

8001348207771
210
297
10
100

EDP:0063140

Sea 120gsm 50sht A3

8001348207818
297
420
10
210