Jasart Studio Colour Pencils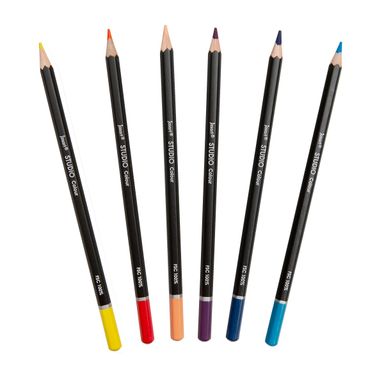 Studio quality colour pencils designed to perform.
Brilliant colours offering extra smooth application
Excellent colour laydown for 100% coverage
Soft, break-resistant 3.3mm leads
Non-toxic, Acid-Free
High-quality FSC certified wood for smooth sharpening
Centred leads fully bonded to the wood to prevent breakage
Available in 72 individual colours and sets of 12, 24, 36 and 72.
Also available in Jumbo Colour, Watercolour and Graphite Sketch!
White

0029520 - #9311960029521

Length: 9 mm

Width: 9 mm

Height: 179 mm

Weight: 8 g

Sand

0029530 - #9311960029538

Length: 9 mm

Width: 9 mm

Height: 179 mm

Weight: 8 g

Lemon Yellow

0029540 - #9311960029545

Length: 9 mm

Width: 9 mm

Height: 179 mm

Weight: 8 g

Yellow

0029550 - #9311960029552

Length: 9 mm

Width: 9 mm

Height: 179 mm

Weight: 8 g

Chrome Yellow

0029560 - #9311960029569

Length: 9 mm

Width: 9 mm

Height: 179 mm

Weight: 8 g

Tangerine

0029570 - #9311960029576

Length: 9 mm

Width: 9 mm

Height: 179 mm

Weight: 8 g

Orange

0029580 - #9311960029583

Length: 9 mm

Width: 9 mm

Height: 179 mm

Weight: 8 g

Vermilion

0029590 - #9311960029590

Length: 9 mm

Width: 9 mm

Height: 179 mm

Weight: 8 g

Scarlet

0029600 - #9311960029606

Length: 9 mm

Width: 9 mm

Height: 179 mm

Weight: 8 g

Red

0029610 - #9311960029613

Length: 9 mm

Width: 9 mm

Height: 179 mm

Weight: 8 g

Coral Red

0029620 - #9311960029620

Length: 9 mm

Width: 9 mm

Height: 179 mm

Weight: 8 g

Geranium Red

0029630 - #9311960029637

Length: 9 mm

Width: 9 mm

Height: 179 mm

Weight: 8 g

Carmine

0029640 - #9311960029644

Length: 9 mm

Width: 9 mm

Height: 179 mm

Weight: 8 g

Hot Pink

0029650 - #9311960029651

Length: 9 mm

Width: 9 mm

Height: 179 mm

Weight: 8 g

Rose

0029670 - #9311960029675

Length: 9 mm

Width: 9 mm

Height: 179 mm

Weight: 8 g

Pink

0029680 - #9311960029682

Length: 9 mm

Width: 9 mm

Height: 179 mm

Weight: 8 g

Salmon

0029690 - #9311960029699

Length: 9 mm

Width: 9 mm

Height: 179 mm

Weight: 8 g

Blush

0029700 - #9311960029705

Length: 9 mm

Width: 9 mm

Height: 179 mm

Weight: 8 g

Flesh

0029710 - #9311960029712

Length: 9 mm

Width: 9 mm

Height: 179 mm

Weight: 8 g

Cream Beige

0029720 - #9311960029729

Length: 9 mm

Width: 9 mm

Height: 179 mm

Weight: 8 g

Lavender

0029730 - #9311960029736

Length: 9 mm

Width: 9 mm

Height: 179 mm

Weight: 8 g

Lilac

0029740 - #9311960029743

Length: 9 mm

Width: 9 mm

Height: 179 mm

Weight: 8 g

Hydrangea Pink

0029750 - #9311960029750

Length: 9 mm

Width: 9 mm

Height: 179 mm

Weight: 8 g

Magenta

0029760 - #9311960029767

Length: 9 mm

Width: 9 mm

Height: 179 mm

Weight: 8 g

Claret

0029770 - #9311960029774

Length: 9 mm

Width: 9 mm

Height: 179 mm

Weight: 8 g

Maroon

0029780 - #9311960029781

Length: 9 mm

Width: 9 mm

Height: 179 mm

Weight: 8 g

Red Violet

0029790 - #9311960029798

Length: 9 mm

Width: 9 mm

Height: 179 mm

Weight: 8 g

Violet

0029800 - #9311960029804

Length: 9 mm

Width: 9 mm

Height: 179 mm

Weight: 8 g

Purple

0029810 - #9311960029811

Length: 9 mm

Width: 9 mm

Height: 179 mm

Weight: 8 g

Prussian Blue

0029820 - #9311960029828

Length: 9 mm

Width: 9 mm

Height: 179 mm

Weight: 8 g

Ultramarine Blue

0029840 - #9311960029842

Length: 9 mm

Width: 9 mm

Height: 179 mm

Weight: 8 g

Cobalt Blue

0029850 - #9311960029859

Length: 9 mm

Width: 9 mm

Height: 179 mm

Weight: 8 g

Sky Blue

0029860 - #9311960029866

Length: 9 mm

Width: 9 mm

Height: 179 mm

Weight: 8 g

Blue

0029870 - #9311960029873

Length: 9 mm

Width: 9 mm

Height: 179 mm

Weight: 8 g

Kingfisher Blue

0029880 - #9311960029880

Length: 9 mm

Width: 9 mm

Height: 179 mm

Weight: 8 g

Light Blue

0029890 - #9311960029897

Length: 9 mm

Width: 9 mm

Height: 179 mm

Weight: 8 g

Blue Grass

0029900 - #9311960029903

Length: 9 mm

Width: 9 mm

Height: 179 mm

Weight: 8 g

Cerulean Blue

0029910 - #9311960029910

Length: 9 mm

Width: 9 mm

Height: 179 mm

Weight: 8 g

Turquoise Green

0029920 - #9311960029927

Length: 9 mm

Width: 9 mm

Height: 179 mm

Weight: 8 g

Jade

0029930 - #9311960029934

Length: 9 mm

Width: 9 mm

Height: 179 mm

Weight: 8 g

Brilliant Green

0029940 - #9311960029941

Length: 9 mm

Width: 9 mm

Height: 179 mm

Weight: 8 g

Viridian

0029950 - #9311960029958

Length: 9 mm

Width: 9 mm

Height: 179 mm

Weight: 8 g

Peppermint

0029960 - #9311960029965

Length: 9 mm

Width: 9 mm

Height: 179 mm

Weight: 8 g

Grass Green

0029970 - #9311960029972

Length: 9 mm

Width: 9 mm

Height: 179 mm

Weight: 8 g

Green

0029980 - #9311960029989

Length: 9 mm

Width: 9 mm

Height: 179 mm

Weight: 8 g

Emerald

0029990 - #9311960029996

Length: 9 mm

Width: 9 mm

Height: 179 mm

Weight: 8 g

Moss Green

0030000 - #9311960030008

Length: 9 mm

Width: 9 mm

Height: 179 mm

Weight: 8 g

Teal Green

0030010 - #9311960030015

Length: 9 mm

Width: 9 mm

Height: 179 mm

Weight: 8 g

Yellow Green

0030020 - #9311960030022

Length: 9 mm

Width: 9 mm

Height: 179 mm

Weight: 8 g

Lime Green

0030030 - #9311960030039

Length: 9 mm

Width: 9 mm

Height: 179 mm

Weight: 8 g

Mustard

0030040 - #9311960030046

Length: 9 mm

Width: 9 mm

Height: 179 mm

Weight: 8 g

Light Ochre

0030050 - #9311960030053

Length: 9 mm

Width: 9 mm

Height: 179 mm

Weight: 8 g

Ochre

0030060 - #9311960030060

Length: 9 mm

Width: 9 mm

Height: 179 mm

Weight: 8 g

Burnt Ochre

0030070 - #9311960030077

Length: 9 mm

Width: 9 mm

Height: 179 mm

Weight: 8 g

Brown Ochre

0030080 - #9311960030084

Length: 9 mm

Width: 9 mm

Height: 179 mm

Weight: 8 g

Olive Green

0030090 - #9311960030091

Length: 9 mm

Width: 9 mm

Height: 179 mm

Weight: 8 g

Burnt Sienna

0030100 - #9311960030107

Length: 9 mm

Width: 9 mm

Height: 179 mm

Weight: 8 g

Brown

0030110 - #9311960030114

Length: 9 mm

Width: 9 mm

Height: 179 mm

Weight: 8 g

Red Brown

0030120 - #9311960030121

Length: 9 mm

Width: 9 mm

Height: 179 mm

Weight: 8 g

Brick Red

0030130 - #9311960030138

Length: 9 mm

Width: 9 mm

Height: 179 mm

Weight: 8 g

Van Dyke Brown

0030140 - #9311960030145

Length: 9 mm

Width: 9 mm

Height: 179 mm

Weight: 8 g

Dark Chocolate

0030150 - #9311960030152

Length: 9 mm

Width: 9 mm

Height: 179 mm

Weight: 8 g

Light Grey

0030160 - #9311960030169

Length: 9 mm

Width: 9 mm

Height: 179 mm

Weight: 8 g

Silver Grey

0030170 - #9311960030176

Length: 9 mm

Width: 9 mm

Height: 179 mm

Weight: 8 g

Warm Grey

0030180 - #9311960030183

Length: 9 mm

Width: 9 mm

Height: 179 mm

Weight: 8 g

Blue Grey

0030190 - #9311960030190

Length: 9 mm

Width: 9 mm

Height: 179 mm

Weight: 8 g

Dark Grey

0030200 - #9311960030206

Length: 9 mm

Width: 9 mm

Height: 179 mm

Weight: 8 g

Payne's Grey

0030210 - #9311960030213

Length: 9 mm

Width: 9 mm

Height: 179 mm

Weight: 8 g

Black

0030220 - #9311960030220

Length: 9 mm

Width: 9 mm

Height: 179 mm

Weight: 8 g

Gold

0030230 - #9311960030237

Length: 9 mm

Width: 9 mm

Height: 179 mm

Weight: 8 g

Bark

0030240 - #9311960030244

Length: 9 mm

Width: 9 mm

Height: 179 mm

Weight: 8 g

Silver

0030250 - #9311960030251

Length: 9 mm

Width: 9 mm

Height: 179 mm

Weight: 8 g
 
Barcode
Length (mm)
Width (mm)
Height (mm)
Weight (g)
9311960029521
9
9
179
8
9311960029538
9
9
179
8
9311960029545
9
9
179
8
9311960029552
9
9
179
8

EDP:0029560

Chrome Yellow

9311960029569
9
9
179
8
9311960029576
9
9
179
8
9311960029583
9
9
179
8
9311960029590
9
9
179
8
9311960029606
9
9
179
8
9311960029613
9
9
179
8
9311960029620
9
9
179
8
9311960029637
9
9
179
8
9311960029644
9
9
179
8
9311960029651
9
9
179
8
9311960029675
9
9
179
8
9311960029682
9
9
179
8
9311960029699
9
9
179
8
9311960029705
9
9
179
8
9311960029712
9
9
179
8
9311960029729
9
9
179
8
9311960029736
9
9
179
8
9311960029743
9
9
179
8

EDP:0029750

Hydrangea Pink

9311960029750
9
9
179
8
9311960029767
9
9
179
8
9311960029774
9
9
179
8
9311960029781
9
9
179
8
9311960029798
9
9
179
8
9311960029804
9
9
179
8
9311960029811
9
9
179
8

EDP:0029820

Prussian Blue

9311960029828
9
9
179
8

EDP:0029840

Ultramarine Blue

9311960029842
9
9
179
8
9311960029859
9
9
179
8
9311960029866
9
9
179
8
9311960029873
9
9
179
8

EDP:0029880

Kingfisher Blue

9311960029880
9
9
179
8
9311960029897
9
9
179
8
9311960029903
9
9
179
8

EDP:0029910

Cerulean Blue

9311960029910
9
9
179
8

EDP:0029920

Turquoise Green

9311960029927
9
9
179
8
9311960029934
9
9
179
8

EDP:0029940

Brilliant Green

9311960029941
9
9
179
8
9311960029958
9
9
179
8
9311960029965
9
9
179
8
9311960029972
9
9
179
8
9311960029989
9
9
179
8
9311960029996
9
9
179
8
9311960030008
9
9
179
8
9311960030015
9
9
179
8
9311960030022
9
9
179
8
9311960030039
9
9
179
8
9311960030046
9
9
179
8
9311960030053
9
9
179
8
9311960030060
9
9
179
8
9311960030077
9
9
179
8
9311960030084
9
9
179
8
9311960030091
9
9
179
8
9311960030107
9
9
179
8
9311960030114
9
9
179
8
9311960030121
9
9
179
8
9311960030138
9
9
179
8

EDP:0030140

Van Dyke Brown

9311960030145
9
9
179
8

EDP:0030150

Dark Chocolate

9311960030152
9
9
179
8
9311960030169
9
9
179
8
9311960030176
9
9
179
8
9311960030183
9
9
179
8
9311960030190
9
9
179
8
9311960030206
9
9
179
8
9311960030213
9
9
179
8
9311960030220
9
9
179
8
9311960030237
9
9
179
8
9311960030244
9
9
179
8
9311960030251
9
9
179
8