Jasart Academy Canvas Boards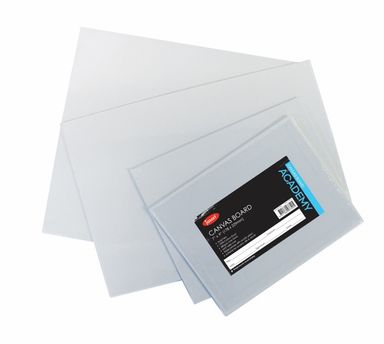 Jasart Academy Round Canvas Boards are suitable for hobbyists, students and quick paint outs. Triple primed with Acrylic Gesso, these boards are ideal for use with Acrylic, Oil & Alkyds. Each canvas is die cut and glued onto a solid base, with branded backing paper.
No additional priming required.
100% Cotton.
280gsm Fine Grain.
Acid Free.
Solid MDF core.
5" x 7"

0073400 - #9311960073401

Length: 127 mm

Width: 178 mm

Height: 3 mm

Weight: 67 g

6" x 8"

0073410 - #9311960073418

Length: 152 mm

Width: 203 mm

Height: 3 mm

Weight: 92 g

7" x 9"

0073420 - #9311960073425

Length: 178 mm

Width: 229 mm

Height: 3 mm

Weight: 120 g

8" x 10"

0073430 - #9311960073432

Length: 203 mm

Width: 254 mm

Height: 3 mm

Weight: 153 g

A4

0073540 - #9311960073548

Length: 210 mm

Width: 297 mm

Height: 3 mm

Weight: 185 g

9" x 12"

0073450 - #9311960073456

Length: 229 mm

Width: 305 mm

Height: 3 mm

Weight: 172 g

10" x 12"

0073440 - #9311960073449

Length: 254 mm

Width: 305 mm

Height: 3 mm

Weight: 228 g

10" x 14"

0073460 - #9311960073463

Length: 254 mm

Width: 356 mm

Height: 3 mm

Weight: 267 g

12" x 12"

0073470 - #9311960073470

Length: 305 mm

Width: 305 mm

Height: 3 mm

Weight: 275 g

11" x 14"

0073480 - #9311960073487

Length: 279 mm

Width: 356 mm

Height: 3 mm

Weight: 300 g

12" x 16"

0073490 - #9311960073494

Length: 305 mm

Width: 406 mm

Height: 3 mm

Weight: 367 g

A3

0073550 - #9311960073555

Length: 297 mm

Width: 420 mm

Height: 3 mm

Weight: 369 g

14" x 18"

0073500 - #9311960073500

Length: 356 mm

Width: 457 mm

Height: 3 mm

Weight: 479 g

16" x 20"

0073510 - #9311960073517

Length: 406 mm

Width: 508 mm

Height: 3 mm

Weight: 608 g

A2

0073560 - #9311960073562

Length: 420 mm

Width: 594 mm

Height: 3 mm

Weight: 632 g

18" x 24"

0073520 - #9311960073524

Length: 457 mm

Width: 610 mm

Height: 3 mm

Weight: 822 g

20" x 24"

0073530 - #9311960073531

Length: 508 mm

Width: 610 mm

Height: 3 mm

Weight: 944 g

A1

0073570 - #9311960073579

Length: 594 mm

Width: 841 mm

Height: 3 mm

Weight: 1892 g
|   | Barcode | Length (mm) | Width (mm) | Height (mm) | Weight (g) |
| --- | --- | --- | --- | --- | --- |
| | 9311960073401 | 127 | 178 | 3 | 67 |
| | 9311960073418 | 152 | 203 | 3 | 92 |
| | 9311960073425 | 178 | 229 | 3 | 120 |
| | 9311960073432 | 203 | 254 | 3 | 153 |
| | 9311960073548 | 210 | 297 | 3 | 185 |
| | 9311960073456 | 229 | 305 | 3 | 172 |
| | 9311960073449 | 254 | 305 | 3 | 228 |
| | 9311960073463 | 254 | 356 | 3 | 267 |
| | 9311960073470 | 305 | 305 | 3 | 275 |
| | 9311960073487 | 279 | 356 | 3 | 300 |
| | 9311960073494 | 305 | 406 | 3 | 367 |
| | 9311960073555 | 297 | 420 | 3 | 369 |
| | 9311960073500 | 356 | 457 | 3 | 479 |
| | 9311960073517 | 406 | 508 | 3 | 608 |
| | 9311960073562 | 420 | 594 | 3 | 632 |
| | 9311960073524 | 457 | 610 | 3 | 822 |
| | 9311960073531 | 508 | 610 | 3 | 944 |
| | 9311960073579 | 594 | 841 | 3 | 1892 |