Jasart Byron Acrylic 75ml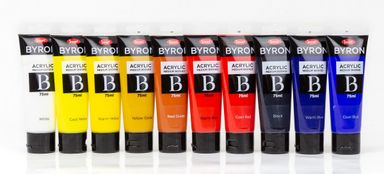 Jasart Byron is a medium-bodied acrylic.
The colours are bright, intense and permanent after they have dried.
Can be used on most surfaces such as paper, canvas, wood, glass, plastic and more.
Warm and Cool Primary colours will allow you to have superior colour mixing.
Non toxic.
75ml tubes available in 44 colours including fluoro, pastels, glitter and metallic colours.
Available in 75ml tubes, 1Litre and 2Litre bottles.
Downloadable resources for use with Jasart Byron Acrylic Colour:
Fluoro Yellow

0040510 - #9311960040519

Length: 54 mm

Width: 155 mm

Height: 34 mm

Weight: 110 g

Cool Yellow

0040260 - #9311960040267

Length: 54 mm

Width: 155 mm

Height: 34 mm

Weight: 110 g

Warm Yellow

0040380 - #9311960040380

Length: 54 mm

Width: 155 mm

Height: 34 mm

Weight: 110 g

Naples Yellow

0060920 - #9311960060920

Length: 54 mm

Width: 155 mm

Height: 34 mm

Weight: 110 g

Orange

0040340 - #9311960040342

Length: 54 mm

Width: 155 mm

Height: 34 mm

Weight: 110 g

Fluoro Orange

0040440 - #9311960040441

Length: 54 mm

Width: 155 mm

Height: 34 mm

Weight: 110 g

Warm Red

0040310 - #9311960040311

Length: 54 mm

Width: 155 mm

Height: 34 mm

Weight: 110 g

Cool Red

0043120 - #9311960043121

Length: 54 mm

Width: 155 mm

Height: 34 mm

Weight: 110 g

Magenta

0040480 - #9311960040489

Length: 54 mm

Width: 155 mm

Height: 34 mm

Weight: 110 g

Fluoro Pink

0040450 - #9311960040458

Length: 54 mm

Width: 155 mm

Height: 34 mm

Weight: 110 g

Pale Pink

0060950 - #9311960060951

Length: 54 mm

Width: 155 mm

Height: 34 mm

Weight: 110 g

Lavender

0060940 - #9311960060944

Length: 54 mm

Width: 155 mm

Height: 34 mm

Weight: 110 g

Fluoro Purple

0060970 - #9311960060975

Length: 54 mm

Width: 155 mm

Height: 34 mm

Weight: 110 g

Violet

0040360 - #9311960040366

Length: 54 mm

Width: 155 mm

Height: 34 mm

Weight: 110 g

Warm Blue

0040370 - #9311960040373

Length: 54 mm

Width: 155 mm

Height: 34 mm

Weight: 110 g

Cobalt Blue

0040320 - #9311960040328

Length: 54 mm

Width: 155 mm

Height: 34 mm

Weight: 110 g

Cool Blue

0040270 - #9311960040274

Length: 54 mm

Width: 155 mm

Height: 34 mm

Weight: 110 g

Light Blue

0060960 - #9311960060968

Length: 54 mm

Width: 155 mm

Height: 34 mm

Weight: 110 g

Bright Aqua Green

0060930 - #9311960060937

Length: 54 mm

Width: 155 mm

Height: 34 mm

Weight: 110 g

Fluoro Green

0040500 - #9311960040502

Length: 54 mm

Width: 155 mm

Height: 34 mm

Weight: 110 g

Green Light

0040350 - #9311960040359

Length: 54 mm

Width: 155 mm

Height: 34 mm

Weight: 110 g

Pearl Green

0061030 - #9311960061033

Length: 54 mm

Width: 155 mm

Height: 34 mm

Weight: 110 g

Green Deep

0040330 - #9311960040335

Length: 54 mm

Width: 155 mm

Height: 34 mm

Weight: 110 g

Forest Green

0040460 - #9311960040465

Length: 54 mm

Width: 155 mm

Height: 34 mm

Weight: 110 g

Burnt Umber

0040430 - #9311960040434

Length: 54 mm

Width: 155 mm

Height: 34 mm

Weight: 110 g

Raw Umber

0040530 - #9311960040533

Length: 54 mm

Width: 155 mm

Height: 34 mm

Weight: 110 g

Burnt Sienna

0040420 - #9311960040427

Length: 54 mm

Width: 155 mm

Height: 34 mm

Weight: 110 g

Red Oxide

0040490 - #9311960040496

Length: 54 mm

Width: 155 mm

Height: 34 mm

Weight: 110 g

Copper

0061040 - #9311960061040

Length: 54 mm

Width: 155 mm

Height: 34 mm

Weight: 110 g

Gold Oxide

0040520 - #9311960040526

Length: 54 mm

Width: 155 mm

Height: 34 mm

Weight: 110 g

Raw Sienna

0040410 - #9311960040410

Length: 54 mm

Width: 155 mm

Height: 34 mm

Weight: 110 g

Yellow Oxide

0040390 - #9311960040397

Length: 54 mm

Width: 155 mm

Height: 34 mm

Weight: 110 g

Bronze

0061050 - #9311960061057

Length: 54 mm

Width: 155 mm

Height: 34 mm

Weight: 110 g

Gold

0040280 - #9311960040281

Length: 54 mm

Width: 155 mm

Height: 34 mm

Weight: 110 g

Coral

0040470 - #9311960040472

Length: 54 mm

Width: 155 mm

Height: 34 mm

Weight: 110 g

Silver

0040290 - #9311960040298

Length: 54 mm

Width: 155 mm

Height: 34 mm

Weight: 110 g

Neutral Grey

0040300 - #9311960040304

Length: 54 mm

Width: 155 mm

Height: 34 mm

Weight: 110 g

Black

0040240 - #9311960040243

Length: 54 mm

Width: 155 mm

Height: 34 mm

Weight: 110 g

White

0040250 - #9311960040250

Length: 54 mm

Width: 155 mm

Height: 34 mm

Weight: 110 g

Glitter Red

0061000 - #9311960061002

Length: 54 mm

Width: 155 mm

Height: 34 mm

Weight: 110 g

Glitter Blue

0061020 - #9311960061026

Length: 54 mm

Width: 155 mm

Height: 34 mm

Weight: 110 g

Glitter Green

0061010 - #9311960061019

Length: 54 mm

Width: 155 mm

Height: 34 mm

Weight: 110 g

Glitter Gold

0060990 - #9311960060999

Length: 54 mm

Width: 155 mm

Height: 34 mm

Weight: 110 g

Glitter Silver

0060980 - #9311960060982

Length: 54 mm

Width: 155 mm

Height: 34 mm

Weight: 110 g

Glitter Purple

0077280 - #9311960077287

Length: 54 mm

Width: 155 mm

Height: 34 mm

Weight: 110 g
 
Barcode
Length (mm)
Width (mm)
Height (mm)
Weight (g)

EDP:0040510

Fluoro Yellow

9311960040519
54
155
34
110
9311960040267
54
155
34
110
9311960040380
54
155
34
110

EDP:0060920

Naples Yellow

9311960060920
54
155
34
110
9311960040342
54
155
34
110

EDP:0040440

Fluoro Orange

9311960040441
54
155
34
110
9311960040311
54
155
34
110
9311960043121
54
155
34
110
9311960040489
54
155
34
110
9311960040458
54
155
34
110
9311960060951
54
155
34
110
9311960060944
54
155
34
110

EDP:0060970

Fluoro Purple

9311960060975
54
155
34
110
9311960040366
54
155
34
110
9311960040373
54
155
34
110
9311960040328
54
155
34
110
9311960040274
54
155
34
110
9311960060968
54
155
34
110

EDP:0060930

Bright Aqua Green

9311960060937
54
155
34
110
9311960040502
54
155
34
110
9311960040359
54
155
34
110
9311960061033
54
155
34
110
9311960040335
54
155
34
110
9311960040465
54
155
34
110
9311960040434
54
155
34
110
9311960040533
54
155
34
110
9311960040427
54
155
34
110
9311960040496
54
155
34
110
9311960061040
54
155
34
110
9311960040526
54
155
34
110
9311960040410
54
155
34
110
9311960040397
54
155
34
110
9311960061057
54
155
34
110
9311960040281
54
155
34
110
9311960040472
54
155
34
110
9311960040298
54
155
34
110
9311960040304
54
155
34
110
9311960040243
54
155
34
110
9311960040250
54
155
34
110
9311960061002
54
155
34
110
9311960061026
54
155
34
110

EDP:0061010

Glitter Green

9311960061019
54
155
34
110
9311960060999
54
155
34
110

EDP:0060980

Glitter Silver

9311960060982
54
155
34
110

EDP:0077280

Glitter Purple

9311960077287
54
155
34
110