Jasart Academy Round Canvas Boards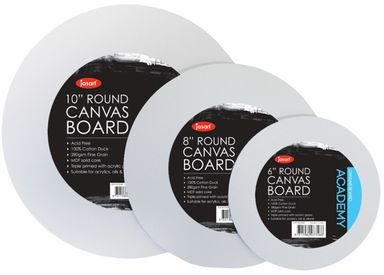 Jasart Academy Canvas Boards are suitable for hobbyists, students and quick paint outs. Triple primed with Acrylic Gesso, these boards are ideal for use with Acrylic, Oil & Alkyds.
Stretched canvas folded and glued onto a solid base, with branded backing paper. Backing paper includes a detail panel, ideal to record the artwork or class details.
No additional priming required.
100% Cotton.
280gsm Fine Grain.
Acid Free.
Solid MDF core.
6 Inch White

0073580 - #9311960073586

Length: 152 mm

Width: 152 mm

Height: 3 mm

Weight: 53 g

8 Inch White

0073590 - #9311960073593

Length: 203 mm

Width: 203 mm

Height: 3 mm

Weight: 93 g

10 Inch White

0073600 - #9311960073609

Length: 254 mm

Width: 254 mm

Height: 3 mm

Weight: 157 g

12 Inch White

0073610 - #9311960073616

Length: 305 mm

Width: 305 mm

Height: 3 mm

Weight: 215 g

16 Inch White

0073620 - #9311960073623

Length: 406 mm

Width: 406 mm

Height: 3 mm

Weight: 383 g
 
Barcode
Length (mm)
Width (mm)
Height (mm)
Weight (g)
9311960073586
152
152
3
53
9311960073593
203
203
3
93

EDP:0073600

10 Inch White

9311960073609
254
254
3
157

EDP:0073610

12 Inch White

9311960073616
305
305
3
215

EDP:0073620

16 Inch White

9311960073623
406
406
3
383