Liquitex Heavy Body Acrylic 59ml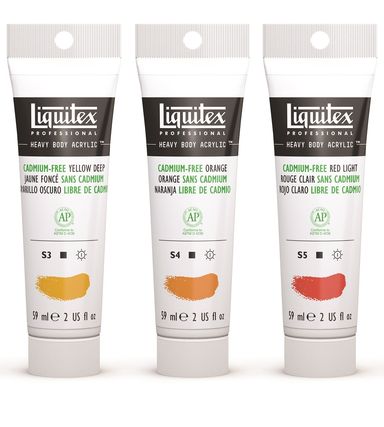 Bring your creativity to life with Liquitex Heavy Body Acrylic Paint. Experience the thick buttery consistency with a similar outcome to using oil paints. Palette knife and brush strokes are retained once dry, making it the perfect paint for traditional art techniques as well as experimental contemporary styles and mixed media.
Rich brilliant colours due to its high pigment load.
Impasto applications are free of cracks and chips and flexible when dry.
Available in over 100 professional colours.
Liquitex Heavy Body Acrylic Cadmium Free:
The world's first non-cadmium acrylic paints with the same performance as cadmium paint. This new range has been rigorously scientifically and artist tested over a 3 year period to ensure they deliver the same quality as cadmium paints in terms of: brightness, colour strength, opacity and clean mixing.
Available in 7 colours, it is also safer for artists to use with less health impact and reduced impact on the environment.
Fluorescent Yellow S2 (981) NEW

0095080 - #887452048756

Length: 46 mm

Width: 30 mm

Height: 138 mm

Weight: 80 g

Fluorescent Orange S2 (982) NEW

0095090 - #887452048763

Length: 46 mm

Width: 30 mm

Height: 138 mm

Weight: 80 g

Fluorescent Red S2 (983) NEW

0095100 - #887452048770

Length: 46 mm

Width: 30 mm

Height: 138 mm

Weight: 80 g

Fluorescent Pink S2 (987) NEW

0095110 - #887452048787

Length: 46 mm

Width: 30 mm

Height: 138 mm

Weight: 80 g

Fluorescent Blue S2 (984) NEW

0095120 - #887452048794

Length: 46 mm

Width: 30 mm

Height: 138 mm

Weight: 80 g

Fluorescent Green S2 (985) NEW

0095130 - #887452048800

Length: 46 mm

Width: 30 mm

Height: 138 mm

Weight: 80 g

Light Bismuth Yellow S1 (156) NEW

0095040 - #887452048817

Length: 46 mm

Width: 30 mm

Height: 138 mm

Weight: 80 g

Yellow Light Hansa S1 (411)

0384132 - #0094376921991

Length: 30 mm

Width: 46 mm

Height: 138 mm

Weight: 90 g

Cadmium Free Yellow Light S3 (159)

0015230 - #0887452997207

Length: 30 mm

Width: 46 mm

Height: 138 mm

Weight: 87 g

Cadmium Yellow Light S3 (160)

0384206 - #0094376921496

Length: 30 mm

Width: 46 mm

Height: 138 mm

Weight: 90 g

Cadmium Free Yellow Medium S3 (830)

0015240 - #0887452997214

Length: 30 mm

Width: 46 mm

Height: 138 mm

Weight: 87 g

Cadmium Yellow Medium S3 (161)

0384208 - #887452051718

Length: 30 mm

Width: 46 mm

Height: 138 mm

Weight: 90 g

Cadmium Free Yellow Deep S3 (163)

0015250 - #0887452997221

Length: 30 mm

Width: 46 mm

Height: 138 mm

Weight: 87 g

Yellow Medium Azo S2 (412)

0384182 - #0094376922004

Length: 30 mm

Width: 46 mm

Height: 138 mm

Weight: 90 g

Indian Yellow S2 (324)

0384136 - #0094376943443

Length: 30 mm

Width: 46 mm

Height: 138 mm

Weight: 90 g

Turners Yellow S2 (730)

0384176 - #0094376922233

Length: 30 mm

Width: 46 mm

Height: 138 mm

Weight: 90 g

Yellow Orange Azo S2 (414)

0384184 - #0094376922011

Length: 30 mm

Width: 46 mm

Height: 138 mm

Weight: 90 g

Cadmium Free Orange S4 (720)

0015260 - #0887452997238

Length: 30 mm

Width: 46 mm

Height: 138 mm

Weight: 87 g

Cadmium Orange S4 (150)

0384242 - #0094376921441

Length: 30 mm

Width: 46 mm

Height: 138 mm

Weight: 90 g

Vivid Red Orange S3 (620)

0384234 - #0094376922189

Length: 30 mm

Width: 46 mm

Height: 138 mm

Weight: 90 g

Pyrolle Orange S4 (323)

0384256 - #0094376943436

Length: 30 mm

Width: 46 mm

Height: 138 mm

Weight: 90 g

Transparent Orange S2 (035) NEW

0095070 - #887452048848

Length: 46 mm

Width: 30 mm

Height: 138 mm

Weight: 80 g

Cadmium Free Red Light S5 (893)

0015270 - #0887452997245

Length: 30 mm

Width: 46 mm

Height: 138 mm

Weight: 87 g

Cadmium Red Light S5 (152)

0384260 - #887452051688

Length: 30 mm

Width: 46 mm

Height: 138 mm

Weight: 90 g

Naphthol Red Light S2 (294)

0384166 - #0094376921793

Length: 30 mm

Width: 46 mm

Height: 138 mm

Weight: 90 g

Cadmium Free Red Medium S5 (151)

0015280 - #0887452997252

Length: 30 mm

Width: 46 mm

Height: 138 mm

Weight: 87 g

Cadmium Red Medium S5 (154)

0384262 - #0094376921472

Length: 30 mm

Width: 46 mm

Height: 138 mm

Weight: 90 g

Pyrolle Red S4 (321)

0384258 - #0094376943412

Length: 30 mm

Width: 46 mm

Height: 138 mm

Weight: 90 g

Quinacridone Red S3 (112)

0384232 - #0094376921366

Length: 30 mm

Width: 46 mm

Height: 138 mm

Weight: 90 g

Quinacridone Crimson S3 (110)

0384214 - #0094376921359

Length: 30 mm

Width: 46 mm

Height: 138 mm

Weight: 90 g

Cadmium Free Red Deep S4 (311)

0015290 - #0887452997269

Length: 30 mm

Width: 46 mm

Height: 138 mm

Weight: 87 g

Alizarin Crimson Hue Permanent S2 (116)

0384168 - #0094376921397

Length: 30 mm

Width: 46 mm

Height: 138 mm

Weight: 90 g

Quinacridone Red Orange S3 (109)

0384230 - #0094376921342

Length: 30 mm

Width: 46 mm

Height: 138 mm

Weight: 90 g

Naphthol Crimson S2 (292)

0384164 - #0094376921786

Length: 30 mm

Width: 46 mm

Height: 138 mm

Weight: 90 g

Pyrrole Crimson S4 (326)

0384254 - #0094376943467

Length: 30 mm

Width: 46 mm

Height: 138 mm

Weight: 90 g

Deep Magenta S3 (300)

0384222 - #0094376921809

Length: 30 mm

Width: 46 mm

Height: 138 mm

Weight: 90 g

Light Potrait Pink S1 (810)

0384108 - #0094376922264

Length: 30 mm

Width: 46 mm

Height: 138 mm

Weight: 90 g

Medium Magenta S1 (500)

0384110 - #0094376922097

Length: 30 mm

Width: 46 mm

Height: 138 mm

Weight: 90 g

Quinacridone Magenta S3 (114)

0384228 - #0094376921373

Length: 30 mm

Width: 46 mm

Height: 138 mm

Weight: 90 g

Deep Violet S3 (115)

0384220 - #0094376921380

Length: 30 mm

Width: 46 mm

Height: 138 mm

Weight: 90 g

Prism Violet S2 (391)

0384174 - #0094376921960

Length: 30 mm

Width: 46 mm

Height: 138 mm

Weight: 90 g

Quinacridone Blue Violet S3 (118)

0384240 - #0094376921410

Length: 30 mm

Width: 46 mm

Height: 138 mm

Weight: 90 g

Dioxazine Purple S2 (186)

0384156 - #0094376921588

Length: 30 mm

Width: 46 mm

Height: 138 mm

Weight: 90 g

Brilliant Purple S1 (590)

0384064 - #0094376922158

Length: 30 mm

Width: 46 mm

Height: 138 mm

Weight: 90 g

Light Blue Violet S1 (680)

0384106 - #0094376922219

Length: 30 mm

Width: 46 mm

Height: 138 mm

Weight: 90 g

Cobalt Blue S4 (170)

0384244 - #0094376921557

Length: 30 mm

Width: 46 mm

Height: 138 mm

Weight: 90 g

Cobalt Blue Hue S1 (381)

0384104 - #0094376921946

Length: 30 mm

Width: 46 mm

Height: 138 mm

Weight: 90 g

Ultramarine Blue (Green Shade) S1A (380)

0384128 - #0094376921939

Length: 30 mm

Width: 46 mm

Height: 138 mm

Weight: 90 g

Ultramarine Blue (Red Shade) S1A (382)

0384126 - #0094376921953

Length: 30 mm

Width: 46 mm

Height: 138 mm

Weight: 90 g

Indigo S1 (208) NEW

0095060 - #887452048831

Length: 46 mm

Width: 30 mm

Height: 138 mm

Weight: 80 g

Phthalo Blue (Red Shade) S2 (314)

0384138 - #0094376943405

Length: 30 mm

Width: 46 mm

Height: 138 mm

Weight: 90 g

Phthalo Blue (Green Shade) S1 (316)

0384118 - #0094376921854

Length: 30 mm

Width: 46 mm

Height: 138 mm

Weight: 90 g

Indanthrene Blue S3 (322)

0384210 - #0094376943429

Length: 30 mm

Width: 46 mm

Height: 138 mm

Weight: 90 g

Prussian Blue Hue S2 (320)

0384140 - #0094376921878

Length: 30 mm

Width: 46 mm

Height: 138 mm

Weight: 90 g

Cerulean Blue Hue S2 (470)

0384152 - #0094376922080

Length: 30 mm

Width: 46 mm

Height: 138 mm

Weight: 90 g

Cerulean Blue S3 (164)

0384218 - #0094376921526

Length: 30 mm

Width: 46 mm

Height: 138 mm

Weight: 90 g

Maganese Blue Hue S3 (275)

0384226 - #0094376921762

Length: 30 mm

Width: 46 mm

Height: 138 mm

Weight: 90 g

Brilliant Blue S1 (570)

0384100 - #0094376922141

Length: 30 mm

Width: 46 mm

Height: 138 mm

Weight: 90 g

Light Blue Permenant S1 (770)

0384078 - #0094376922257

Length: 30 mm

Width: 46 mm

Height: 138 mm

Weight: 90 g

Light Phthalo Green S1 (313) NEW

0095050 - #887452048824

Length: 46 mm

Width: 30 mm

Height: 138 mm

Weight: 80 g

Cobalt Teal S4 (172)

0384248 - #0094376921571

Length: 30 mm

Width: 46 mm

Height: 138 mm

Weight: 90 g

Bright Aqua Green S1 (660)

0384070 - #0094376922202

Length: 30 mm

Width: 46 mm

Height: 138 mm

Weight: 90 g

Brilliant Yellow Green Transparent S1 (840)

0384066 - #0094376922288

Length: 30 mm

Width: 46 mm

Height: 138 mm

Weight: 90 g

Vivid Lime Green S1 (740)

0384130 - #0094376922240

Length: 30 mm

Width: 46 mm

Height: 138 mm

Weight: 90 g

Light Emerald Green S3 (650)

0384224 - #0094376922196

Length: 30 mm

Width: 46 mm

Height: 138 mm

Weight: 90 g

Light Green Permanent S2 (312)

0384172 - #0094376921830

Length: 30 mm

Width: 46 mm

Height: 138 mm

Weight: 90 g

Emerald Green S2 (450)

0384158 - #0094376922073

Length: 30 mm

Width: 46 mm

Height: 138 mm

Weight: 90 g

Cobalt Turquoise S4 (169)

0384250 - #0094376921540

Length: 30 mm

Width: 46 mm

Height: 138 mm

Weight: 90 g

Green Deep Permanent S2 (350)

0384160 - #0094376921922

Length: 30 mm

Width: 46 mm

Height: 138 mm

Weight: 90 g

Viridian Hue Transparent S2 (327)

0384188 - #0094376943474

Length: 30 mm

Width: 46 mm

Height: 138 mm

Weight: 90 g

Phthalo Green (Blue Shade) S1 (317)

0384120 - #0094376921861

Length: 30 mm

Width: 46 mm

Height: 138 mm

Weight: 90 g

Phthalo Green (Yellow Shade) S1 (319)

0384122 - #0094376921885

Length: 30 mm

Width: 46 mm

Height: 138 mm

Weight: 90 g

Cobalt Green S4 (171)

0384246 - #0094376921564

Length: 30 mm

Width: 46 mm

Height: 138 mm

Weight: 90 g

Turquoise Deep S2 (561)

0384178 - #0094376922134

Length: 30 mm

Width: 46 mm

Height: 138 mm

Weight: 90 g

Viridian Hue Permanent S1 (398)

0384116 - #0094376921984

Length: 30 mm

Width: 46 mm

Height: 138 mm

Weight: 90 g

Sap Green Permanent S2 (315)

0384170 - #0094376921847

Length: 30 mm

Width: 46 mm

Height: 138 mm

Weight: 90 g

Hookers Green Hue Permanent S1A (224)

0384114 - #0094376921595

Length: 30 mm

Width: 46 mm

Height: 138 mm

Weight: 90 g

Hookers Green Deep Hue Permt S1 (225)

0384112 - #0094376921601

Length: 30 mm

Width: 46 mm

Height: 138 mm

Weight: 90 g

Green Gold S4 (325)

0384252 - #0094376943450

Length: 30 mm

Width: 46 mm

Height: 138 mm

Weight: 90 g

Chromium Oxide Green S2 (166)

0384154 - #0094376921533

Length: 30 mm

Width: 46 mm

Height: 138 mm

Weight: 90 g

Bronze Yellow S1 (530)

0384068 - #0094376922110

Length: 30 mm

Width: 46 mm

Height: 138 mm

Weight: 90 g

Naples Yellow Hue S2 (601)

0384162 - #0094376922172

Length: 30 mm

Width: 46 mm

Height: 138 mm

Weight: 90 g

Yellow Oxide S1 (416)

0384090 - #0094376922028

Length: 30 mm

Width: 46 mm

Height: 138 mm

Weight: 90 g

Raw Sienna Transparent S3 (332)

0384238 - #0094376943481

Length: 30 mm

Width: 46 mm

Height: 138 mm

Weight: 90 g

Raw Sienna S1 (330)

0384084 - #0094376921892

Length: 30 mm

Width: 46 mm

Height: 138 mm

Weight: 90 g

Burnt Sienna Transparent S3 (129)

0384236 - #0094376943382

Length: 30 mm

Width: 46 mm

Height: 138 mm

Weight: 90 g

Van Dyke Red S2 (392)

0384180 - #0094376921977

Length: 30 mm

Width: 46 mm

Height: 138 mm

Weight: 90 g

Red Oxide S1 (335)

0384124 - #0094376921915

Length: 30 mm

Width: 46 mm

Height: 138 mm

Weight: 90 g

Burnt Sienna S1 (127)

0384098 - #0094376921427

Length: 30 mm

Width: 46 mm

Height: 138 mm

Weight: 90 g

Raw Umber S1 (331)

0384086 - #0094376921908

Length: 30 mm

Width: 46 mm

Height: 138 mm

Weight: 90 g

Raw Umber Transparent S2 (333)

0384186 - #0094376943498

Length: 30 mm

Width: 46 mm

Height: 138 mm

Weight: 90 g

Burnt Umber S1 (128)

0384096 - #0094376921434

Length: 30 mm

Width: 46 mm

Height: 138 mm

Weight: 90 g

Burnt Umber Transparent S2 (130)

0384134 - #0094376943399

Length: 30 mm

Width: 46 mm

Height: 138 mm

Weight: 90 g

Gray V5 Mixing Gray S1 (599)

0384076 - #0094376922165

Length: 30 mm

Width: 46 mm

Height: 138 mm

Weight: 90 g

Paynes Gray S1 (310)

0384082 - #0094376921816

Length: 30 mm

Width: 46 mm

Height: 138 mm

Weight: 90 g

Mars Black S1 (276)

0384074 - #0094376921779

Length: 30 mm

Width: 46 mm

Height: 138 mm

Weight: 90 g

Ivory Black S1 (244)

0384072 - #0094376921755

Length: 30 mm

Width: 46 mm

Height: 138 mm

Weight: 90 g

Parchment S1 (436)

0384080 - #0094376922066

Length: 30 mm

Width: 46 mm

Height: 138 mm

Weight: 90 g

Unbleached Titanium S1 (434)

0384088 - #0094376922059

Length: 30 mm

Width: 46 mm

Height: 138 mm

Weight: 90 g

Titanium White S1 (432)

0384092 - #0094376922042

Length: 30 mm

Width: 46 mm

Height: 138 mm

Weight: 90 g

Transparent Mixing White S1 (430)

0384094 - #0094376922035

Length: 30 mm

Width: 46 mm

Height: 138 mm

Weight: 90 g

Iridescent White S2 (238)

0384204 - #0094376921717

Length: 30 mm

Width: 46 mm

Height: 138 mm

Weight: 90 g

Iridescent Bright Silver S2 (236)

0384202 - #0094376921694

Length: 30 mm

Width: 46 mm

Height: 138 mm

Weight: 90 g

Iridescent Rich Silver S2 (239)

0384190 - #0094376921724

Length: 30 mm

Width: 46 mm

Height: 138 mm

Weight: 90 g

Iridescent Black S2 (338) NEW

0095030 - #887452048862

Length: 46 mm

Width: 30 mm

Height: 138 mm

Weight: 80 g

Iridescent Rich Copper S2 (230)

0384192 - #0094376921632

Length: 30 mm

Width: 46 mm

Height: 138 mm

Weight: 90 g

Iridescent Rose Gold S2 (277) NEW

0095020 - #887452048855

Length: 46 mm

Width: 30 mm

Height: 138 mm

Weight: 80 g

Iridescent Rich Gold S2 (229)

0384198 - #0094376921625

Length: 30 mm

Width: 46 mm

Height: 138 mm

Weight: 90 g

Iridescent Antique Gold S2 (237)

0384194 - #0094376921700

Length: 30 mm

Width: 46 mm

Height: 138 mm

Weight: 90 g

Iridescent Rich Gold S2 (235)

0384200 - #0094376921687

Length: 30 mm

Width: 46 mm

Height: 138 mm

Weight: 90 g

Iridescent Bright Gold S2 (234)

0384196 - #0094376921670

Length: 30 mm

Width: 46 mm

Height: 138 mm

Weight: 90 g

Muted Pink S3 (504)

0424490 - #887452995623

Length: 49 mm

Width: 34 mm

Height: 145 mm

Weight: 80 g

Muted Violet S3 (502)

0424510 - #887452995609

Length: 49 mm

Width: 34 mm

Height: 145 mm

Weight: 80 g

Muted Green S3 (501)

0424520 - #887452995616

Length: 49 mm

Width: 34 mm

Height: 145 mm

Weight: 80 g

Muted Turquoise S3 (503)

0424480 - #887452995647

Length: 49 mm

Width: 34 mm

Height: 145 mm

Weight: 80 g

Muted Grey S3 (505)

0424500 - #887452995630

Length: 49 mm

Width: 34 mm

Height: 145 mm

Weight: 80 g
 
Barcode
Length (mm)
Width (mm)
Height (mm)
Weight (g)

EDP:0095080

Fluorescent Yellow S2 (981) NEW

887452048756
46
30
138
80

EDP:0095090

Fluorescent Orange S2 (982) NEW

887452048763
46
30
138
80

EDP:0095100

Fluorescent Red S2 (983) NEW

887452048770
46
30
138
80

EDP:0095110

Fluorescent Pink S2 (987) NEW

887452048787
46
30
138
80

EDP:0095120

Fluorescent Blue S2 (984) NEW

887452048794
46
30
138
80

EDP:0095130

Fluorescent Green S2 (985) NEW

887452048800
46
30
138
80

EDP:0095040

Light Bismuth Yellow S1 (156) NEW

887452048817
46
30
138
80

EDP:0384132

Yellow Light Hansa S1 (411)

0094376921991
30
46
138
90

EDP:0015230

Cadmium Free Yellow Light S3 (159)

0887452997207
30
46
138
87

EDP:0384206

Cadmium Yellow Light S3 (160)

0094376921496
30
46
138
90

EDP:0015240

Cadmium Free Yellow Medium S3 (830)

0887452997214
30
46
138
87

EDP:0384208

Cadmium Yellow Medium S3 (161)

887452051718
30
46
138
90

EDP:0015250

Cadmium Free Yellow Deep S3 (163)

0887452997221
30
46
138
87

EDP:0384182

Yellow Medium Azo S2 (412)

0094376922004
30
46
138
90

EDP:0384136

Indian Yellow S2 (324)

0094376943443
30
46
138
90

EDP:0384176

Turners Yellow S2 (730)

0094376922233
30
46
138
90

EDP:0384184

Yellow Orange Azo S2 (414)

0094376922011
30
46
138
90

EDP:0015260

Cadmium Free Orange S4 (720)

0887452997238
30
46
138
87

EDP:0384242

Cadmium Orange S4 (150)

0094376921441
30
46
138
90

EDP:0384234

Vivid Red Orange S3 (620)

0094376922189
30
46
138
90

EDP:0384256

Pyrolle Orange S4 (323)

0094376943436
30
46
138
90

EDP:0095070

Transparent Orange S2 (035) NEW

887452048848
46
30
138
80

EDP:0015270

Cadmium Free Red Light S5 (893)

0887452997245
30
46
138
87

EDP:0384260

Cadmium Red Light S5 (152)

887452051688
30
46
138
90

EDP:0384166

Naphthol Red Light S2 (294)

0094376921793
30
46
138
90

EDP:0015280

Cadmium Free Red Medium S5 (151)

0887452997252
30
46
138
87

EDP:0384262

Cadmium Red Medium S5 (154)

0094376921472
30
46
138
90

EDP:0384258

Pyrolle Red S4 (321)

0094376943412
30
46
138
90

EDP:0384232

Quinacridone Red S3 (112)

0094376921366
30
46
138
90

EDP:0384214

Quinacridone Crimson S3 (110)

0094376921359
30
46
138
90

EDP:0015290

Cadmium Free Red Deep S4 (311)

0887452997269
30
46
138
87

EDP:0384168

Alizarin Crimson Hue Permanent S2 (116)

0094376921397
30
46
138
90

EDP:0384230

Quinacridone Red Orange S3 (109)

0094376921342
30
46
138
90

EDP:0384164

Naphthol Crimson S2 (292)

0094376921786
30
46
138
90

EDP:0384254

Pyrrole Crimson S4 (326)

0094376943467
30
46
138
90

EDP:0384222

Deep Magenta S3 (300)

0094376921809
30
46
138
90

EDP:0384108

Light Potrait Pink S1 (810)

0094376922264
30
46
138
90

EDP:0384110

Medium Magenta S1 (500)

0094376922097
30
46
138
90

EDP:0384228

Quinacridone Magenta S3 (114)

0094376921373
30
46
138
90

EDP:0384220

Deep Violet S3 (115)

0094376921380
30
46
138
90

EDP:0384174

Prism Violet S2 (391)

0094376921960
30
46
138
90

EDP:0384240

Quinacridone Blue Violet S3 (118)

0094376921410
30
46
138
90

EDP:0384156

Dioxazine Purple S2 (186)

0094376921588
30
46
138
90

EDP:0384064

Brilliant Purple S1 (590)

0094376922158
30
46
138
90

EDP:0384106

Light Blue Violet S1 (680)

0094376922219
30
46
138
90

EDP:0384244

Cobalt Blue S4 (170)

0094376921557
30
46
138
90

EDP:0384104

Cobalt Blue Hue S1 (381)

0094376921946
30
46
138
90

EDP:0384128

Ultramarine Blue (Green Shade) S1A (380)

0094376921939
30
46
138
90

EDP:0384126

Ultramarine Blue (Red Shade) S1A (382)

0094376921953
30
46
138
90

EDP:0095060

Indigo S1 (208) NEW

887452048831
46
30
138
80

EDP:0384138

Phthalo Blue (Red Shade) S2 (314)

0094376943405
30
46
138
90

EDP:0384118

Phthalo Blue (Green Shade) S1 (316)

0094376921854
30
46
138
90

EDP:0384210

Indanthrene Blue S3 (322)

0094376943429
30
46
138
90

EDP:0384140

Prussian Blue Hue S2 (320)

0094376921878
30
46
138
90

EDP:0384152

Cerulean Blue Hue S2 (470)

0094376922080
30
46
138
90

EDP:0384218

Cerulean Blue S3 (164)

0094376921526
30
46
138
90

EDP:0384226

Maganese Blue Hue S3 (275)

0094376921762
30
46
138
90

EDP:0384100

Brilliant Blue S1 (570)

0094376922141
30
46
138
90

EDP:0384078

Light Blue Permenant S1 (770)

0094376922257
30
46
138
90

EDP:0095050

Light Phthalo Green S1 (313) NEW

887452048824
46
30
138
80

EDP:0384248

Cobalt Teal S4 (172)

0094376921571
30
46
138
90

EDP:0384070

Bright Aqua Green S1 (660)

0094376922202
30
46
138
90

EDP:0384066

Brilliant Yellow Green Transparent S1 (840)

0094376922288
30
46
138
90

EDP:0384130

Vivid Lime Green S1 (740)

0094376922240
30
46
138
90

EDP:0384224

Light Emerald Green S3 (650)

0094376922196
30
46
138
90

EDP:0384172

Light Green Permanent S2 (312)

0094376921830
30
46
138
90

EDP:0384158

Emerald Green S2 (450)

0094376922073
30
46
138
90

EDP:0384250

Cobalt Turquoise S4 (169)

0094376921540
30
46
138
90

EDP:0384160

Green Deep Permanent S2 (350)

0094376921922
30
46
138
90

EDP:0384188

Viridian Hue Transparent S2 (327)

0094376943474
30
46
138
90

EDP:0384120

Phthalo Green (Blue Shade) S1 (317)

0094376921861
30
46
138
90

EDP:0384122

Phthalo Green (Yellow Shade) S1 (319)

0094376921885
30
46
138
90

EDP:0384246

Cobalt Green S4 (171)

0094376921564
30
46
138
90

EDP:0384178

Turquoise Deep S2 (561)

0094376922134
30
46
138
90

EDP:0384116

Viridian Hue Permanent S1 (398)

0094376921984
30
46
138
90

EDP:0384170

Sap Green Permanent S2 (315)

0094376921847
30
46
138
90

EDP:0384114

Hookers Green Hue Permanent S1A (224)

0094376921595
30
46
138
90

EDP:0384112

Hookers Green Deep Hue Permt S1 (225)

0094376921601
30
46
138
90

EDP:0384252

Green Gold S4 (325)

0094376943450
30
46
138
90

EDP:0384154

Chromium Oxide Green S2 (166)

0094376921533
30
46
138
90

EDP:0384068

Bronze Yellow S1 (530)

0094376922110
30
46
138
90

EDP:0384162

Naples Yellow Hue S2 (601)

0094376922172
30
46
138
90

EDP:0384090

Yellow Oxide S1 (416)

0094376922028
30
46
138
90

EDP:0384238

Raw Sienna Transparent S3 (332)

0094376943481
30
46
138
90

EDP:0384084

Raw Sienna S1 (330)

0094376921892
30
46
138
90

EDP:0384236

Burnt Sienna Transparent S3 (129)

0094376943382
30
46
138
90

EDP:0384180

Van Dyke Red S2 (392)

0094376921977
30
46
138
90

EDP:0384124

Red Oxide S1 (335)

0094376921915
30
46
138
90

EDP:0384098

Burnt Sienna S1 (127)

0094376921427
30
46
138
90

EDP:0384086

Raw Umber S1 (331)

0094376921908
30
46
138
90

EDP:0384186

Raw Umber Transparent S2 (333)

0094376943498
30
46
138
90

EDP:0384096

Burnt Umber S1 (128)

0094376921434
30
46
138
90

EDP:0384134

Burnt Umber Transparent S2 (130)

0094376943399
30
46
138
90

EDP:0384076

Gray V5 Mixing Gray S1 (599)

0094376922165
30
46
138
90

EDP:0384082

Paynes Gray S1 (310)

0094376921816
30
46
138
90

EDP:0384074

Mars Black S1 (276)

0094376921779
30
46
138
90

EDP:0384072

Ivory Black S1 (244)

0094376921755
30
46
138
90

EDP:0384080

Parchment S1 (436)

0094376922066
30
46
138
90

EDP:0384088

Unbleached Titanium S1 (434)

0094376922059
30
46
138
90

EDP:0384092

Titanium White S1 (432)

0094376922042
30
46
138
90

EDP:0384094

Transparent Mixing White S1 (430)

0094376922035
30
46
138
90

EDP:0384204

Iridescent White S2 (238)

0094376921717
30
46
138
90

EDP:0384202

Iridescent Bright Silver S2 (236)

0094376921694
30
46
138
90

EDP:0384190

Iridescent Rich Silver S2 (239)

0094376921724
30
46
138
90

EDP:0095030

Iridescent Black S2 (338) NEW

887452048862
46
30
138
80

EDP:0384192

Iridescent Rich Copper S2 (230)

0094376921632
30
46
138
90

EDP:0095020

Iridescent Rose Gold S2 (277) NEW

887452048855
46
30
138
80

EDP:0384198

Iridescent Rich Gold S2 (229)

0094376921625
30
46
138
90

EDP:0384194

Iridescent Antique Gold S2 (237)

0094376921700
30
46
138
90

EDP:0384200

Iridescent Rich Gold S2 (235)

0094376921687
30
46
138
90

EDP:0384196

Iridescent Bright Gold S2 (234)

0094376921670
30
46
138
90

EDP:0424490

Muted Pink S3 (504)

887452995623
49
34
145
80

EDP:0424510

Muted Violet S3 (502)

887452995609
49
34
145
80

EDP:0424520

Muted Green S3 (501)

887452995616
49
34
145
80

EDP:0424480

Muted Turquoise S3 (503)

887452995647
49
34
145
80

EDP:0424500

Muted Grey S3 (505)

887452995630
49
34
145
80