Jasart Dual Tip Marker Sets of 6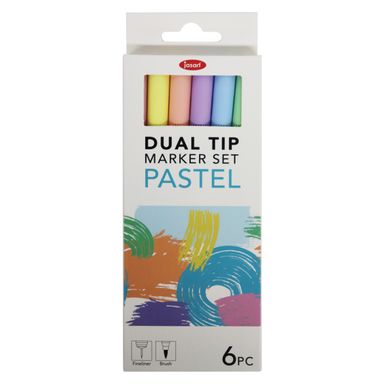 Jasart Dual Tip Brush Markers are perfect for journaling, drawing, calligraphy, colouring and more. These are ideal for students, hobbyists and crafters.
The brush tip is ideal for broader lines & lettering and the fine tip (0.4mm) for smaller details and writing.
Highly pigmented colours. Easy layering and colour mixing. Water based, long lasting colours.

Acid Free. Non-toxic.
Pastel Set 6

0066420 - #9311960066427

Length: 181 mm

Width: 68 mm

Height: 100 mm

Weight: 100 g

Floral Set 6

0066430 - #9311960066434

Length: 181 mm

Width: 68 mm

Height: 100 mm

Weight: 100 g

Bright Set 6

0066440 - #9311960066441

Length: 181 mm

Width: 68 mm

Height: 100 mm

Weight: 100 g

Earth Set 6

0066450 - #9311960066458

Length: 181 mm

Width: 68 mm

Height: 100 mm

Weight: 100 g

Retro Set 6

0066460 - #9311960066465

Length: 181 mm

Width: 68 mm

Height: 100 mm

Weight: 100 g
|   | Barcode | Length (mm) | Width (mm) | Height (mm) | Weight (g) |
| --- | --- | --- | --- | --- | --- |
| | 9311960066427 | 181 | 68 | 100 | 100 |
| | 9311960066434 | 181 | 68 | 100 | 100 |
| | 9311960066441 | 181 | 68 | 100 | 100 |
| | 9311960066458 | 181 | 68 | 100 | 100 |
| | 9311960066465 | 181 | 68 | 100 | 100 |
Jasart Dual Nib Brush Fineliner

Download