Jasart Studio Jumbo Colour Pencil Sets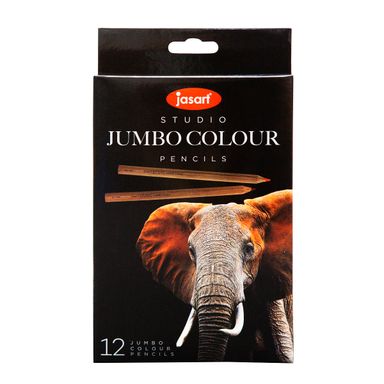 Studio quality colour pencils designed to perform.
Extra thick lead (5.0mm)
Brilliant colours offering extra smooth application
Excellent colour laydown for 100% coverage
Soft break-resistant leads. Non-toxic, Acid-Free
High-quality FSC certified wood for smooth sharpening
Centred leads fully bonded to the wood to prevent breakage
Also available in 36 individual colours.
Set of 12 includes: Yellow, Orange, Red, Hot Pink, Blush, Purple, Blue, Light Blue, Green, Yellow Green, Brown, Black.
Set of 24 includes:White, Yellow, Chrome Yellow, Orange, Vermilion, Red, Carmine, Hot Pink, Blush, Magenta, Violet, Purple, Ultramarine, Blue, Light Blue, Jade, Green, Yellow Green, Burnt Ochre, Brown, Brick Red, Van Dyke Brown, Warm Grey, Black.
Set 12

0030680 - #9311960030688

Length: 175 mm

Width: 214 mm

Height: 15 mm

Weight: 250 g

Set 24

0030690 - #9311960030695

Length: 175 mm

Width: 214 mm

Height: 30 mm

Weight: 600 g
|   | Barcode | Length (mm) | Width (mm) | Height (mm) | Weight (g) |
| --- | --- | --- | --- | --- | --- |
| | 9311960030688 | 175 | 214 | 15 | 250 |
| | 9311960030695 | 175 | 214 | 30 | 600 |