Jasart Studio Jumbo Colour Pencils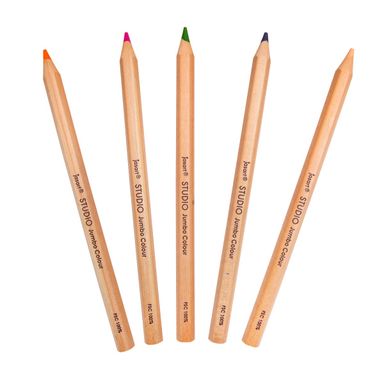 Studio quality colour pencils designed to perform.
Extra thick lead (5.0mm)
Brilliant colours offering extra smooth application
Excellent colour laydown for 100% coverage
Soft break-resistant leads. Non-toxic, Acid-Free
High-quality FSC certified wood for smooth sharpening
Centred leads fully bonded to the wood to prevent breakage
36 Individual colours available.
Also available in sets of 12 and 24.
Also available in regular size colour, Watercolour and Graphite Sketch!
White

0030260 - #9311960030268

Length: 10 mm

Width: 10 mm

Height: 175 mm

Weight: 10 g

Yellow

0030270 - #9311960030275

Length: 10 mm

Width: 10 mm

Height: 175 mm

Weight: 10 g

Lemon

0030280 - #9311960030282

Length: 10 mm

Width: 10 mm

Height: 175 mm

Weight: 10 g

Chrome Yellow

0030290 - #9311960030299

Length: 10 mm

Width: 10 mm

Height: 175 mm

Weight: 10 g

Orange

0030300 - #9311960030305

Length: 10 mm

Width: 10 mm

Height: 175 mm

Weight: 10 g

Vermilion

0030380 - #9311960030381

Length: 10 mm

Width: 10 mm

Height: 175 mm

Weight: 10 g

Red

0030310 - #9311960030312

Length: 10 mm

Width: 10 mm

Height: 175 mm

Weight: 10 g

Geranium Red

0030320 - #9311960030329

Length: 10 mm

Width: 10 mm

Height: 175 mm

Weight: 10 g

Brick Red

0030370 - #9311960030374

Length: 10 mm

Width: 10 mm

Height: 175 mm

Weight: 10 g

Carmine

0030330 - #9311960030336

Length: 10 mm

Width: 10 mm

Height: 175 mm

Weight: 10 g

Hot Pink

0030360 - #9311960030367

Length: 10 mm

Width: 10 mm

Height: 175 mm

Weight: 10 g

Blush

0030550 - #9311960030558

Length: 10 mm

Width: 10 mm

Height: 175 mm

Weight: 10 g

Violet

0030390 - #9311960030398

Length: 10 mm

Width: 10 mm

Height: 175 mm

Weight: 10 g

Magenta

0030340 - #9311960030343

Length: 10 mm

Width: 10 mm

Height: 175 mm

Weight: 10 g

Ultramarine

0030420 - #9311960030428

Length: 10 mm

Width: 10 mm

Height: 175 mm

Weight: 10 g

Purple

0030400 - #9311960030404

Length: 10 mm

Width: 10 mm

Height: 175 mm

Weight: 10 g

Prussian Blue

0030530 - #9311960030534

Length: 10 mm

Width: 10 mm

Height: 175 mm

Weight: 10 g

Blue

0030410 - #9311960030411

Length: 10 mm

Width: 10 mm

Height: 175 mm

Weight: 10 g

Kingfisher Blue

0030510 - #9311960030510

Length: 10 mm

Width: 10 mm

Height: 175 mm

Weight: 10 g

Light Blue

0030450 - #9311960030459

Length: 10 mm

Width: 10 mm

Height: 175 mm

Weight: 10 g

Blue Grass

0030440 - #9311960030442

Length: 10 mm

Width: 10 mm

Height: 175 mm

Weight: 10 g

Jade

0030460 - #9311960030466

Length: 10 mm

Width: 10 mm

Height: 175 mm

Weight: 10 g

Green

0030490 - #9311960030497

Length: 10 mm

Width: 10 mm

Height: 175 mm

Weight: 10 g

Grass Green

0030500 - #9311960030503

Length: 10 mm

Width: 10 mm

Height: 175 mm

Weight: 10 g

Yellow Green

0030470 - #9311960030473

Length: 10 mm

Width: 10 mm

Height: 175 mm

Weight: 10 g

Moss Green

0030480 - #9311960030480

Length: 10 mm

Width: 10 mm

Height: 175 mm

Weight: 10 g

Burnt Sienna

0030540 - #9311960030541

Length: 10 mm

Width: 10 mm

Height: 175 mm

Weight: 10 g

Burnt Ochre

0030560 - #9311960030565

Length: 10 mm

Width: 10 mm

Height: 175 mm

Weight: 10 g

Brown

0030430 - #9311960030435

Length: 10 mm

Width: 10 mm

Height: 175 mm

Weight: 10 g

Dark Chocolate

0030590 - #9311960030596

Length: 10 mm

Width: 10 mm

Height: 175 mm

Weight: 10 g

Black

0030610 - #9311960030619

Length: 10 mm

Width: 10 mm

Height: 175 mm

Weight: 10 g

Van Dyke Brown

0030570 - #9311960030572

Length: 10 mm

Width: 10 mm

Height: 175 mm

Weight: 10 g

Warm Grey

0030580 - #9311960030589

Length: 10 mm

Width: 10 mm

Height: 175 mm

Weight: 10 g

Silver Grey

0030600 - #9311960030602

Length: 10 mm

Width: 10 mm

Height: 175 mm

Weight: 10 g

Silver

0030630 - #9311960030633

Length: 10 mm

Width: 10 mm

Height: 175 mm

Weight: 10 g

Gold

0030620 - #9311960030626

Length: 10 mm

Width: 10 mm

Height: 175 mm

Weight: 10 g
 
Barcode
Length (mm)
Width (mm)
Height (mm)
Weight (g)
9311960030268
10
10
175
10
9311960030275
10
10
175
10
9311960030282
10
10
175
10

EDP:0030290

Chrome Yellow

9311960030299
10
10
175
10
9311960030305
10
10
175
10
9311960030381
10
10
175
10
9311960030312
10
10
175
10
9311960030329
10
10
175
10
9311960030374
10
10
175
10
9311960030336
10
10
175
10
9311960030367
10
10
175
10
9311960030558
10
10
175
10
9311960030398
10
10
175
10
9311960030343
10
10
175
10
9311960030428
10
10
175
10
9311960030404
10
10
175
10

EDP:0030530

Prussian Blue

9311960030534
10
10
175
10
9311960030411
10
10
175
10

EDP:0030510

Kingfisher Blue

9311960030510
10
10
175
10
9311960030459
10
10
175
10
9311960030442
10
10
175
10
9311960030466
10
10
175
10
9311960030497
10
10
175
10
9311960030503
10
10
175
10
9311960030473
10
10
175
10
9311960030480
10
10
175
10
9311960030541
10
10
175
10
9311960030565
10
10
175
10
9311960030435
10
10
175
10

EDP:0030590

Dark Chocolate

9311960030596
10
10
175
10
9311960030619
10
10
175
10

EDP:0030570

Van Dyke Brown

9311960030572
10
10
175
10
9311960030589
10
10
175
10
9311960030602
10
10
175
10
9311960030633
10
10
175
10
9311960030626
10
10
175
10