Jasart Studio Watercolour Pencils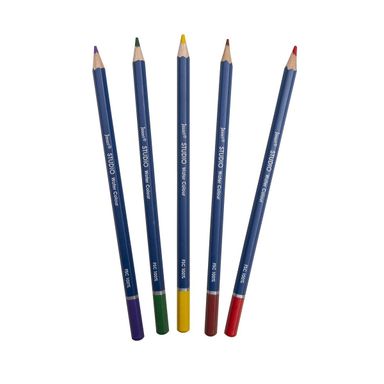 Studio quality watercolour pencils designed to perform.
Brilliant colours offering extra smooth application
Excellent colour laydown for 100% coverage
2.9mm centred leads fully bonded to the wood to prevent breakage
Extra smooth brilliant colours with soft, break-resistant leads
Completely aquarellable, ideal for blending using wet or dry techniques
Non-Toxic & Acid-Free
High-quality FSC certified wood for smooth sharpening
Available in 72 individual colours and sets of 12, 24, 36 and 72.
Also available in Colour, Jumbo Colour and Graphite Sketch!
White

0030700 - #9311960030701

Length: 9 mm

Width: 9 mm

Height: 179 mm

Weight: 8 g

Sand

0030710 - #9311960030718

Length: 9 mm

Width: 9 mm

Height: 179 mm

Weight: 8 g

Lemon Yellow

0030720 - #9311960030725

Length: 9 mm

Width: 9 mm

Height: 179 mm

Weight: 8 g

Yellow

0030730 - #9311960030732

Length: 9 mm

Width: 9 mm

Height: 179 mm

Weight: 8 g

Chrome Yellow

0030740 - #9311960030749

Length: 9 mm

Width: 9 mm

Height: 179 mm

Weight: 8 g

Tangerine

0030750 - #9311960030756

Length: 9 mm

Width: 9 mm

Height: 179 mm

Weight: 8 g

Orange

0030760 - #9311960030763

Length: 9 mm

Width: 9 mm

Height: 179 mm

Weight: 8 g

Vermilion

0030770 - #9311960030770

Length: 9 mm

Width: 9 mm

Height: 179 mm

Weight: 8 g

Scarlet

0030780 - #9311960030787

Length: 9 mm

Width: 9 mm

Height: 179 mm

Weight: 8 g

Red

0030800 - #9311960030800

Length: 9 mm

Width: 9 mm

Height: 179 mm

Weight: 8 g

Coral Red

0030810 - #9311960030817

Length: 9 mm

Width: 9 mm

Height: 179 mm

Weight: 8 g

Geranium Red

0030820 - #9311960030824

Length: 9 mm

Width: 9 mm

Height: 179 mm

Weight: 8 g

Carmine

0030830 - #9311960030831

Length: 9 mm

Width: 9 mm

Height: 179 mm

Weight: 8 g

Hot Pink

0030840 - #9311960030848

Length: 9 mm

Width: 9 mm

Height: 179 mm

Weight: 8 g

Rose

0030850 - #9311960030855

Length: 9 mm

Width: 9 mm

Height: 179 mm

Weight: 8 g

Pink

0030860 - #9311960030862

Length: 9 mm

Width: 9 mm

Height: 179 mm

Weight: 8 g

Salmon

0030870 - #9311960030879

Length: 9 mm

Width: 9 mm

Height: 179 mm

Weight: 8 g

Blush

0030880 - #9311960030886

Length: 9 mm

Width: 9 mm

Height: 179 mm

Weight: 8 g

Flesh

0030890 - #9311960030893

Length: 9 mm

Width: 9 mm

Height: 179 mm

Weight: 8 g

Cream Beige

0030900 - #9311960030909

Length: 9 mm

Width: 9 mm

Height: 179 mm

Weight: 8 g

Lavender

0030920 - #9311960030923

Length: 9 mm

Width: 9 mm

Height: 179 mm

Weight: 8 g

Lilac

0030930 - #9311960030930

Length: 9 mm

Width: 9 mm

Height: 179 mm

Weight: 8 g

Hydrangea Pink

0030940 - #9311960030947

Length: 9 mm

Width: 9 mm

Height: 179 mm

Weight: 8 g

Magenta

0030950 - #9311960030954

Length: 9 mm

Width: 9 mm

Height: 179 mm

Weight: 8 g

Claret

0030960 - #9311960030961

Length: 9 mm

Width: 9 mm

Height: 179 mm

Weight: 8 g

Maroon

0030970 - #9311960030978

Length: 9 mm

Width: 9 mm

Height: 179 mm

Weight: 8 g

Red Violet

0030980 - #9311960030985

Length: 9 mm

Width: 9 mm

Height: 179 mm

Weight: 8 g

Violet

0030990 - #9311960030992

Length: 9 mm

Width: 9 mm

Height: 179 mm

Weight: 8 g

Purple

0031000 - #9311960031005

Length: 9 mm

Width: 9 mm

Height: 179 mm

Weight: 8 g

Prussian Blue

0031010 - #9311960031012

Length: 9 mm

Width: 9 mm

Height: 179 mm

Weight: 8 g

Ultramarine

0031020 - #9311960031029

Length: 9 mm

Width: 9 mm

Height: 179 mm

Weight: 8 g

Cobalt Blue

0031030 - #9311960031036

Length: 9 mm

Width: 9 mm

Height: 179 mm

Weight: 8 g

Sky Blue

0031040 - #9311960031043

Length: 9 mm

Width: 9 mm

Height: 179 mm

Weight: 8 g

Blue

0031050 - #9311960031050

Length: 9 mm

Width: 9 mm

Height: 179 mm

Weight: 8 g

Kingfisher Blue

0031060 - #9311960031067

Length: 9 mm

Width: 9 mm

Height: 179 mm

Weight: 8 g

Light Blue

0031070 - #9311960031074

Length: 9 mm

Width: 9 mm

Height: 179 mm

Weight: 8 g

Blue Grass

0031080 - #9311960031081

Length: 9 mm

Width: 9 mm

Height: 179 mm

Weight: 8 g

Cerulean Blue

0031090 - #9311960031098

Length: 9 mm

Width: 9 mm

Height: 179 mm

Weight: 8 g

Turquoise Green

0031100 - #9311960031104

Length: 9 mm

Width: 9 mm

Height: 179 mm

Weight: 8 g

Jade

0031120 - #9311960031128

Length: 9 mm

Width: 9 mm

Height: 179 mm

Weight: 8 g

Brilliant Green

0031130 - #9311960031135

Length: 9 mm

Width: 9 mm

Height: 179 mm

Weight: 8 g

Viridian

0031140 - #9311960031142

Length: 9 mm

Width: 9 mm

Height: 179 mm

Weight: 8 g

Peppermint

0031150 - #9311960031159

Length: 9 mm

Width: 9 mm

Height: 179 mm

Weight: 8 g

Grass Green

0031170 - #9311960031173

Length: 9 mm

Width: 9 mm

Height: 179 mm

Weight: 8 g

Green

0031180 - #9311960031180

Length: 9 mm

Width: 9 mm

Height: 179 mm

Weight: 8 g

Emerald

0031190 - #9311960031197

Length: 9 mm

Width: 9 mm

Height: 179 mm

Weight: 8 g

Moss Green

0031200 - #9311960031203

Length: 9 mm

Width: 9 mm

Height: 179 mm

Weight: 8 g

Teal Green

0031210 - #9311960031210

Length: 9 mm

Width: 9 mm

Height: 179 mm

Weight: 8 g

Yellow Green

0031220 - #9311960031227

Length: 9 mm

Width: 9 mm

Height: 179 mm

Weight: 8 g

Lime Green

0031230 - #9311960031234

Length: 9 mm

Width: 9 mm

Height: 179 mm

Weight: 8 g

Mustard

0031240 - #9311960031241

Length: 9 mm

Width: 9 mm

Height: 179 mm

Weight: 8 g

Light Ochre

0031250 - #9311960031258

Length: 9 mm

Width: 9 mm

Height: 179 mm

Weight: 8 g

Ochre

0031260 - #9311960031265

Length: 9 mm

Width: 9 mm

Height: 179 mm

Weight: 8 g

Burnt Ochre

0031270 - #9311960031272

Length: 9 mm

Width: 9 mm

Height: 179 mm

Weight: 8 g

Brown Ochre

0031280 - #9311960031289

Length: 9 mm

Width: 9 mm

Height: 179 mm

Weight: 8 g

Olive Green

0031290 - #9311960031296

Length: 9 mm

Width: 9 mm

Height: 179 mm

Weight: 8 g

Burnt Sienna

0031300 - #9311960031302

Length: 9 mm

Width: 9 mm

Height: 179 mm

Weight: 8 g

Brown

0031310 - #9311960031319

Length: 9 mm

Width: 9 mm

Height: 179 mm

Weight: 8 g

Red Brown

0031320 - #9311960031326

Length: 9 mm

Width: 9 mm

Height: 179 mm

Weight: 8 g

Brick Red

0031340 - #9311960031340

Length: 9 mm

Width: 9 mm

Height: 179 mm

Weight: 8 g

Van Dyke Brown

0031350 - #9311960031357

Length: 9 mm

Width: 9 mm

Height: 179 mm

Weight: 8 g

Dark Chocolate

0031370 - #9311960031371

Length: 9 mm

Width: 9 mm

Height: 179 mm

Weight: 8 g

Light Grey

0031390 - #9311960031395

Length: 9 mm

Width: 9 mm

Height: 179 mm

Weight: 8 g

Silver Grey

0031410 - #9311960031418

Length: 9 mm

Width: 9 mm

Height: 179 mm

Weight: 8 g

Warm Grey

0031420 - #9311960031425

Length: 9 mm

Width: 9 mm

Height: 179 mm

Weight: 8 g

Blue Grey

0031430 - #9311960031432

Length: 9 mm

Width: 9 mm

Height: 179 mm

Weight: 8 g

Dark Grey

0031440 - #9311960031449

Length: 9 mm

Width: 9 mm

Height: 179 mm

Weight: 8 g

Paynes Grey

0031450 - #9311960031456

Length: 9 mm

Width: 9 mm

Height: 179 mm

Weight: 8 g

Black

0031460 - #9311960031463

Length: 9 mm

Width: 9 mm

Height: 179 mm

Weight: 8 g

Gold

0031470 - #9311960031470

Length: 9 mm

Width: 9 mm

Height: 179 mm

Weight: 8 g

Bark

0031480 - #9311960031487

Length: 9 mm

Width: 9 mm

Height: 179 mm

Weight: 8 g

Silver

0031490 - #9311960031494

Length: 9 mm

Width: 9 mm

Height: 179 mm

Weight: 8 g
 
Barcode
Length (mm)
Width (mm)
Height (mm)
Weight (g)
9311960030701
9
9
179
8
9311960030718
9
9
179
8
9311960030725
9
9
179
8
9311960030732
9
9
179
8

EDP:0030740

Chrome Yellow

9311960030749
9
9
179
8
9311960030756
9
9
179
8
9311960030763
9
9
179
8
9311960030770
9
9
179
8
9311960030787
9
9
179
8
9311960030800
9
9
179
8
9311960030817
9
9
179
8
9311960030824
9
9
179
8
9311960030831
9
9
179
8
9311960030848
9
9
179
8
9311960030855
9
9
179
8
9311960030862
9
9
179
8
9311960030879
9
9
179
8
9311960030886
9
9
179
8
9311960030893
9
9
179
8
9311960030909
9
9
179
8
9311960030923
9
9
179
8
9311960030930
9
9
179
8

EDP:0030940

Hydrangea Pink

9311960030947
9
9
179
8
9311960030954
9
9
179
8
9311960030961
9
9
179
8
9311960030978
9
9
179
8
9311960030985
9
9
179
8
9311960030992
9
9
179
8
9311960031005
9
9
179
8

EDP:0031010

Prussian Blue

9311960031012
9
9
179
8
9311960031029
9
9
179
8
9311960031036
9
9
179
8
9311960031043
9
9
179
8
9311960031050
9
9
179
8

EDP:0031060

Kingfisher Blue

9311960031067
9
9
179
8
9311960031074
9
9
179
8
9311960031081
9
9
179
8

EDP:0031090

Cerulean Blue

9311960031098
9
9
179
8

EDP:0031100

Turquoise Green

9311960031104
9
9
179
8
9311960031128
9
9
179
8

EDP:0031130

Brilliant Green

9311960031135
9
9
179
8
9311960031142
9
9
179
8
9311960031159
9
9
179
8
9311960031173
9
9
179
8
9311960031180
9
9
179
8
9311960031197
9
9
179
8
9311960031203
9
9
179
8
9311960031210
9
9
179
8
9311960031227
9
9
179
8
9311960031234
9
9
179
8
9311960031241
9
9
179
8
9311960031258
9
9
179
8
9311960031265
9
9
179
8
9311960031272
9
9
179
8
9311960031289
9
9
179
8
9311960031296
9
9
179
8
9311960031302
9
9
179
8
9311960031319
9
9
179
8
9311960031326
9
9
179
8
9311960031340
9
9
179
8

EDP:0031350

Van Dyke Brown

9311960031357
9
9
179
8

EDP:0031370

Dark Chocolate

9311960031371
9
9
179
8
9311960031395
9
9
179
8
9311960031418
9
9
179
8
9311960031425
9
9
179
8
9311960031432
9
9
179
8
9311960031449
9
9
179
8
9311960031456
9
9
179
8
9311960031463
9
9
179
8
9311960031470
9
9
179
8
9311960031487
9
9
179
8
9311960031494
9
9
179
8