Liviano Heavy Colour Card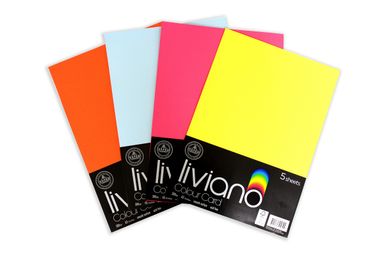 Liviano Colour Card is heavy 300gsm stock ideal for presentation posters, projects and paper structures.
FSC® certified.
Its surface is great for work on both sides and has a smooth surface suitable for drawing, pencil, crayon, markers, mounting and most art and craft projects.
It is strong enough for mounting but flexible enough to fold. Cut with craft knives and scissors and use with craft glue, PVA glue, double-sided tape and hot glue guns.
Available in an array of bright & pastel colours:
A4 - Pack of 10
A3 - Pack of 5
Liviano Colour Card is also available in 180gsm light card version.
300gsm A4 White (Pack 10)

0419420 - #9311960419421

Length: 210 mm

Width: 297 mm

Height: 5 mm

Weight: 208 g

300gsm A4 Lemon (Pack 10)

0419430 - #9311960419438

Length: 210 mm

Width: 297 mm

Height: 5 mm

Weight: 208 g

300gsm A4 Purple (Pack 10)

0419440 - #9311960419445

Length: 210 mm

Width: 297 mm

Height: 5 mm

Weight: 208 g

300gsm A4 Orange (Pack 10)

0419450 - #9311960419452

Length: 210 mm

Width: 297 mm

Height: 5 mm

Weight: 208 g

300gsm A4 Fushia (Pack 10)

0419460 - #9311960419469

Length: 210 mm

Width: 297 mm

Height: 5 mm

Weight: 208 g

300gsm A4 Red (Pack 10)

0419470 - #9311960419476

Length: 210 mm

Width: 297 mm

Height: 5 mm

Weight: 208 g

300gsm A4 Turquoise (Pack 10)

0419480 - #9311960419483

Length: 210 mm

Width: 297 mm

Height: 5 mm

Weight: 208 g

300gsm A4 Green (Pack 10)

0419490 - #9311960419490

Length: 210 mm

Width: 297 mm

Height: 5 mm

Weight: 208 g

300gsm A4 Black (Pack 10)

0419500 - #9311960419506

Length: 210 mm

Width: 297 mm

Height: 5 mm

Weight: 208 g

300gsm A3 White (Pack 5)

0419510 - #9311960419513

Length: 297 mm

Width: 420 mm

Height: 5 mm

Weight: 208 g

300gsm A3 Lemon (Pack 5)

0419520 - #9311960419520

Length: 297 mm

Width: 420 mm

Height: 5 mm

Weight: 208 g

300gsm A3 Purple (Pack 5)

0419530 - #9311960419537

Length: 297 mm

Width: 420 mm

Height: 5 mm

Weight: 208 g

300gsm A3 Orange (Pack 5)

0419540 - #9311960419544

Length: 297 mm

Width: 420 mm

Height: 5 mm

Weight: 208 g

300gsm A3 Fushia (Pack 5)

0419550 - #9311960419551

Length: 297 mm

Width: 420 mm

Height: 5 mm

Weight: 208 g

300gsm A3 Red (Pack 5)

0419560 - #9311960419568

Length: 297 mm

Width: 420 mm

Height: 5 mm

Weight: 208 g

300gsm A3 Turquoise (Pack 5)

0419570 - #9311960419575

Length: 297 mm

Width: 420 mm

Height: 5 mm

Weight: 208 g

300gsm A3 Green (Pack 5)

0419580 - #9311960419582

Length: 297 mm

Width: 420 mm

Height: 5 mm

Weight: 208 g

300gsm A3 Black (Pack 5)

0419590 - #9311960419599

Length: 297 mm

Width: 420 mm

Height: 5 mm

Weight: 208 g

300gsm A4 Sky Blue (Pack 10)

0420000 - #9311960420007

Length: 210 mm

Width: 297 mm

Height: 5 mm

Weight: 208 g

300gsm A4 Grey (Pack 10)

0420010 - #9311960420014

Length: 210 mm

Width: 297 mm

Height: 5 mm

Weight: 208 g

300gsm A4 Grass (Pack 10)

0420020 - #9311960420021

Length: 210 mm

Width: 297 mm

Height: 5 mm

Weight: 208 g

300gsm A4 Salmon (Pack 10)

0420030 - #9311960420038

Length: 210 mm

Width: 297 mm

Height: 5 mm

Weight: 208 g

300gsm A4 Old Gold (Pack 10)

0420040 - #9311960420045

Length: 210 mm

Width: 297 mm

Height: 5 mm

Weight: 208 g

300gsm A4 Light Pink (Pack 10)

0420060 - #9311960420069

Length: 210 mm

Width: 297 mm

Height: 5 mm

Weight: 208 g

300gsm A4 Lilac (Pack 10)

0420070 - #9311960420076

Length: 210 mm

Width: 297 mm

Height: 5 mm

Weight: 208 g

300gsm A4 Mint (Pack 10)

0420080 - #9311960420083

Length: 210 mm

Width: 297 mm

Height: 5 mm

Weight: 208 g

300gsm A4 Light Yellow (Pack 10)

0420090 - #9311960420090

Length: 210 mm

Width: 297 mm

Height: 5 mm

Weight: 208 g

300gsm A4 Light Blue (Pack 10)

0420100 - #9311960420106

Length: 210 mm

Width: 297 mm

Height: 5 mm

Weight: 208 g

300gsm A3 Sky Blue (Pack 5)

0420110 - #9311960420113

Length: 297 mm

Width: 420 mm

Height: 5 mm

Weight: 208 g

300gsm A3 Grey (Pack 5)

0420120 - #9311960420120

Length: 297 mm

Width: 420 mm

Height: 5 mm

Weight: 208 g

300gsm A3 Grass (Pack 5)

0420130 - #9311960420137

Length: 297 mm

Width: 420 mm

Height: 5 mm

Weight: 208 g

300gsm A3 Salmon (Pack 5)

0420140 - #9311960420144

Length: 297 mm

Width: 420 mm

Height: 5 mm

Weight: 208 g

300gsm A3 Old Gold (Pack 5)

0420150 - #9311960420151

Length: 297 mm

Width: 420 mm

Height: 5 mm

Weight: 208 g

300gsm A3 Light Pink (Pack 5)

0420170 - #9311960420175

Length: 297 mm

Width: 420 mm

Height: 5 mm

Weight: 208 g

300gsm A3 Lilac (Pack 5)

0420180 - #9311960420182

Length: 297 mm

Width: 420 mm

Height: 5 mm

Weight: 208 g

300gsm A3 Mint (Pack 5)

0420190 - #9311960420199

Length: 297 mm

Width: 420 mm

Height: 5 mm

Weight: 208 g

300gsm A3 Light Yellow (Pack 5)

0420200 - #9311960420205

Length: 297 mm

Width: 420 mm

Height: 5 mm

Weight: 208 g

300gsm A3 Light Blue (Pack 5)

0420210 - #9311960420212

Length: 297 mm

Width: 420 mm

Height: 5 mm

Weight: 208 g

300gsm A1 Lilac

0424130 - #9311960424135

Length: 594 mm

Width: 841 mm

Height: 90 mm

Weight: 1500 g

300gsm A1 Light Blue

0424140 - #9311960424142

Length: 594 mm

Width: 841 mm

Height: 90 mm

Weight: 1500 g

300gsm A1 Light Pink

0424150 - #9311960424159

Length: 594 mm

Width: 841 mm

Height: 90 mm

Weight: 1500 g

300gsm A1 Light Yellow

0424160 - #9311960424166

Length: 594 mm

Width: 841 mm

Height: 90 mm

Weight: 1500 g

300gsm A1 Mint

0424170 - #9311960424173

Length: 594 mm

Width: 841 mm

Height: 90 mm

Weight: 1500 g

300gsm A1 Old Gold

0424180 - #9311960424180

Length: 594 mm

Width: 841 mm

Height: 90 mm

Weight: 1500 g

300gsm A1 Orange

0424190 - #9311960424197

Length: 594 mm

Width: 841 mm

Height: 90 mm

Weight: 1500 g

300gsm A1 Purple

0424200 - #9311960424203

Length: 594 mm

Width: 841 mm

Height: 90 mm

Weight: 1500 g

300gsm A1 Red

0424210 - #9311960424210

Length: 594 mm

Width: 841 mm

Height: 90 mm

Weight: 1500 g

300gsm A1 Salmon

0424220 - #9311960424227

Length: 594 mm

Width: 841 mm

Height: 90 mm

Weight: 1500 g

300gsm A1 Sky Blue

0424230 - #9311960424234

Length: 594 mm

Width: 841 mm

Height: 90 mm

Weight: 1500 g

300GS A1 Turquoise

0424240 - #9311960424241

Length: 594 mm

Width: 841 mm

Height: 90 mm

Weight: 1500 g

300gsm A1 White

0424250 - #9311960424258

Length: 594 mm

Width: 841 mm

Height: 90 mm

Weight: 1500 g

300gsm A2 White

0420220 - #9311960420229

Length: 500 mm

Width: 650 mm

Height: 90 mm

Weight: 1500 g

300gsm A2 Lemon

0420230 - #9311960420236

Length: 500 mm

Width: 650 mm

Height: 90 mm

Weight: 1500 g

300gsm A2 Purple

0420240 - #9311960420243

Length: 500 mm

Width: 650 mm

Height: 90 mm

Weight: 1500 g

300gsm A2 Orange

0420250 - #9311960420250

Length: 500 mm

Width: 650 mm

Height: 90 mm

Weight: 1500 g

300gsm A2 Fuschia

0420260 - #9311960420267

Length: 500 mm

Width: 650 mm

Height: 90 mm

Weight: 1500 g

300gsm A2 Red

0420270 - #9311960420274

Length: 500 mm

Width: 650 mm

Height: 90 mm

Weight: 1500 g

300GS A2 Turquoise

0420280 - #9311960420281

Length: 500 mm

Width: 650 mm

Height: 90 mm

Weight: 1500 g

300gsm A2 Green

0420290 - #9311960420298

Length: 500 mm

Width: 650 mm

Height: 90 mm

Weight: 1500 g

300gsm A2 Black

0420300 - #9311960420304

Length: 500 mm

Width: 650 mm

Height: 90 mm

Weight: 1500 g

300gsm A2 Sky Blue

0420310 - #9311960420311

Length: 500 mm

Width: 650 mm

Height: 90 mm

Weight: 1500 g

300gsm A2 Grey

0420320 - #9311960420328

Length: 500 mm

Width: 650 mm

Height: 90 mm

Weight: 1500 g

300gsm A2 Grass

0420330 - #9311960420335

Length: 500 mm

Width: 650 mm

Height: 90 mm

Weight: 1500 g

300gsm A2 Salmon

0420340 - #9311960420342

Length: 500 mm

Width: 650 mm

Height: 90 mm

Weight: 1500 g

300gsm A2 Old Gold

0420350 - #9311960420359

Length: 500 mm

Width: 650 mm

Height: 90 mm

Weight: 1500 g

300gsm A2 Light Pink

0420370 - #9311960420373

Length: 500 mm

Width: 650 mm

Height: 90 mm

Weight: 1500 g

300gsm A2 Lilac

0420380 - #9311960420380

Length: 500 mm

Width: 650 mm

Height: 90 mm

Weight: 1500 g

300gsm A2 Mint

0420390 - #9311960420397

Length: 500 mm

Width: 650 mm

Height: 90 mm

Weight: 1500 g

300gsm A2 Light Yellow

0420400 - #9311960420403

Length: 500 mm

Width: 650 mm

Height: 90 mm

Weight: 1500 g

300gsm A2 Light Blue

0420410 - #9311960420410

Length: 500 mm

Width: 650 mm

Height: 90 mm

Weight: 1500 g

300gsm A1 Black

0424070 - #9311960424074

Length: 594 mm

Width: 841 mm

Height: 90 mm

Weight: 1500 g

300gsm A1 Fuschia

0424080 - #9311960424081

Length: 594 mm

Width: 841 mm

Height: 90 mm

Weight: 1500 g

300gsm A1 Grass

0424090 - #9311960424098

Length: 594 mm

Width: 841 mm

Height: 90 mm

Weight: 1500 g

300gsm A1 Green

0424100 - #9311960424104

Length: 594 mm

Width: 841 mm

Height: 90 mm

Weight: 1500 g

300gsm A1 Grey

0424110 - #9311960424111

Length: 594 mm

Width: 841 mm

Height: 90 mm

Weight: 1500 g

300gsm A1 Lemon

0424120 - #9311960424128

Length: 594 mm

Width: 841 mm

Height: 90 mm

Weight: 1500 g
 
Barcode
Length (mm)
Width (mm)
Height (mm)
Weight (g)

EDP:0419420

300gsm A4 White (Pack 10)

9311960419421
210
297
5
208

EDP:0419430

300gsm A4 Lemon (Pack 10)

9311960419438
210
297
5
208

EDP:0419440

300gsm A4 Purple (Pack 10)

9311960419445
210
297
5
208

EDP:0419450

300gsm A4 Orange (Pack 10)

9311960419452
210
297
5
208

EDP:0419460

300gsm A4 Fushia (Pack 10)

9311960419469
210
297
5
208

EDP:0419470

300gsm A4 Red (Pack 10)

9311960419476
210
297
5
208

EDP:0419480

300gsm A4 Turquoise (Pack 10)

9311960419483
210
297
5
208

EDP:0419490

300gsm A4 Green (Pack 10)

9311960419490
210
297
5
208

EDP:0419500

300gsm A4 Black (Pack 10)

9311960419506
210
297
5
208

EDP:0419510

300gsm A3 White (Pack 5)

9311960419513
297
420
5
208

EDP:0419520

300gsm A3 Lemon (Pack 5)

9311960419520
297
420
5
208

EDP:0419530

300gsm A3 Purple (Pack 5)

9311960419537
297
420
5
208

EDP:0419540

300gsm A3 Orange (Pack 5)

9311960419544
297
420
5
208

EDP:0419550

300gsm A3 Fushia (Pack 5)

9311960419551
297
420
5
208

EDP:0419560

300gsm A3 Red (Pack 5)

9311960419568
297
420
5
208

EDP:0419570

300gsm A3 Turquoise (Pack 5)

9311960419575
297
420
5
208

EDP:0419580

300gsm A3 Green (Pack 5)

9311960419582
297
420
5
208

EDP:0419590

300gsm A3 Black (Pack 5)

9311960419599
297
420
5
208

EDP:0420000

300gsm A4 Sky Blue (Pack 10)

9311960420007
210
297
5
208

EDP:0420010

300gsm A4 Grey (Pack 10)

9311960420014
210
297
5
208

EDP:0420020

300gsm A4 Grass (Pack 10)

9311960420021
210
297
5
208

EDP:0420030

300gsm A4 Salmon (Pack 10)

9311960420038
210
297
5
208

EDP:0420040

300gsm A4 Old Gold (Pack 10)

9311960420045
210
297
5
208

EDP:0420060

300gsm A4 Light Pink (Pack 10)

9311960420069
210
297
5
208

EDP:0420070

300gsm A4 Lilac (Pack 10)

9311960420076
210
297
5
208

EDP:0420080

300gsm A4 Mint (Pack 10)

9311960420083
210
297
5
208

EDP:0420090

300gsm A4 Light Yellow (Pack 10)

9311960420090
210
297
5
208

EDP:0420100

300gsm A4 Light Blue (Pack 10)

9311960420106
210
297
5
208

EDP:0420110

300gsm A3 Sky Blue (Pack 5)

9311960420113
297
420
5
208

EDP:0420120

300gsm A3 Grey (Pack 5)

9311960420120
297
420
5
208

EDP:0420130

300gsm A3 Grass (Pack 5)

9311960420137
297
420
5
208

EDP:0420140

300gsm A3 Salmon (Pack 5)

9311960420144
297
420
5
208

EDP:0420150

300gsm A3 Old Gold (Pack 5)

9311960420151
297
420
5
208

EDP:0420170

300gsm A3 Light Pink (Pack 5)

9311960420175
297
420
5
208

EDP:0420180

300gsm A3 Lilac (Pack 5)

9311960420182
297
420
5
208

EDP:0420190

300gsm A3 Mint (Pack 5)

9311960420199
297
420
5
208

EDP:0420200

300gsm A3 Light Yellow (Pack 5)

9311960420205
297
420
5
208

EDP:0420210

300gsm A3 Light Blue (Pack 5)

9311960420212
297
420
5
208

EDP:0424130

300gsm A1 Lilac

9311960424135
594
841
90
1500

EDP:0424140

300gsm A1 Light Blue

9311960424142
594
841
90
1500

EDP:0424150

300gsm A1 Light Pink

9311960424159
594
841
90
1500

EDP:0424160

300gsm A1 Light Yellow

9311960424166
594
841
90
1500

EDP:0424170

300gsm A1 Mint

9311960424173
594
841
90
1500

EDP:0424180

300gsm A1 Old Gold

9311960424180
594
841
90
1500

EDP:0424190

300gsm A1 Orange

9311960424197
594
841
90
1500

EDP:0424200

300gsm A1 Purple

9311960424203
594
841
90
1500

EDP:0424210

300gsm A1 Red

9311960424210
594
841
90
1500

EDP:0424220

300gsm A1 Salmon

9311960424227
594
841
90
1500

EDP:0424230

300gsm A1 Sky Blue

9311960424234
594
841
90
1500

EDP:0424240

300GS A1 Turquoise

9311960424241
594
841
90
1500

EDP:0424250

300gsm A1 White

9311960424258
594
841
90
1500

EDP:0420220

300gsm A2 White

9311960420229
500
650
90
1500

EDP:0420230

300gsm A2 Lemon

9311960420236
500
650
90
1500

EDP:0420240

300gsm A2 Purple

9311960420243
500
650
90
1500

EDP:0420250

300gsm A2 Orange

9311960420250
500
650
90
1500

EDP:0420260

300gsm A2 Fuschia

9311960420267
500
650
90
1500

EDP:0420270

300gsm A2 Red

9311960420274
500
650
90
1500

EDP:0420280

300GS A2 Turquoise

9311960420281
500
650
90
1500

EDP:0420290

300gsm A2 Green

9311960420298
500
650
90
1500

EDP:0420300

300gsm A2 Black

9311960420304
500
650
90
1500

EDP:0420310

300gsm A2 Sky Blue

9311960420311
500
650
90
1500

EDP:0420320

300gsm A2 Grey

9311960420328
500
650
90
1500

EDP:0420330

300gsm A2 Grass

9311960420335
500
650
90
1500

EDP:0420340

300gsm A2 Salmon

9311960420342
500
650
90
1500

EDP:0420350

300gsm A2 Old Gold

9311960420359
500
650
90
1500

EDP:0420370

300gsm A2 Light Pink

9311960420373
500
650
90
1500

EDP:0420380

300gsm A2 Lilac

9311960420380
500
650
90
1500

EDP:0420390

300gsm A2 Mint

9311960420397
500
650
90
1500

EDP:0420400

300gsm A2 Light Yellow

9311960420403
500
650
90
1500

EDP:0420410

300gsm A2 Light Blue

9311960420410
500
650
90
1500

EDP:0424070

300gsm A1 Black

9311960424074
594
841
90
1500

EDP:0424080

300gsm A1 Fuschia

9311960424081
594
841
90
1500

EDP:0424090

300gsm A1 Grass

9311960424098
594
841
90
1500

EDP:0424100

300gsm A1 Green

9311960424104
594
841
90
1500

EDP:0424110

300gsm A1 Grey

9311960424111
594
841
90
1500

EDP:0424120

300gsm A1 Lemon

9311960424128
594
841
90
1500