Liviano Light Colour Card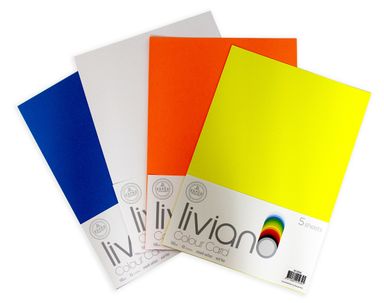 Liviano Colour Card is 180gsm light card stock ideal for projects and is great to be printed on.
FSC® certified.
Its surface is great for work on both sides and has a smooth surface suitable for drawing, pencil, crayon, markers, mounting and most art and craft projects.
Cut with craft knives and scissors and use with craft glue, PVA glue and double-sided tape.
Available in an array of bright colours:
A4 - Pack of 10
A3 - Pack of 5
A2 Sheets
Liviano Colour Card is also available in 300gsm heavy card version.
180gsm A4 Sky Blue (Pack 10)

0419100 - #9311960419100

Length: 210 mm

Width: 297 mm

Height: 5 mm

Weight: 129 g

180gsm A4 Grey (Pack 10)

0419110 - #9311960419117

Length: 210 mm

Width: 297 mm

Height: 5 mm

Weight: 129 g

A2 Paper Stand

0426100 - #9311960426118

Length: 0 mm

Width: 0 mm

Height: 0 mm

Weight: 0 g

180gsm A4 Lemon (Pack 10)

0419120 - #9311960419124

Length: 210 mm

Width: 297 mm

Height: 5 mm

Weight: 129 g

180gsm A4 Purple (Pack 10)

0419130 - #9311960419131

Length: 210 mm

Width: 297 mm

Height: 5 mm

Weight: 129 g

180gsm A4 Orange (Pack 10)

0419140 - #9311960419148

Length: 210 mm

Width: 297 mm

Height: 5 mm

Weight: 129 g

180gsm A4 Fuschia (Pack 10)

0419150 - #9311960419155

Length: 210 mm

Width: 297 mm

Height: 5 mm

Weight: 129 g

180gsm A4 Red (Pack 10)

0419160 - #9311960419162

Length: 210 mm

Width: 297 mm

Height: 5 mm

Weight: 129 g

180gsm A4 Turquoise (Pack 10)

0419170 - #9311960419179

Length: 210 mm

Width: 297 mm

Height: 5 mm

Weight: 129 g

180gsm A4 Green (Pack 10)

0419180 - #9311960419186

Length: 210 mm

Width: 297 mm

Height: 5 mm

Weight: 129 g

180gsm A4 Black (Pack 10)

0419190 - #9311960419193

Length: 210 mm

Width: 297 mm

Height: 5 mm

Weight: 129 g

180gsm A4 White (Pack 10)

0419200 - #9311960419209

Length: 210 mm

Width: 297 mm

Height: 5 mm

Weight: 129 g

180gsm A3 Sky Blue (Pack 5)

0419260 - #9311960419261

Length: 297 mm

Width: 420 mm

Height: 5 mm

Weight: 129 g

180gsm A3 Grey (Pack 5)

0419270 - #9311960419278

Length: 297 mm

Width: 420 mm

Height: 5 mm

Weight: 129 g

180gsm A3 Lemon (Pack 5)

0419280 - #9311960419285

Length: 297 mm

Width: 420 mm

Height: 5 mm

Weight: 129 g

180gsm A3 Purple (Pack 5)

0419290 - #9311960419292

Length: 297 mm

Width: 420 mm

Height: 5 mm

Weight: 129 g

180gsm A3 Orange (Pack 5)

0419300 - #9311960419308

Length: 297 mm

Width: 420 mm

Height: 5 mm

Weight: 129 g

180gsm A3 Fuschia (Pack 5)

0419310 - #9311960419315

Length: 297 mm

Width: 420 mm

Height: 5 mm

Weight: 129 g

180gsm A3 Red (Pack 5)

0419320 - #9311960419322

Length: 297 mm

Width: 420 mm

Height: 5 mm

Weight: 129 g

180gsm A3 Turquoise (Pack 5)

0419330 - #9311960419339

Length: 297 mm

Width: 420 mm

Height: 5 mm

Weight: 129 g

180gsm A3 Green (Pack 5)

0419340 - #9311960419346

Length: 297 mm

Width: 420 mm

Height: 5 mm

Weight: 129 g

180gsm A3 Black (Pack 5)

0419350 - #9311960419353

Length: 297 mm

Width: 420 mm

Height: 5 mm

Weight: 129 g

180gsm A3 White (Pack 5)

0419360 - #9311960419360

Length: 297 mm

Width: 420 mm

Height: 5 mm

Weight: 129 g

180gsm A4 Grass (Pack 10)

0419720 - #9311960419728

Length: 210 mm

Width: 297 mm

Height: 5 mm

Weight: 129 g

180gsm A4 Salmon (Pack 10)

0419730 - #9311960419735

Length: 210 mm

Width: 297 mm

Height: 5 mm

Weight: 129 g

180gsm A4 Old Gold (Pack 10)

0419740 - #9311960419742

Length: 210 mm

Width: 297 mm

Height: 5 mm

Weight: 129 g

180gsm A3 Grass (Pack 5)

0419760 - #9311960419766

Length: 297 mm

Width: 420 mm

Height: 5 mm

Weight: 129 g

180gsm A3 Salmon (Pack 5)

0419770 - #9311960419773

Length: 297 mm

Width: 420 mm

Height: 5 mm

Weight: 129 g

180gsm A3 Old Gold (Pack 5)

0419780 - #9311960419780

Length: 297 mm

Width: 420 mm

Height: 5 mm

Weight: 129 g

180gsm A2 Sky Blue

0419800 - #9311960419803

Length: 595 mm

Width: 420 mm

Height: 9 mm

Weight: 1500 g

180gsm A2 Grey

0419810 - #9311960419810

Length: 595 mm

Width: 420 mm

Height: 9 mm

Weight: 1500 g

180gsm A2 Lemon

0419820 - #9311960419827

Length: 595 mm

Width: 420 mm

Height: 9 mm

Weight: 1500 g

180gsm A2 Purple

0419830 - #9311960419834

Length: 595 mm

Width: 420 mm

Height: 9 mm

Weight: 1500 g

180gsm A2 Orange

0419840 - #9311960419841

Length: 595 mm

Width: 420 mm

Height: 9 mm

Weight: 1500 g

180gsm A2 Fuschia

0419850 - #9311960419858

Length: 595 mm

Width: 420 mm

Height: 9 mm

Weight: 1500 g

180gsm A2 Red

0419860 - #9311960419865

Length: 595 mm

Width: 420 mm

Height: 9 mm

Weight: 1500 g

180GS A2 Turquoise

0419870 - #9311960419872

Length: 595 mm

Width: 420 mm

Height: 9 mm

Weight: 1500 g

180gsm A2 Green

0419880 - #9311960419889

Length: 595 mm

Width: 420 mm

Height: 9 mm

Weight: 1500 g

180gsm A2 Black

0419890 - #9311960419896

Length: 595 mm

Width: 420 mm

Height: 9 mm

Weight: 1500 g

180gsm A2 White

0419900 - #9311960419902

Length: 595 mm

Width: 420 mm

Height: 9 mm

Weight: 1500 g

180gsm A2 Grass

0419910 - #9311960419919

Length: 595 mm

Width: 420 mm

Height: 9 mm

Weight: 1500 g

180gsm A2 Salmon

0419920 - #9311960419926

Length: 595 mm

Width: 420 mm

Height: 9 mm

Weight: 1500 g

180gsm A2 Old Gold

0419930 - #9311960419933

Length: 595 mm

Width: 420 mm

Height: 9 mm

Weight: 1500 g
 
Barcode
Length (mm)
Width (mm)
Height (mm)
Weight (g)

EDP:0419100

180gsm A4 Sky Blue (Pack 10)

9311960419100
210
297
5
129

EDP:0419110

180gsm A4 Grey (Pack 10)

9311960419117
210
297
5
129

EDP:0426100

A2 Paper Stand

9311960426118
0
0
0
0

EDP:0419120

180gsm A4 Lemon (Pack 10)

9311960419124
210
297
5
129

EDP:0419130

180gsm A4 Purple (Pack 10)

9311960419131
210
297
5
129

EDP:0419140

180gsm A4 Orange (Pack 10)

9311960419148
210
297
5
129

EDP:0419150

180gsm A4 Fuschia (Pack 10)

9311960419155
210
297
5
129

EDP:0419160

180gsm A4 Red (Pack 10)

9311960419162
210
297
5
129

EDP:0419170

180gsm A4 Turquoise (Pack 10)

9311960419179
210
297
5
129

EDP:0419180

180gsm A4 Green (Pack 10)

9311960419186
210
297
5
129

EDP:0419190

180gsm A4 Black (Pack 10)

9311960419193
210
297
5
129

EDP:0419200

180gsm A4 White (Pack 10)

9311960419209
210
297
5
129

EDP:0419260

180gsm A3 Sky Blue (Pack 5)

9311960419261
297
420
5
129

EDP:0419270

180gsm A3 Grey (Pack 5)

9311960419278
297
420
5
129

EDP:0419280

180gsm A3 Lemon (Pack 5)

9311960419285
297
420
5
129

EDP:0419290

180gsm A3 Purple (Pack 5)

9311960419292
297
420
5
129

EDP:0419300

180gsm A3 Orange (Pack 5)

9311960419308
297
420
5
129

EDP:0419310

180gsm A3 Fuschia (Pack 5)

9311960419315
297
420
5
129

EDP:0419320

180gsm A3 Red (Pack 5)

9311960419322
297
420
5
129

EDP:0419330

180gsm A3 Turquoise (Pack 5)

9311960419339
297
420
5
129

EDP:0419340

180gsm A3 Green (Pack 5)

9311960419346
297
420
5
129

EDP:0419350

180gsm A3 Black (Pack 5)

9311960419353
297
420
5
129

EDP:0419360

180gsm A3 White (Pack 5)

9311960419360
297
420
5
129

EDP:0419720

180gsm A4 Grass (Pack 10)

9311960419728
210
297
5
129

EDP:0419730

180gsm A4 Salmon (Pack 10)

9311960419735
210
297
5
129

EDP:0419740

180gsm A4 Old Gold (Pack 10)

9311960419742
210
297
5
129

EDP:0419760

180gsm A3 Grass (Pack 5)

9311960419766
297
420
5
129

EDP:0419770

180gsm A3 Salmon (Pack 5)

9311960419773
297
420
5
129

EDP:0419780

180gsm A3 Old Gold (Pack 5)

9311960419780
297
420
5
129

EDP:0419800

180gsm A2 Sky Blue

9311960419803
595
420
9
1500

EDP:0419810

180gsm A2 Grey

9311960419810
595
420
9
1500

EDP:0419820

180gsm A2 Lemon

9311960419827
595
420
9
1500

EDP:0419830

180gsm A2 Purple

9311960419834
595
420
9
1500

EDP:0419840

180gsm A2 Orange

9311960419841
595
420
9
1500

EDP:0419850

180gsm A2 Fuschia

9311960419858
595
420
9
1500

EDP:0419860

180gsm A2 Red

9311960419865
595
420
9
1500

EDP:0419870

180GS A2 Turquoise

9311960419872
595
420
9
1500

EDP:0419880

180gsm A2 Green

9311960419889
595
420
9
1500

EDP:0419890

180gsm A2 Black

9311960419896
595
420
9
1500

EDP:0419900

180gsm A2 White

9311960419902
595
420
9
1500

EDP:0419910

180gsm A2 Grass

9311960419919
595
420
9
1500

EDP:0419920

180gsm A2 Salmon

9311960419926
595
420
9
1500

EDP:0419930

180gsm A2 Old Gold

9311960419933
595
420
9
1500