Love Acrylics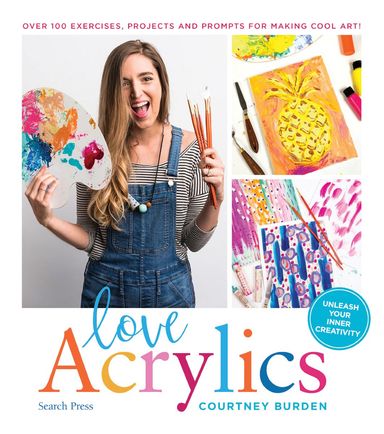 ISBN 9781782217268
Publisher Search Press
Format BC Paperback
Dimensions 203mm x 229mm
Page Extent 160
Pub Date April 2019
Description
Break all the rules and explore acrylic paint in a free and fun way! This book encourages you to get over the fear of the blank canvas and the anxiety over the outcome, and focus on the process of painting and the joy of creating.
Whether you're a nervous novice who doesn't know how to get started or a skilled classical painter looking to try something new, you will benefit from the activities in this book ranging from quick, messy and expressive exercises to relaxing and meditative paintings.
Artist and teacher Courtney Burden shares 100 prompts and projects that will build your confidence and inspire you to roll up your sleeves and play with acrylic paint in a pressure-free way. There is no right or wrong way to create a painting, so enjoy the journey, relax, unwind and have fun!
About the Author
Courtney Burden is an Atlanta-based artist, educator and blogger behind the hugely popular art and lifestyle blog My Friend Court (www.myfriendcourt.com), which has had 300K visitors in the past year. Teaching elementary school art for five years, as well as online painting courses, Courtney has a passion for sharing the artistic experience with others. She is most inspired by colour and travel and can be found painting, art journalling, reading, blogging, drinking coffee and hanging out with her two dachshunds.
Book

0052040 - #9781782217268

Length: 203 mm

Width: 229 mm

Height: 11 mm

Weight: 535 g
|   | Barcode | Length (mm) | Width (mm) | Height (mm) | Weight (g) |
| --- | --- | --- | --- | --- | --- |
| | 9781782217268 | 203 | 229 | 11 | 535 |