Paint Yourself Calm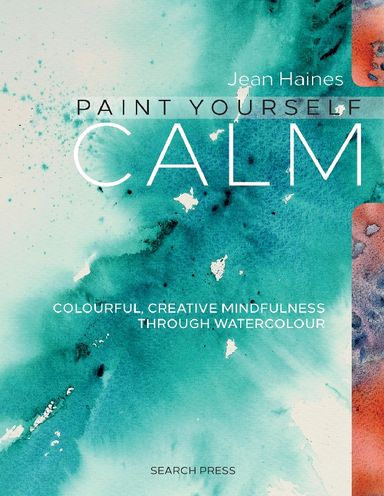 ISBN 9781782212829
Publisher Search Press
Format BC Paperback with flaps
Dimensions 216mm x 280mm
Page Extent 128
Pub Date May 2016
Description
Unwind with watercolours, allowing the movement of brush on paper to calm and soothe you. Jean Haines' takes you with her to explore the many benefits of painting to your wellbeing, so you can escape from stress to a personal place of mindful calm.
Meditative, peaceful and calming, watercolour painting offers a sense of control and self-worth to everyone, with no judgement or goal beyond the joy of painting itself. This book shows you how to calm and enhance your outlook through the movement of brush on paper.
Master artist Jean Haines leads you on a journey through paint, showing you how to wipe away your worries with the soothing, gentle strokes of watercolour paint.
About the Author
Prize-winning and inspirational watercolourist Jean Haines is well-known for her love of her chosen medium and the ability to instil enthusiasm and motivation in all around her. Having lived and travelled in many countries, this popular international artist and teacher has developed her skills while under the influence of masters from many countries, including Asia, the Middle East and Europe. The magical free flow of water and colour straight on to a blank working surface creates amazing results, often leaving her sell-out audiences breathless with delight.
Jean runs hugely popular international watercolour workshops for artists from around the globe, and her highly sought-after paintings can similarly be found in homes all over the world. Jean is a member of the SWA, Society for Women Artists, and has won numerous awards for her work, including the Anthony J Lester Award during the SWA Annual Exhibition, and the SAA Professional Artist of the Year, Experimental and Abstract Award. She regularly writes for art magazines and exhibits in a number of galleries.
Jean lives in Hampshire, UK.
Book

0019020 - #9781782212829

Length: 452 mm

Width: 295 mm

Height: 140 mm

Weight: 15400 g
|   | Barcode | Length (mm) | Width (mm) | Height (mm) | Weight (g) |
| --- | --- | --- | --- | --- | --- |
| | 9781782212829 | 452 | 295 | 140 | 15400 |