Jasart Byron Acrylic 1L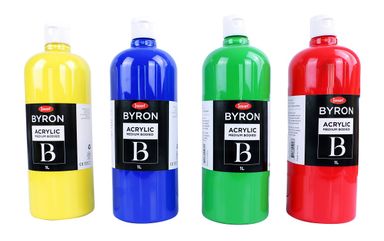 Jasart Byron is a medium-bodied acrylic.
The colours are bright, intense and permanent after they have dried.
Can be used on most surfaces such as paper, canvas, wood, glass, plastic and more.
Warm and Cool Primary colours will allow you to have superior colour mixing.
Non-toxic.
1L Bottles available in 23 colours including 2 metallic colours.
Available in 75ml tubes, 1 Litre and 2 Litre bottles.
Downloadable resources for use with Jasart Byron Acrylic Colour:
Cool Yellow

0040560 - #9311960040564

Length: 85 mm

Width: 230 mm

Height: 85 mm

Weight: 1160 g

Warm Yellow

0040680 - #9311960040687

Length: 85 mm

Width: 230 mm

Height: 85 mm

Weight: 1160 g

Orange

0040660 - #9311960040663

Length: 85 mm

Width: 230 mm

Height: 85 mm

Weight: 1160 g

Warm Red

0040590 - #9311960040595

Length: 85 mm

Width: 230 mm

Height: 85 mm

Weight: 1160 g

Cool Red

0040580 - #9311960040588

Length: 85 mm

Width: 230 mm

Height: 85 mm

Weight: 1160 g

Magenta

0040620 - #9311960040625

Length: 85 mm

Width: 230 mm

Height: 85 mm

Weight: 1160 g

Violet

0040670 - #9311960040670

Length: 0 mm

Width: 0 mm

Height: 0 mm

Weight: 0 g

Warm Blue

0040630 - #9311960040632

Length: 85 mm

Width: 230 mm

Height: 85 mm

Weight: 1160 g

Cobalt Hue

0040640 - #9311960040649

Length: 85 mm

Width: 230 mm

Height: 85 mm

Weight: 1160 g

Cool Blue

0040570 - #9311960040571

Length: 85 mm

Width: 230 mm

Height: 85 mm

Weight: 1160 g

Green Light

0040600 - #9311960040601

Length: 85 mm

Width: 230 mm

Height: 85 mm

Weight: 1160 g

Green Deep

0040610 - #9311960040618

Length: 85 mm

Width: 230 mm

Height: 85 mm

Weight: 1160 g

Forest Green

0040780 - #9311960040786

Length: 85 mm

Width: 230 mm

Height: 85 mm

Weight: 1160 g

Burnt Umber

0040720 - #9311960040724

Length: 85 mm

Width: 230 mm

Height: 85 mm

Weight: 1160 g

Burnt Sienna

0040700 - #9311960040700

Length: 85 mm

Width: 230 mm

Height: 85 mm

Weight: 1160 g

Red Oxide

0040730 - #9311960040731

Length: 85 mm

Width: 230 mm

Height: 85 mm

Weight: 1160 g

Raw Sienna

0040710 - #9311960040717

Length: 85 mm

Width: 230 mm

Height: 85 mm

Weight: 1160 g

Yellow Oxide

0040690 - #9311960040694

Length: 85 mm

Width: 230 mm

Height: 85 mm

Weight: 1160 g

Gold

0040750 - #9311960040755

Length: 85 mm

Width: 230 mm

Height: 85 mm

Weight: 1160 g

Skin Tone

0040650 - #9311960040656

Length: 85 mm

Width: 230 mm

Height: 85 mm

Weight: 1160 g

Silver

0040760 - #9311960040762

Length: 85 mm

Width: 230 mm

Height: 85 mm

Weight: 1160 g

Black

0040550 - #9311960040557

Length: 85 mm

Width: 230 mm

Height: 85 mm

Weight: 1160 g

White

0040540 - #9311960040540

Length: 85 mm

Width: 230 mm

Height: 85 mm

Weight: 1160 g
|   | Barcode | Length (mm) | Width (mm) | Height (mm) | Weight (g) |
| --- | --- | --- | --- | --- | --- |
| | 9311960040564 | 85 | 230 | 85 | 1160 |
| | 9311960040687 | 85 | 230 | 85 | 1160 |
| | 9311960040663 | 85 | 230 | 85 | 1160 |
| | 9311960040595 | 85 | 230 | 85 | 1160 |
| | 9311960040588 | 85 | 230 | 85 | 1160 |
| | 9311960040625 | 85 | 230 | 85 | 1160 |
| | 9311960040670 | 0 | 0 | 0 | 0 |
| | 9311960040632 | 85 | 230 | 85 | 1160 |
| | 9311960040649 | 85 | 230 | 85 | 1160 |
| | 9311960040571 | 85 | 230 | 85 | 1160 |
| | 9311960040601 | 85 | 230 | 85 | 1160 |
| | 9311960040618 | 85 | 230 | 85 | 1160 |
| | 9311960040786 | 85 | 230 | 85 | 1160 |
| | 9311960040724 | 85 | 230 | 85 | 1160 |
| | 9311960040700 | 85 | 230 | 85 | 1160 |
| | 9311960040731 | 85 | 230 | 85 | 1160 |
| | 9311960040717 | 85 | 230 | 85 | 1160 |
| | 9311960040694 | 85 | 230 | 85 | 1160 |
| | 9311960040755 | 85 | 230 | 85 | 1160 |
| | 9311960040656 | 85 | 230 | 85 | 1160 |
| | 9311960040762 | 85 | 230 | 85 | 1160 |
| | 9311960040557 | 85 | 230 | 85 | 1160 |
| | 9311960040540 | 85 | 230 | 85 | 1160 |