Pocket Book For Watercolour Artists: Charle's Evans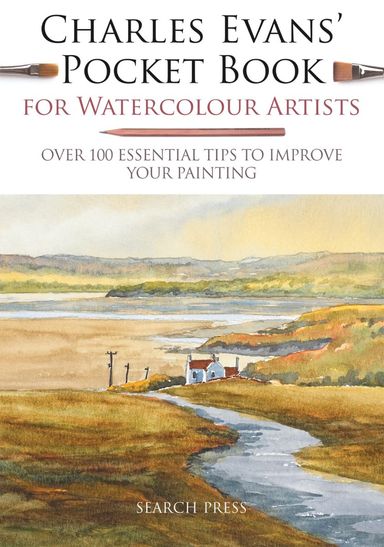 ISBN 9781782216377
Publisher Search Press
Format BC Paperback
Dimensions 148mm x 210mm
Page Extent 96
Pub Date August 2018
Description
Discover 100 top tips for painting in watercolour that will take the mystery out painting, covering topics from creating depth, introducing harmony, how to deal with light and shade and how to create mood and atmosphere, this book was previously published as Charlie's Top Tips for Watercolour Artists.
Contained inside one slim, notebook-size book that will fit perfectly in your kit bag for easy transportation while painting on the go, it includes quick, clever tips that are easy to follow and effective.
About the Author
Charles Evans is one of the UK's leading painters, well-known from his long-running TV series and for his art classes, which are held all over the UK. After a conventional school education Charles entered and spent many years in the catering trade, eventually taking a break to study at Lincoln College of Art. He then joined the Royal Air Force. Following several years in the military, Charles resumed his civilian life in catering, owning bistros and contract catering companies, before turning back to art around thirty years ago. Charles made over two hundred television programmes on art for the Tyne Tees television company, then for the Discovery Channel.
Charles has written several books for Search Press, and now also represents Daler-Rowney as their main demonstrator. His exuberant and informal personality is reflected in his paintings, which have a lightness and simplicity that many artists aspire to.
Book

0052050 - #9781782216377

Length: 148 mm

Width: 210 mm

Height: 9 mm

Weight: 240 g
|   | Barcode | Length (mm) | Width (mm) | Height (mm) | Weight (g) |
| --- | --- | --- | --- | --- | --- |
| | 9781782216377 | 148 | 210 | 9 | 240 |