Ready To Paint In 30 Minutes: Mountain Scenes in Watercolour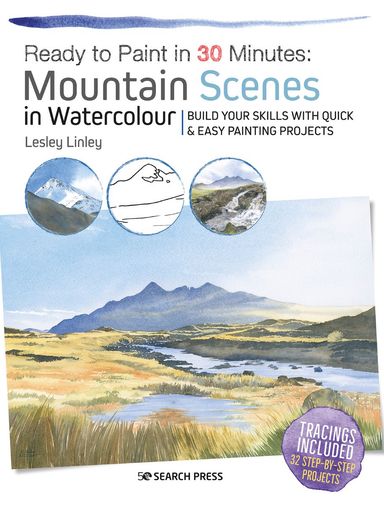 ISBN 9781782216865
Publisher Search Press
Format BC Paperback
Dimensions 216mm x 280mm
Page Extent 128
Pub Date March 2020
Description
Learn to paint mountain scenes in 30 easy-to-follow 30-minute exercises.
This complete beginner's guide to painting mountain scenes in watercolour is ideal if you want to learn to paint but are short on time. Each of the 32 quick-and-easy exercises takes no more than 30 minutes and will teach you how to use a new technique, or paint a different aspect of a mountain landscape including skies, moorland, distant trees, rock, stone, and rushing water. The exercises are all worked at postcard size ideal for a 6 x 4inch (A6) watercolour pad and actual-size outlines are included on tracing paper to get you started.
The book is broken down into eight chapters covering all you need to know to create stunning mountain scenes in watercolour, and finishes with three full-size paintings for you to try out your new-found skills; these complete paintings also have an accompanying actual-size tracing.
About the Author
Lesley Linley has a background in Graphic Design but she learned about watercolour techniques entirely from books. Having discovered a love for the medium, she found she enjoyed sharing her skills and a career in teaching Adult Community Education began. Teaching left little time for her own painting until she moved to Skye. Here she opened a studio in order both to run classes and workshops for local people and visitors from the UK and overseas, and to spend more time painting for pleasure. She is now back in her home county of Derbyshire and continues to run workshops and classes. She has featured in Skye Makers magazine and Paint & Draw magazine. Lesley is a member of the SAA and Made in Derbyshire.
Book

0074430 - #9781782216865

Length: 9 mm

Width: 218 mm

Height: 500 mm

Weight: 500 g
|   | Barcode | Length (mm) | Width (mm) | Height (mm) | Weight (g) |
| --- | --- | --- | --- | --- | --- |
| | 9781782216865 | 9 | 218 | 500 | 500 |