Reeves Fine Artist Gouache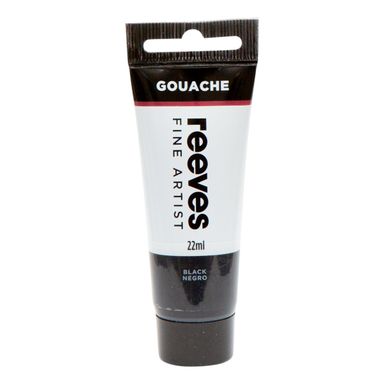 Reeves Fine Artist Gouache 22ml paint is perfect for hobbyists, students and artists.
A versatile paint which can be used to create an entire artwork as well as complement watercolour or mixed media.
Opaque watercolour that has traditionally used by designers and graphic artists to create posters and other advertising materials.
Available in a spectrum of 24 premium colours.
Lemon Yellow

0053720 - #9311960053724

Length: 75 mm

Width: 20 mm

Height: 35 mm

Weight: 35 g

Yellow Medium

0053730 - #9311960053731

Length: 75 mm

Width: 20 mm

Height: 35 mm

Weight: 35 g

Orange Yellow

0053740 - #9311960053748

Length: 75 mm

Width: 20 mm

Height: 35 mm

Weight: 35 g

Orange Red

0053750 - #9311960053755

Length: 75 mm

Width: 20 mm

Height: 35 mm

Weight: 35 g

Vermilion

0053770 - #9311960053779

Length: 75 mm

Width: 20 mm

Height: 35 mm

Weight: 35 g

Scarlet

0053780 - #9311960053786

Length: 75 mm

Width: 20 mm

Height: 35 mm

Weight: 35 g

Crimson Red

0053790 - #9311960053793

Length: 75 mm

Width: 20 mm

Height: 35 mm

Weight: 35 g

Rose

0053800 - #9311960053809

Length: 75 mm

Width: 20 mm

Height: 35 mm

Weight: 35 g

Mauve

0053810 - #9311960053816

Length: 75 mm

Width: 20 mm

Height: 35 mm

Weight: 35 g

Prussian Blue

0053840 - #9311960053847

Length: 75 mm

Width: 20 mm

Height: 35 mm

Weight: 35 g

Cobalt Blue

0053830 - #9311960053830

Length: 75 mm

Width: 20 mm

Height: 35 mm

Weight: 35 g

Ultramarine

0053820 - #9311960053823

Length: 75 mm

Width: 20 mm

Height: 35 mm

Weight: 35 g

Cerulean Blue

0053850 - #9311960053854

Length: 75 mm

Width: 20 mm

Height: 35 mm

Weight: 35 g

Viridian Hue

0053860 - #9311960053861

Length: 75 mm

Width: 20 mm

Height: 35 mm

Weight: 35 g

Green Deep

0053870 - #9311960053878

Length: 75 mm

Width: 20 mm

Height: 35 mm

Weight: 35 g

Green Medium

0053890 - #9311960053892

Length: 75 mm

Width: 20 mm

Height: 35 mm

Weight: 35 g

Grass Green

0053880 - #9311960053885

Length: 75 mm

Width: 20 mm

Height: 35 mm

Weight: 35 g

Green Pale

0053900 - #9311960053908

Length: 75 mm

Width: 20 mm

Height: 35 mm

Weight: 35 g

Yellow Ochre

0053910 - #9311960053915

Length: 75 mm

Width: 20 mm

Height: 35 mm

Weight: 35 g

Burnt Sienna

0053920 - #9311960053922

Length: 75 mm

Width: 20 mm

Height: 35 mm

Weight: 35 g

Burnt Umber

0053940 - #9311960053946

Length: 75 mm

Width: 20 mm

Height: 35 mm

Weight: 35 g

Black

0053950 - #9311960053953

Length: 75 mm

Width: 20 mm

Height: 35 mm

Weight: 35 g

Titanium White

0053700 - #9311960053700

Length: 75 mm

Width: 20 mm

Height: 35 mm

Weight: 35 g

White

0053690 - #9311960053694

Length: 75 mm

Width: 20 mm

Height: 35 mm

Weight: 35 g
 
Barcode
Length (mm)
Width (mm)
Height (mm)
Weight (g)
9311960053724
75
20
35
35

EDP:0053730

Yellow Medium

9311960053731
75
20
35
35

EDP:0053740

Orange Yellow

9311960053748
75
20
35
35
9311960053755
75
20
35
35
9311960053779
75
20
35
35
9311960053786
75
20
35
35
9311960053793
75
20
35
35
9311960053809
75
20
35
35
9311960053816
75
20
35
35

EDP:0053840

Prussian Blue

9311960053847
75
20
35
35
9311960053830
75
20
35
35
9311960053823
75
20
35
35

EDP:0053850

Cerulean Blue

9311960053854
75
20
35
35
9311960053861
75
20
35
35
9311960053878
75
20
35
35
9311960053892
75
20
35
35
9311960053885
75
20
35
35
9311960053908
75
20
35
35
9311960053915
75
20
35
35
9311960053922
75
20
35
35
9311960053946
75
20
35
35
9311960053953
75
20
35
35

EDP:0053700

Titanium White

9311960053700
75
20
35
35
9311960053694
75
20
35
35
5397-26 Reeves Gouache 22ml Paint

Download